The timing of this year's China International Trade Fair for Spring Summer Apparel Fabrics and Accessories (Intertextile) in Shanghai is unusual, because it's not only the first international textile trade fair held a month after the global COVID-19 epidemic reached to the turning point and the local cases in China were cleared, but also the first textile fair held after the raw material price include cotton, synthetic fibers, dye stuff and auxiliaries continuous surged for several month.
The textile and garment industry is standing at a crossing. What are the new focuses and inspirations in this Intertextile? Is there any enterprise growing against the trend in such a difficult situation?
To see a world in a grain of sand. This time, let's take the new yarn brand Danx as an example to take a look at the current changing and corporate self-reliance, and their unusual approaches taken by a yarn enterprise react to the trend.
The textile industry, especially the yarn industry, has few changes over the years. Only a few players in this industry can make a stir and stimulate others to involve in benign competition, thereby activating the whole industry. As veterans in this area, the founders and investors of Danx clearly saw the opportunity. After several years of planning, Danx, a brand featured with natural, eco-friendly and functional yarn came into being.
<![if !vml]>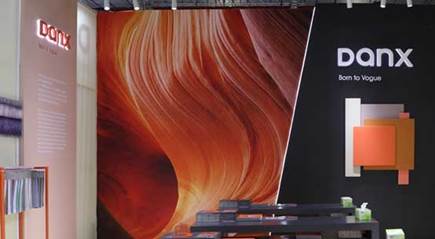 <![endif]>
Perhaps an industrial brand is destined to take an unusual path to become the pioneer. When finished brand building, team building and factory acquisition, Danx encountered many tests such as the trade war between China and the US, the outbreak of COVID-19 and the sharp rises of raw material costs. A dramatic change brings Danx both challenge and opportunities. Relying on the power of capital and the vision of management, Danx changed from passive to active, and began to take proactive actions and expand against the trend by focusing on environment-friendly products. On the one hand, the company recruited outstanding talents in this profession, turned operation strategy from original processing to proactively promoting itself to brands, and strived to establish long-term cooperation with end customers. Therefore, it got almost all the certifications required by European and American brands in a very short time. On the other hand, it seized the opportunity brought by the Sino-US trade war and the outbreak of COVID-19, acquired good spinning mills and dyeing factory, invested heavily to upgrade technology, improve itself, innovate production process, improve management level, effectively reduce the product costs, and enhance the cost performance significantly, build up its core competencies in high-end yarn manufacturing.
In the final analysis, the core of a business is products. For a small and young brand like Danx, in addition to being competitive in terms of cost, delivery time, service and qualification, the key is to have competitive products. Therefore, under the theme of environmental protection and functions, Danx launched many products with good focuses and selling points on this year's Intertextile fair. As Danx's debut in the major trade fair, it was stunning.
Danx believes that sustainable development is an eternal theme for the textile and garment industry. In the post-epidemic era, people attach more importance to environmental protection. Therefore, Danx commit itself on the eternal pursue to give consumers more environment-friendly, healthy and comfortable experience through continuous technological innovation. Sticking to its mission and studying hard, Danx had many new products well received by a number of clothing brands in this Intertextile.
Among many eco-friendly products, Danx first launched the high-proportion Recycle Cotton series. 73% of the world's used clothes end up in landfills. The recycling of used clothes is both a social responsibility and a business opportunity. Danx's Recycle Cotton is sustainable yarn made of waste fabric, such as scraps produced in the textile production process and offcuts produced in the garment cutting process. With the process of centralized loosening, impurity removal, dust removal, mixing and carding, Danx combine its unique new craft yarn spinning technology on the production. Through constant experimentation and process innovation, Danx pursues increasing the content of recycled cotton in its yarn, and has now achieved a steady 30 per cent content in bulk production. Moreover, yarn products with a higher content of recycled cotton up to 30-50 per cent are already under development. Meanwhile, Danx recycle cotton can also be blended with recycled polyester, eco-friendly viscose, recycled Tencel, dope dye fiber, etc., to develop a series of multi-component products, apply on knitting, weaving, sports, leisure and home wear. Danx has built up complete production line from waste fabric recycling, loosening to yarn spinning, with abundant production capacity, they can meet the demand for bulk order production.
Apart from Recycle Cotton, at this fair, Danx collaborated with world-renowned sustainable raw material suppliers like LENZING and Unifi, launched a series of products with recycled polyester, recycled Tencel, Ecovero, dope dye polyester and viscose.
<![if !vml]>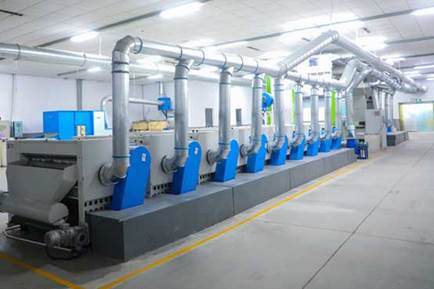 <![endif]>
In addition to the sustainable product, Danx adpted innovative materials and technique to endow fabric a natural, vivid and colorful texture. It has launched a stylish inspiration yarn collection, such as the fallen flower heather yarn, ripple heather yarn, and slub yarn and so on.
<![if !vml]>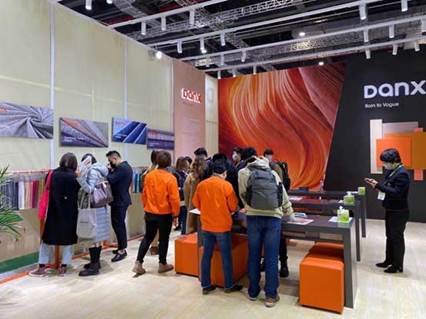 <![endif]>
Changing in response to changes and taking one step back for advancing better, Danx is like a rising rainbow in the yarn industry after the epidemic. Under such an uncertain situation, it dares to achieve rapid growth against the trend, quickly expand in the market, and stir the whole yarn industry. It seems to show us another way to achieve business success.