About 1400 dyeing and block printing units and close to 1.7 lakh people are fighting for survival.
Gujarat has always been famous for its textile dyeing and printing crafts. In the 19th century, a town called Jetpur, some 70 km from Rajkot in the western peninsula, started becoming the hub of the dyeing and printing industry in the state.
In the beginning, the rulers of Jetpur on the banks of the river Bhadar called upon artisans and traders from the towns of Gujarat to promote economic expansion. In 1813, the first families of the Khatri community were beckoned from Jamnagar district to develop the dyeing and printing craft and trade in Jetpur. They were followed by artisans from other nearby regions.
Today Jetpur is known as the mini-Dubai of Saurashtra with the largest volume of cotton print work being done here. It is one of the largest MSME clusters in the country for screen-printing, block-printing and yarn dyeing. The Jetpur cluster is famous worldwide for its cotton sarees and largescale exports of Khanga and Kitange, which are the printed fabrics widely used in African countries for a wide range of applications.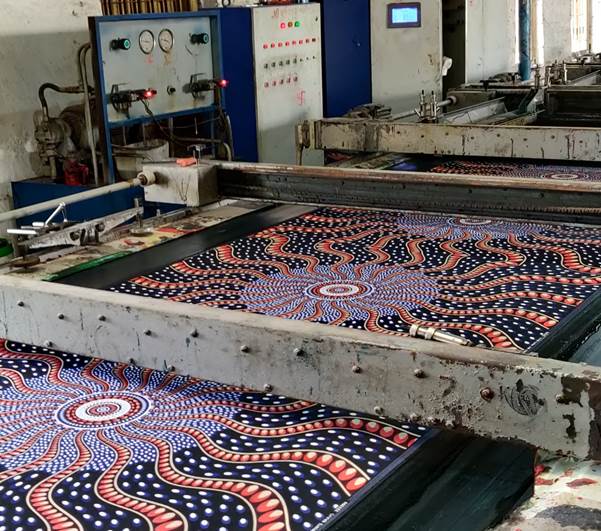 Jetpur houses 1400 dyeing and printing units backed by another 500 ancillary units. On a regular day, the centre produces an estimated 2 million metres of printed fabrics. This may be enough to make 40,000 cotton sarees. There are businessmen here who have residences and offices with staff in African countries like Nigeria and Gambia. These businessmen jetset between India and Africa every month, and a lot of African traders regularly visit the town too.
The Pandemic effect
Today's story stems from the countrywise lockdown that was imposed on March 25 last year.
According to Jayantibhai Ramolia, president of the Jetpur Printing and Dyeing Association (JPDA), "Jetpur units stopped working for two months. However, during this period, factory owners decided to pay full salaries to the labour force. The markets slowly opened subsequently, but there was very less demand for cloth as the Indian economy had dipped considerably and buying clothes was not a priority for people. Also, there was a shortage of raw materials."
Ramolia continues, "As the economy started recovering slowly after a few months, Jetpur business owners thought that they would finally see the light at the end of the tunnel. Especially when the peak season for cotton clothes was expected to begin early February as per the previous year's records."
Leading exporter Anand Jasani explains, "Here two types of fabrics are used in production. These are 150 GSM cotton and poplin. The first blow came with the prices of these two fabrics rising by over 20 per cent. Cotton rose from Rs 30 to Rs 36, and that of poplin increased from Rs 35 to Rs 42.50. The price of grey fabric of cotton rose by 20-30 per cent across all qualities and varieties."
The other raw materials used in production are the printing dyes and finishing chemicals, elaborates Jasani. Both are imported mostly from China. Due to improper import cycles from China and freight price hikes, the printing dyes have become 30 per cent costlier. The cost of finishing chemicals has risen by a whopping 50 per cent. Moreover, shipping costs have increased drastically in the post-COVID times. Previously, it would cost $1,500 to ship a container to West African countries, but now it costs around $4,500.
Manufacturer Sanjay Vekariya, also a committee member of the JPDA, says, "The rising prices of diesel in the country have also adversely impacted business. Domestic transport is used for transporting raw material from southern states of India. The finished cloth too is transported to various parts of the country by road."
As a result of all these factors, "out of the 1,400 factories located in Jetpur, around 20 per cent may have already closed production. There are another 30 per cent units that may be barely producing at 20 per cent of their existing capacity. Another 30 per cent factories are working at half the capacity."
These 1,400 factories employ 70,000 people on payroll and contract basis. There are another 1 lakh people in Jetpur and surrounding towns who provide support to the dyeing factories and their ancillaries. While factory owners are paying salaries to workers hoping for better days ahead, daily wage earners are having it tough making ends meet.
The families of daily wage earners providing local transport services and weight transfer services are among the worst hit and these people have already started looking for alternative livelihoods. If the lean period stretches for an even longer time, according to Vekariya, employers would be left with no option but to retrench staff.
Says Ramolia, "Jetpur is a place with a large number of smallscale industries that earn less than Rs 5 lakh per annum. These communities have small working capital at their disposal. They are having problems surviving the long lean season. The total production value per annum from Jetpur is over Rs 2,000 crore. However, this year it will not be able to cross Rs 1,500 crore."
Akhil Jasani, who is connected with Jetpur businesses, points out, "Exporters are under pressure as government drawback incentive which was 5 per cent previously is now 1.5 per cent. For cotton it was 7 per cent earlier, but is 1.8 per cent now. There is also a long-standing demand to start an inland container depot (IC) or dry port at Rajkot which can help reduce the cost of transport by 70 per cent. This will not only help the Jetpur business, but all industrial manufacturers in the region. The state government should also provide some incentive to the business and arrest the downfall."
The pollution issue
Moreover, there is the pollution problem which factory owners need to handle. Till recently, the factories used to dispose of dye waste into local drainage. This polluted the groundwater of the entire region. Besides, the Bhadar river that is the source of water for the area is also getting polluted.
To abide by pollution norms there is a need for a system whereby factory owners would be provided with input pipes. The industrial waste would be directly sent through the pipes to a recycling plant, which would ensure that there is no pollution. Since this would be expensive, the state government has agreed to bear 80 per cent of the cost. The rest would be borne by factory owners. Till the plant is set up, factory owners have to dispose of the waste to a designated distant place by carrying it in tankers. This aspect too has added to the overall costs. The factory owners will have to create a provision for paying their respective shares of this anti-pollution system.