Reliance Industries Limited, India's largest private sector company introduced R|Elan™ - Fabric 2.0 in 2017. R|Elan™ provides consumers next-generation fabrics that are in sync with the latest fashion trends, and fulfil their lifestyle needs with respect to performance and comfort as well. A unique fabric technology within R|Elan™ product portfolio is R|Elan™ Kooltex, a fabric that enhances the performance of the garment by keeping them dry and cool in tough conditions.
Challenge
Are you a manufacturer or retailer of activewear, sweatshirts, tees, shorts, vests, shirts, dresses or simply rolls of fabric? 
Are you looking to buy just the right fabric that is ideal for these hot summer months?
Do you want repeat buyers, buyers who will vouch for your products since it fulfils their requirement perfectly? 
Do you want wears that promise sweat free comfort to your consumers whether they are stretching out, running, jogging, or may be multitasking between children, home, the kitchen and work?
Solution and technology
<![if !vml]>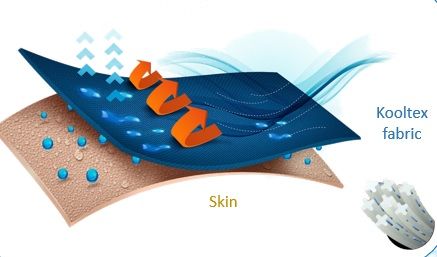 <![endif]>
R|Elan™ Kooltex - keeps the wearer cool and dry all through the day ensuring enhanced performance and encouraging physical activities.
R|Elan™ Kooltex has been specially engineered to impart unique profile to individual fibre. The micro channels help move moisture away from the body through rapid capillary action, helping it spread over larger area on fabric surface and enabling rapid evaporation of moisture.
Features
The Kooltex technology is specially engineered to encourage physical activities and enhance performance.
R|Elan™ Kooltex has inherent moisture management mechanism with its unique structure supporting wicking of sweat through micro-channels.
Its rapid 3 step moisture management process is explained below:
<![if !supportLists]>• <![endif]>Sweat is absorbed and wicked rapidly to the fabric outer surface
<![if !supportLists]>• <![endif]>Sweat gets dispersed over a large surface area to speed up evaporation
<![if !supportLists]>• <![endif]>Sweat evaporates rapidly, leaving behind a dry and cool feeling
Benefits
Enhanced breathability and comfort are the hallmarks of R|Elan™ Kooltex fabric.
The unique cross-section of the ingredient fibres make the fabric more breathable and comfortable to wear, especially during intense physical activities.
The performance is inherent and will provide comfort and other lasting benefits in the garment.
R|Elan™ Kooltex helps to deal with sweat better than the regular polyester fabrics due to its superior moisture management properties - it absorbs moisture away from the skin during any physical activity, moving it on the fabric outer surface and then spreading it over a larger area that helps in faster evaporation of moisture. Thus, keeping one dry and comfortable, cool and confident.
Dealing with sweat during extreme summers is not a concern anymore!
Applications used in
R|Elan™ Kooltex can be used in active wear, performance wear, athleisure, sportswear, casual wear, denims, formals or any other clothing.
R|Elan™ Kooltex fabric is available in ranges with multiple leading apparel brands keeping in line with latest trends in fashion.
Now! Garments made with R|Elan™ Kooltex will enhance your performance and help you move with utmost freedom and comfort day in and out!