Following on the 2020 fashion trends – of online business meetings and WFH, 2021 brings some refreshing changes you'll love to hear about. If past fashion trends were first gathered from the world's runways and fashion magazines; nowadays, from social media, youth culture, streetwear styles, and celebrities showcasing what's cool and fresh.
Unfortunately, fashion trends of 2020 didn't help much – in the sense of inspiring the general public – so this year is out of the normal path. So far, we're still seeing a spring/summer season with models wearing masks on the catwalk and an audience watching via Zoom.
But, in contrast to the apocalyptic settings the fashion industry is going through right now, the latest trends show artistry so fabulous that it lifts one's mood from even the darkest depths of quarantine.
Compared to the neutral looks of the 2020 fashion trends, this year is showcasing fresher and bolder designs, in part driven by a need to come back to life, after the gloomy global lockdown. The hottest fashion trends of SS21 enchant us with: Oversized blazers, sleek face masks, feathers that spark joy, monochrome chic add-ons, encouraging us to go bright and bold.
To some extent, the current styles resemble the 90s fashion trends in the sense of mimicking the silhouettes and patterns of those seasons, with one big difference. Old styles are reinvented in relaxed, oversized, and loud colours, like nothing we've seen before, explained by experts as 'our need to compensate the Covid-19 lockdown boredom.
As fashion changes fast, keeping up with the latest fashion trends will help immensely, be that for a Covid-safe dinner date or just a walk in the park. To top it up, replicating the current fashion trends won't cost you a dime.
That's because apart from crazy bold colours, all these styles rely on the same elements: straps, mid-section belts, vests, cosy maxi tops, pilgrim collars, micro-minis, strange new denim shapes, outrageous leggings, silly seems, and sweatshirts. Without further ado, these are the current fashion trends dominating 2021 that you should try!\
1. Hoodies under blazers
<!--[if !vml]-->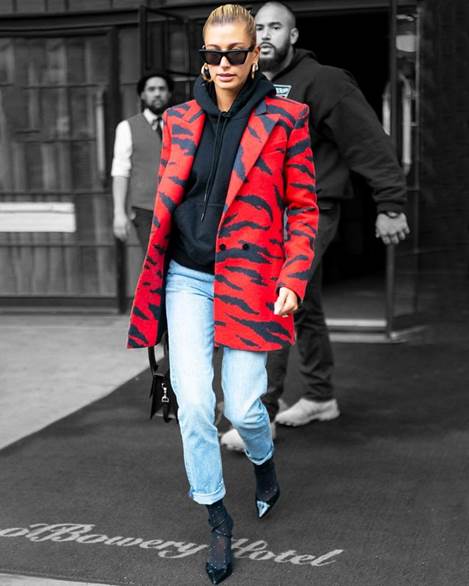 <!--[endif]-->
Hoodie under blazer fashion trend 2021
Trend tip:
Match it with high-rise sox and oversized sneakers for a super-casual London look.
As seen at:
Off White, Stussy, Noah NYC, Awake NY, Palace
One of the most popular styles rocking the current fashion trends is the ever-so cosy hoodie, however, worn with a twist. Regardless, wearing a blazer with a hoodie is no longer just another street style but a transcendent, mainstream look.
Wearing your quarantine-staple-piece hoodie under a blazer adds an extra stylistic layer to your overall look. It works wonders with oversized, boxy blazers, but you can also get thinner hoodies to work more tailored blazers, so you can't mess it up no matter what.
Look for a slim, tapered hoody — preferably a darker, solid hue, without too much embroidery or graphics. Pair it with a dark, solid blazer. Slacks or denim is up to you — either will work depending on the occasion.
2. Women's oversized bomber jackets
Trend tip:
Match it with high-rise sox and oversized sneakers for a super-casual London look.
As seen at:
Off White, Stussy, Noah NYC, Awake NY, Palace
Bomber jackets should always rest loosely on your hip – unless you've opted for a slightly cropped style. The clingy cuffs shouldn't go past or above your wrists, no matter the fit. The cuffs should be relatively tight, so if it hangs over your hand loosely, try a smaller size.
The hues, in this case, are almost always neutral, somehow empowering the underneath attire for an effortlessly chic aesthetic.
3. Cropped cardigans
Trend tip:
For an extra cute look, mix your cropped cardigans with lounge-ish sweatpants or a midi skirt.
As seen at:
Bethany Williams, Gucci, Faith Connexion, Maison Mihara Yasuhiro, Prada
Nothing defines the contemporary fashion trends quite like a cropped cardigan. A vintage-inspired trend kicked off by high brands like Alessandra Rich and LoveShackFancy, quickly copied by Zara and Forever 21, and other fast fashion brands.
Regardless, if putting together a cute outfit seems like too much to handle right now, a skinny knit with your favourite jeans is the perfect answer. Styles range from basic button-ups to embroidered, embellished, or printed knits, so there's pretty much something for everyone.
You can wear these shrunken knits with slip skirts and a leather jacket, especially when you need another layer. Of course, jeans and boots are also great accompaniments for a cropped cardigan. But however you style it, it's safe to say you'll be super comfortable all day long.
4. Casual trench
Trend tip:
If you're looking for something different, grab a Nanushka faux leather trench and wear it over a floral dress or a ribbed wool turtleneck with matching heels.
As seen at:
Burberry, Nanushka, Valentino, Sportmax, Brunello Cucinelli, Dolce & Gabbana, Magda Butrym, Palmer//Harding
You can't beat a classic trench coat, the ultimate between-seasons outerwear. Not a fashion season has passed without the trench putting in an appearance, and the most recent shows were no exception.
With a perennially stylish military cut, the super practical trench coat is a fashion staple since the first world war. Also, thanks to the Gabardine fabric, the casual trench is perfect for drizzly days.
The coat of choice for iconic women for decades, the casual trench is brought back to life by Meghan Markle's recent royal visits. Great with a cashmere roll neck and Prada tractor-tread boots to create that stylish and yet military-inspired outerwear look.
5. Boiler Suits
<!--[if !vml]-->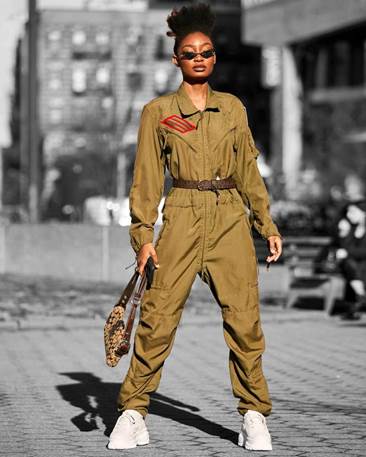 <!--[endif]-->
Boiler suits fashion trends 2021
Trend tip:
An essential item if you want to look like a legendary model, just make sure you add a famous curf and that the bag matches your shoes.
As seen at:
Off White, Stussy, Noah NYC, Awake NY, Palace
This one-and-done hero piece has cropped up everywhere this year, from the runway to your favourite affordable stores. It's easy, it's cool, and it takes the stress out of picking pants and a shirt—because we all have enough to think about right now.
Traditionally made from heavy canvas or denim, the one-zip wonder was one of many game-changing inventions to come out of the industrial revolution. With boiler suits, comfort and practicality are both high on the list.
Beloved by celebrities such as Giambattista, Hadid sisters, Rosie Huntington-Whitely, and Irina Shayk, this versatile all-in-one is your swiftest route to utility chic. As seen at: Maison Margiela, Dolce & Gabbana, Etro, MCQ, Stella McCartney
6. Fantasy florals
Trend tip:
Avoid wilting roses and choose fantasy florals on neon dresses, sunny yellows, and raging hues of pink.
As seen at:
Marie France Van Damme, Valentino, Aspinal of London, Etro, Bernadette, PDN London, Peony
Almost synonymous with spring, flowers have long represented renewal, beauty, and the feminine side of nature. The association between floral motifs and natural femininity can be traced through the last one hundred years of fashion.
As the role of women in society (equality, empowerment) has changed, so has the general concept of feminine symbols such as flowers in clothing. However, the current fashion style of 2021 can be described as 'adding petals to the metal.'
In 2021, designers are no longer interested in wilting roses; instead, we see fantasy florals on neon dresses, sunny yellows, and raging hues of pink.
Note: Most existing pieces made by consecrated designers are super expensive and very hard to come by.
7. Puff sleeves
Trend tip:
Match it with a scarf to create that fresh look on your grocery store run or occasional (and, safe!) outdoor dinner.
As seen at:
Philosophy Di Lorenzo Serafini, Gianluca Capannolo, Kenzo, Alpha Industries, Christopher Kane, Maison Margiela
Most fashion trends begin as just that: Trends. By definition, a trend is a development or change, and as such, we expect trends to do the same: evolve into something else, or in some instances, veer off entirely.
However, some trends have staying power, proving to be more than fleeting, and the puff-sleeve style the perfect example. The larger-than-life sleeve has been showcased in many variations: the balloon, the Juliet, the leg-of-mutton, and so on.
However, the puff sleeve trend cracked the fashion veneer in 2018, when '80s references raved the runway. Fast-forward to 2021, the supersize sleeve is more popular than ever.
With balloon sleeves on sweaters at Fendi, billowing sleeves attached to pleated shirtdresses at McQueen, perfectly puffed gowns at Rodarte, and double-breasted winter coats at JW Anderson.
8. Colour blocking
<!--[if !vml]-->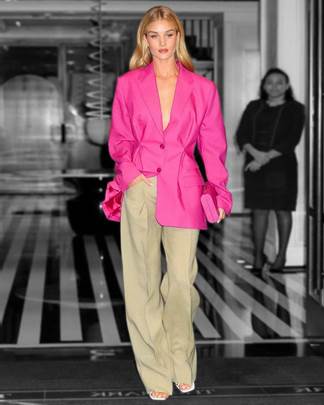 <!--[endif]-->
Colour blocking fashion trends 2021
Trend tip:
Clash pink and yellow, orange and blue, green and black to create the most effective blocking effect.
As seen at:
Laura Biagiotti, Tod's, Molly Goddard, Hermes, Fendi, Stella McCartney, and Versace
Clash rainbow brights to stand out, bringing classic suiting and romantic ruffles into 2021 by mixing punch-packing pop colours with vivid greens. Colour blocking is one of the most surprising ways you can make a statement by pairing contrasting colours, or colours you wouldn't usually put together, to create bold focal points.
The secret to pulling it off is sticking to simple shapes – think classic shifts, maxis, pencil skirts – and choosing shades that are the direct opposites on the colour wheel. There are also many colour stories happening in street style thus far that'll blow you away.
The current fashion trends see all-over brown blended with primary and secondary colours like kelly green, fire-engine red, and Pantone's most intense hues.
9. Monochrome matrix
Trend tip:
Layer a white shirt under a black mini dress, and combine it with monochrome scarves, belts, and other similar accessories.
As seen at:
Prada, Dolce and Gabbana, Gabriela Hearst, Simone Rocha, Giambattista Valli and Balenciaga
The black and white colour combo is a no-brainer. When in doubt, choose black and white as there's no pairing as classic as a white button-down and black pants.
However, as the current fashion trends of 2021 are showing, it does not mean that if it's black and white, you can't experiment. Whether textural and layered, like Prada's circle cut-out knits, or classic colour-blocking at Louis Vuitton, there's a monochromatic style trick for everyone. Just choose which one.
10. Sickly sweets pastels
Trend tip:
Amp up this look with a chunky pair of white boots, a blazer or a long jacket, layered necklaces, or a peek-a-boo turtleneck.
As seen at:
Stella McCartney, Sophia Webster, WesternAffair, Jenny Packham, Olivia Rubin, Prada.
Subvert the saccharine: pastels are a perennial spring favourite, but this year's styles balance delicate with daring.
Frothy ruffles and sheer tulle add romance to short lengths and make longer styles more risque.
When everyone else is in loungewear, sherbet lemon chiffon is a radical statement. Very popular in the past on pajamas and loungewear, contemporary pastel looks will elevate your 1990s barbie girl to a controversial fashion powerhouse that crushes everything on its way.
Yes, matching sets and sweatsuits can still be worn around the house, but the style works best for unconventional social settings.
11. Tractor trek-sole boots
Trend tip:
Pair your tractor boots with slouchy sweatpants or leggings if you want to achieve a utilitarian or slant-to-laid-back look.
As seen at:
Jil Sander, Rick Owens, Proenza Schouler, Salvatore Ferragamo, Premiata, Acne Studios, Le Silla.
Seemingly every designer and retailer from Balenciaga to Zara is taking cues from the humble tractor boot, which had a massive surge in the fall of 2020. Characterized by an almost comically rounded toe and a thick, rugged sole, the tractor style boot is among the most wanted fashion trends of this year.
The boots look great with a long dress or with a super-short skirt. Daggy dad runners, chunky street kicks, even ugly sneaks – call them what you will; this is the modern interpretation of the platform sneaker look that's owned both runways and street style for the past two years or so. It is all the chunk but less of the sporty cheek.
Think Doc Martens on steroids, the aesthetic opposite of the stretch neoprene flats and kitten heels seen on Miuccia Prada's eponymous SS19 catwalk last September. My fav is Balenciaga's reinterpretation of Chelsea's classic and elegant silhouette but with a chunky grooved-rubbed trek sole.
12. Chunky Loafers
Trend tip:
Match your patent leather loafers with a crocodile-effect vegan leather bag to create another dimension of a modern rock'n'roll star.
As seen at:
Givenchy, Miu Miu, Alexander McQueen, Gucci, Stuart Weitzman, Gianvito Rossi
Too early for boots, too cold for fancy shoes, and not in the mood for high heels? I've got you covered with chunky loafers. With an overall classic look, these shoes never fail to stand out from the mainstream.
Sneakers and boots were the most popular flat style over the past few years, together with loafers, ballet styles, and babydoll shoes. However, the 2021 current fashion trend puts chunky loafers at the top of the flat style, especially when paired with longer-length socks, for a preppy, 'schoolcore' trend.
Check out Prada's chunky loafers, leading a grunge trend that's only growing right now.
13. Maxies
<!--[if !vml]-->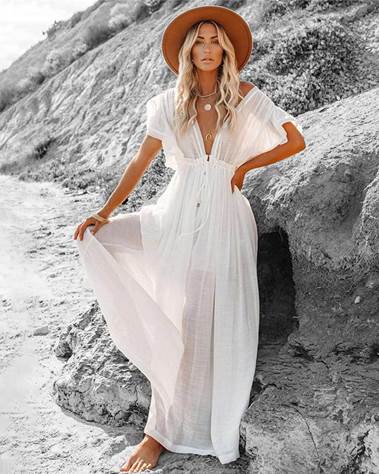 <!--[endif]-->
Maxies fashion trends for 2021
Trend tip:
Sneak in that little extra pop, like a bold shoe or hat, to spice up the neutrals.
As seen at:
Dolce and Gabbana, Ashish, Halpern, Molly Goddard, Tom Ford, Nina Ricci, and Valentino
The maxi dress style has always been one of the most versatile things a woman wears. Are they headed out on a summer night? – Throw it on with sandals and go. Are you going to a wedding? – Dress it up with jewels and heels.
Dubbed by many as 'baby or blanket dresses' – as it fully covers the legs and can be work even while chilling on the couch, the maxi's of 2021 are brighter, shiny, and happiest, infused with loud colours and volume. More extensive and bolder is better, as clashing prints mix with wide tulle makes everything seem sunnier.
Some of our favourite influencer and celebrity outfits take advantage of the colour blocking trend, and there are so many shades that pair perfectly together.
14. Vests
Trend tip:
Try the contemporary fashion trend of shest – vest and a shirt together – for an extra stylistic boost.
As seen at:
brunello cucinelli, Dolce & Gabbana, Balmain, Miu Miu, Jill Sander, Emilio Pucci, KNWLS
Vests have long held an essential sartorial role both for practical purposes and as part of suiting. However, vests didn't become a standard part of womenswear until the 1970s, when they entered the mainstream as casual work attire.
By the late 1990s and early 2000s, it became fashionable for women to wear vests as part of their everyday style. The rest is history as since then, vests have taken over the runway and the streets.
The vest is pretty iconic, to say the least, and still very much in style in 2021 – just make sure you stay away from the vest-centred ensemble as part of a three-piece suit.
Don't own a vest? DIY an old sweater by cutting off the sleeves or layering a muscle tee over a long-sleeved shirt to create a similar look.
15. Voluminous sleeves and shoulders
Trend tip:
Things can quickly go stylistically wrong with this fashion item, so match it with a high-waisted pant in a similar colour palette.
As seen at:
Eskandar, Loewe, Lanvin, Dvf Diane Von Furstenberg, Roksanda, Ganni/em>
Unmissable sleeves – with their ruffles, puffs, and frills – are ballooning across the catwalk and the high street, and there's no sign of the trend deflating. Stuffed with social and logistical questions, oversized sleeves and shoulders shouldn't be a viable trend – such as: is it possible to hug those you love while wearing a top that resembles giant armbands? And yet, the 'sleevification' of fashion is in full swing right now.
In 2019 and early 2020, sleeves were all about glamour, but 2021 sees an emergence of voluminous dresses that creates a perfect one-and-done look (especially for video calls).
16. Sash belt-dress
Trend tip:
Wear the Sash as Obi, tied with a bow, as part of pants play combo, or as a bow at the back to create a cinched waist that makes you look good while walking away.
As seen at:
Isabel Sanchis, RED(V), Sara Roka, Forte Forte, Jonathan Simkhai, Zimmermann, Elisabetta Franchi
Far from being purely utilitarian, belts can add that final sartorial touch and complete your look. The addition of a belt can be the equivalent of adding a period to the end of a sentence.
2021 sees sash belts being used beyond the bridal landscape, as in the past, sash belts were created especially to be worn with bridal dresses. Nowadays, a sash belt is a fashion-forward statement piece you can tie around your waist (like a sash) and look like a style-goddess.
Ideally, you go for a sash belt dress, if possible. If not, find a belt that matches your outfit and wear it as advised below.
17. Bralettes
Trend tip:
Brallets look stunning under a slip dress or a boiler suit with a plunging neckline, so give it a try.
As seen at:
Karl Lagerfeld, Laneus, SIR, Emporio Armani, Alanui, Nue, Seen Users.
The main difference between a bra and a bralette is that bralettes are softer, more lightweight, and are usually made without wiring. As a result, bralettes give lighter support than a regular bra.
In the past, this comfortable bra alternative was layered under baggy shirts for an extra print or pop of colour. However, the 2021 wire-free style comes in all sorts of colours, fabrics, and designs, so yes, you can wear it as a top.
Moreover, you can now wear bralettes under blazers and cardigans, and you do not have to match them with your top layer. The possibilities are endless: match it with a co-ord set, under a blazer, with denim bermuda shorts, under a mesh top, a vacation shirt and high-waisted skirt, under a sheer ensemble, and so on.
18. Bucket hats
Trend tip:
Denim bucket hats look great with a killer trench coat layered over a matching denim trucker jacket.
As seen at:
Craig Green, Loewe, Moncler, Kenzo, Missoni, Heron Preston, A-Cold-Wall
The bucket hat is back, as searches have gone up by 56 per cent since last year (according to Lyst) and a 55 per cent increase in searches on eBay. While more recently spotted on Billie Eilish, Diplo, and shows of Bode, Kate Spade, and Anna Sui, bucket hats never really went away.
This type of hat is the ideal lockdown wear, great for hiding a headful of curls untouched by the hand of a hairdresser. It is also a hat that screams "it's summer!" while giving you a Madeline moment.
The shape – both charming and pretty silly – evokes a smile and a fizz of memories. This seeming duality has given the hat longevity that somehow transcends trends. So, without further ado, swap the baseball cap for a very 2021 bucket hat, one of many current fashion trends beloved by Rihanna and Bella Hadid.
19. Matching sets
Trend tip:
The most common combination blends in a monochrome blazer, peek-a-boo turtleneck, chunky boots, and layered necklaces.
As seen at:
Maison Margiela, Bottega Veneta, Mugler, Gucci, Johanna Ortiz, Lemaire, Versace, Kika Vargas
Before 2021, matching sets such as loungewear and pajamas used to be home-wears only. However, in 2021, matching sets are becoming prevalent in (granted, still small) social settings.
In part, driven by those who can work from home, comfort is critical despite getting dressed each day. For 2021, there are two ways to embrace the coordinated look: celebratory skirt and top combo and non-fussy sweater sets.
Also spotted at Jacquemus, clever cut-outs have already been marked as a top trend for the season. But, there was also no shortage of vibrant colour, notably Proenza Schouler's mint green ribbed knit matching set with the buttons left undone just enough to give it the party stamp of approval.
Judging by the ruched skirts with matching bralettes at PriscaVera and the slime green corsets and miniskirts at LaQuan Smith, one motif rang true after viewing the season's assortment: if you need a new going-out look, make it a matching set.
20. Hot goth
<!--[if !vml]-->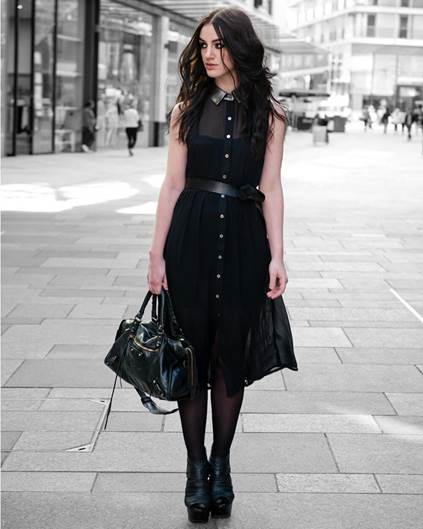 <!--[endif]-->
Goth latest fashion trends
Trend tip:
Avoid Halloween comes early or distressed hems and focus on daring cut-outs, and sexy fabrics (you are a hot goth, after all).
As seen at:
La Perla, Alexander Mcqueen, Haculla, Comme Des Garcons, Jordan, Gucci
Let the icy specter envelop you in its shadowy grasp. Become a demon of the night, a being born of unholy miasma. Your very footsteps desecrate the ground under your feet. You have become a creature of the void, an acolyte of the malevolent.
A blackened aura dims the sunlight around you. The pious avert their gaze; they secretly wish they could be so bad but look so good. When we think about alternative fashion, gothic clothing is almost always the first thing to mind.
Part of the early alternative subculture, gothic clothes are a cornerstone of the scene, with 'the blackest of the black and the darkest of the dark' at heart. However, you do not have to be the 'baddest' witch in the coven or in love with the prince of darkness to wear hot goth apparel in 2021.
After a boring 2020, you're entitled to be both decadent and sulky, climbing into a hot gothic slip dress, bringing not a drama but a darker style to your daywear outfit.
21. Candy-coloured sweatpants
Trend tip:
The best way to wear candy-coloured sweatpants is with a fitted patterned sweater or a button-down shirt.
As seen at:
Simone Rocha, Giambattista Valli, Olivie Theyskens, Balenciaga, Noi Kei Ninomiya, Loewe, Paco Rabanne and Marine Serre
Few items can replace your favourite pair of worn-in heather gray sweats, but this year, defined by couch clothing, the demand for sweatpants in various colours, including pastels and juicy bolds, is solid. Blame it on the idea that, once we felt comfortable going outside again, our commitment to comfort didn't waver.
Sweatpants are reaching a jeans-like status as almost anything can go with a pair of simple sweats. Initially, sweatpants were used as pants for cosying up on the couch, then as gym outfits, but in 2021 they're much more than that. The secret to the current fashion trend in sweatpants is not to look frumpy – enter the candy-coloured sweatpants, the cheapest way to make you look and feel like a fashion icon.

22. Mesh shirts
Trend tip:
Mesh shirts have a super edgy look when layered over a bralette and paired with an oversized leather jacket for a chilly summer night.
As seen at:
Pleats Please Issey Miyake, David Koma, Bottega Veneta, Just Cavalli, Amir Slama, Dolce & Gabbana.
Mesh tops have taken the fashion world by storm in 2021. Known as the 'second-skin' trend, this style grazes on your body that it might as well be a second layer of skin.
While that may not sound particularly appealing, the number of celebrities rocking mesh shirts – think Marine Serre's moon-print stretch-jersey top – such as Beyonce, Adele, Kylie Jenner, and Dua Lipa, is nothing short of stellar.
The fashion trend is a perfect wardrobe go-to, no matter the season. There are so many ways to fashion sheer blouses, sheer shirts, and underlays.
You can quickly go with our fave mesh long sleeve top & lace bra combo, but there are other ways to combine and wear sheer tops with your wardrobe faves creatively.
Whether you decide to dress it up or down or layer it up for those chilly evenings, second-skin tops will be your best friend this spring and after that.
23. White knee-high boots
Trend tip:
Wear your boots with a sweater dress, a blazer dress, or a mini skirt to show them off.
As seen at:
Khaite, Isabel Marant, Guidi, Alexander McQueen, AMI Paris, Parosh
Swing it back to the '60s with the classic gogo dancers-inspired item of footwear – white knee-high boots. Taking its inspiration from the youth revolution in the mid-century, this Nancy Sinatra-approved look is a chic way to elevate your outfit.
White knee-high boots are great for a particular reason – they easily match many looks in this or that style and can be worn everywhere, from work to parties.
24. Oversized pants
Trend tip:
Slouchy, loose, extra-long, and baggy, seek a balance with something cropped or slim-fitting on top, or you risk coming across as lazy or disorganised. Match it with high-rise sox and oversized sneakers for a super-casual London look.
As seen at:
Comme Des Garcons, Dsquared2, Barrie, Natasha Zinko, colville, Off-White, The Attico
Ten years ago, if you had asked a woman to put on a pair of pants that weren't skin-tight, she would have rolled her eyes in disgust. For what seemed like forever, we gave skinny jeans and leggings our undivided attention.
That is, until 2021 when light appeared at the end of the tunnel and saved us from another year of wearing uncomfortably tight pants.
Baggy pants, or as some people like to call them, puddle pants, have been on the rise for quite some time now, but it wasn't until the post-pandemic they've started popping up on every New York, London, and Paris street.
Note – you don't have to stick to just one pants style; wide-leg jeans, loose-fitting slacks, and yoga pants are all having a moment.
25. Shackets
<!--[if !vml]-->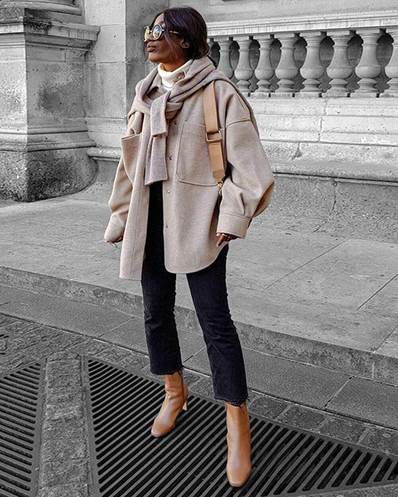 <!--[endif]-->
Shackets fashion trends of 2021
Trend tip:
Shackets look great with most things you're already wearing, from sweatpants to turtlenecks.
As seen at:
Laura Biagiotti, Maison Margiela, Bottega Veneta, Mugler, Gucci, Versace, Kika Vargas
If you're new to this trend or spotted it plastered all over your Instagram feed, you may be wondering, 'what is a shacket?' Well, a shacket is pretty much what the name suggests, a cross between a shirt and a jacket.
Yep, two of your favourite wardrobe pieces combined into one…how great is that? Imagine a shirt likened to a jacket made of thicker fabrics, has pockets, and can be worn layered up or on its own as outerwear.
With different fabrics, finishes, and details, brushed plaid shackets are among the current fashion trends that can be worn anywhere, any time. Heavier than a flannel shirt but not quite as bulky as a full-on coat, they're perfect if you need to run out.
26. Bubblegum pink
Trend tip:
Blend your bubblegum pieces with neutral colours, or you risk looking like a Barbie girl doll.
As seen at:
DKNY, Alexander Wang, Paule Ka, Barrow, Christian Dior, Valentino Garavani, Prada, Apparis
The Bubblegum pink colour trend was first spotted on the S/S 21 runways and has already entered the wardrobes of the fashion set. Back in 2017, you couldn't walk into a shop without seeing millennial pink, well, everywhere.
It was the colour to invest in, loved by style celebrities, sticking around until late last year from clothes to homeware. However, the upcoming season was already signalling a new pink shade in town: bubblegum pink.
Imagine the Hubba Bubba gum wheel you used to get from the local corner shop, as that's the hue you're looking for. Brighter than the soft, millennial colour, it's punchy, bold, and vibrant – precisely what your wardrobe calls for after, what feels like a lifetime in loungewear through multiple lockdowns.
It's a departure from the neutrals that have been commanding our closets for the past few seasons, but it's a dose of fun that I'm ready to welcome into my wardrobe.
27. Tiger print
Trend tip:
Match tiger print with sustainable fashion denim combo, vegan artsy corset, or even a multi-coloured eco-friendly gingham suit.
As seen at:
Balmain, Chanel, Chloe, Erdem, Molly Goddard, Prada, and Giambattista Valli
Consider tiger print an update on last year's pervasive leopard print. This year, tiger stripes are showing up on everything from cosy knit sweaters and boxy overcoats to prim blouses and dresses in case you need a break from your sweatshirts and elastic waists.
Once worn by our parents – and our grandparents before them – tiger print is more relevant than ever. See Balenciaga's SS20 show leopard print arrived in coat form; masculine and oversized with poppin' padded shoulders (see above for those trends that come and go) worn with yellow tights and large earrings.
28. Disco ball
Trend tip:
Time to pull out all the lurex, glitter, and metallics you didn't get a chance to don on New Year's Eve.
As seen at:
Balmain, Burberry, Isabel Marant, Louis Vuitton, Paco Rabanne and Sacai
Whoever said disco was dead has never seen the disco ball fashion style. The iconic disco ball that was a symbol of the 70s has left its mark on more than just movies and dance moves.
If you long for Studio 54 good old days, packed with the quirkiest breed of celebrity, then you will love these disco ball fashion features. A disco ball may not be very versatile, but it looks right at home on everything from shoes to swimsuits. I can feel the disco fever coming on already.
Fittingly, as the temperature climbs, so too does the number of statement silvery styles this season.
The category is mercury rising, with textures in the form of sequins and oversized metallic paillettes, as well as 'touch me' ruffles and lurex that shines even brighter when the sun's out.
29. Loud logos
Trend tip:
Don't stop at one logo and even clash logos – I am talking head-to-toe loud branding.
As seen at:
Gucci, Fendi, Dior, Chanel, Louis Vuitton, Prada, Chloe, and Celine
Logo-mania has again taken over the fashion industry, making a significant return since its last major cycle in the '90s. During that era, being plastered in logos was beyond hot… until it wasn't.
Just as strong as the fad's infiltration into the scene was its dissipation; what once was a mark of cool faded into a land of taboo trends. But with celebrities like Rihanna already stamping the look and high-fashion brands like Gucci and Fendi reclaiming their place in the mix, the logo craze just may have longevity well into the future.
The big, bold, colourful slogan has usurped the slogan shirt – loved by every favourite celebrity. Chanel kept the club spirit alive with neon sign-style logos, while graffiti graphics ruled the runway at Louis Vuitton.
From baseball caps at Celine to socks at Gucci and every fashion designer pledges allegiance.
Bonus – Sustainable fashion trends of 2021
Sustainability plays a key role in the direction fashion trends are taking now, in 2021.
Here are the top seven sustainable fashion trends you have to take into consideration if you want to be seen as stylistically relevant
1. Upcycled fashion trend
<!--[if !vml]-->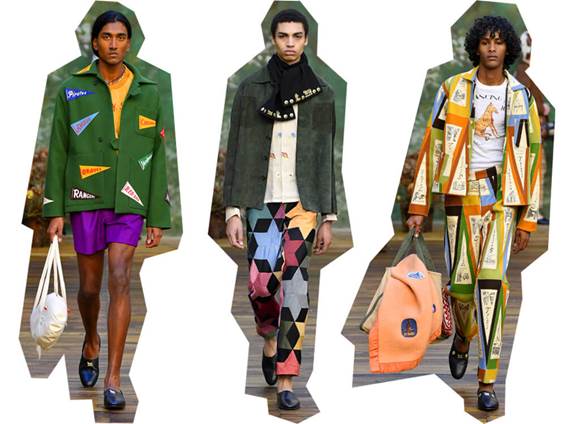 <!--[endif]-->
The upcycling trend is transforming the fashion industry, from manufacturing to design. Upcycling in fashion has also changed the way fashion consumers view the clothes they buy and wear.
In part, it is a design philosophy that has inspired fashion creators such as Bode and Tremblepierre to rethink the garments they create. In simple terms, upcycling refers to taking used products to turn them into valuable materials for fashion.
The product made from such rescued materials has a second life, often as a new and better (or more valued) fashion product. Upcycling is always possible, even after wearing a garment for a long time, to a point of destruction.
2. Cruelty-free fashion trend
Most people see cruelty-free and veganism as identical; however, this is not the case. Despite what most vegans believe, some animal products can be produced in cruelty-free ways.
For example, 'peace silk' and 'cruelty-free wool' are products of animal origin, yet, obtained without harming animals. That is unlike animal leather, where the animals are killed for their skins.
More than that, cruelty-free materials and products are often far more sustainable than their vegan counterparts. Stella McCartney, Mara Hoffman, and even Allbirds are some of the most loved sustainable fashion brands, using cruelty-free materials in their collections.
And, let's not forget that cruelty-free materials are natural and thus, do not require frequent washing. The lesser detergent and water consumption, the more eco-friendly garments.
3. Pre-owned garments trend
Collaborative consumption is, for sure, one of the most powerful trends in sustainable fashion, right now. Over the past few years, second-hand shops and renting platforms have become the to-go destinations for young conscious fashion lovers.
New generations of fashion lovers are increasingly interested in finding pieces that no one else can have. Uniqueness and originality are highly praised by them and this approach expands even to once-in-a-lifetime events such as getting married.
Markets such as Kilts n Stuff, which emphasizes renting garments for occasions like weddings, are a great example of this fast-growing trend.
Moreover, second-hand shopping and renting are excellent alternative ways to help the planet while finding unique clothing.
4. Vegan leather trend
Vegan leather is loved not only by vegans as it does not require the killing of animals but also by those who care about the planet. One of the most popular vegan leather materials is Pinatex.
This plant-based leather-like material is made from discarded pineapple leaves.
The material is extremely resistant, reliable, and a fabulous choice to create sustainable fashion trends. Innovative vegan leather alternatives are preferred by conscious fashion lovers as it makes them feel good, knowing that no animals were harmed for their boots, bags, and 'leather' jackets.
Also, the vegan leather alternative presents a great benefit for the planet as it slows intensive animal agriculture – known to be a significant source of greenhouse gases.
5. Custom-made (slow fashion trend)
<!--[if !vml]-->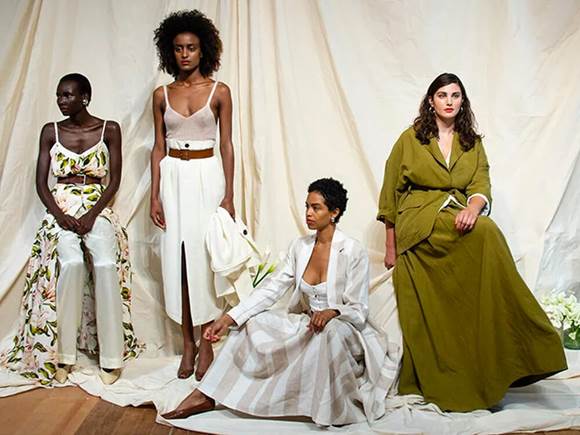 <!--[endif]-->
The slow fashion movement is growing popular, as one of the most effective sustainable fashion trends. As a result, custom-made clothing and artisanal fashion are making a return, as top alternatives to mass-produced fast fashion.
Research shows that customers are ten times more likely to hold onto a new jacket or dress if it was custom-made for them. Custom-made clothing, as opposed to mass production, saves raw materials and yields clothing of higher quality, designed to last.
Moreover, today's consumers have seemingly endless choices of sustainable fashion trends. Hence, customisation is increasingly appealing. The trend is helped by the development of innovative technologies, such as 3d printing and virtual fashion, which signals a promising future for custom clothing.
6. Recycled apparel trend (plastics and textiles)
The advent of using recycled textiles to create sustainable fashion trends and style is driven, so far, by Adidas. In one historic collaboration, the sportswear giant has partnered with Parley for the Oceans, a non-profit organization fighting to clean the planet's oceans from plastic.
The duo has collected plastic waste from the oceans and turned it into textiles that were used to make new Adidas shoes. The recycled textiles from plastics is a trend that's keeping our oceans clean, and our marine life thriving.
7. Lab-made fashion trend
Although fashion is has been using natural materials such as organic cotton, hemp, and bamboo, for ages, recent material innovation has taken this trend to the next level. One such innovative material is Cellulose, a coconut-based fabric that requires much lesser water and land to be produced.
Another interesting material is the leather-like structure made from kombucha tea. The realm of innovative materials created at the intersection of biology with technology is very new but very promising at the same time. Finally, with the help of biology, we can create the perfect 'leather', right in the lab.
Fully biodegradable (because it is already tanned to the colour desired by the buyer), these materials are reducing waste and are entirely eco-friendly.
This article has not been edited by Fibre2Fashion staff and is re-published with permission from thevou.com