Fabric is one of the most important parts of designing; if you don't know the basics of fabric, its terminology, and construction, you're not going to know what to look and ask for. Designing swimwear, raincoats, suits, sweaters, and/or formal dresses all involves different types of fabrics. In order to know which fabrics work best for a particular clothing garment, you need to learn about fabrics and how they're made.
How is fabric made?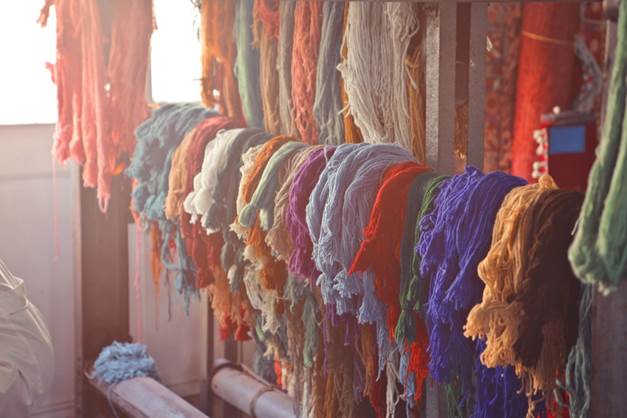 Fabric is made of a type of fibre content and a type of construction. The method of construction will be one of four different types:
1. Woven - Woven fabrics are made by weaving threads of fibre together on a right angle.
2. Knit - Knits are loops that loop on top of each other. Knit fabrics have a little bit of stretch to them, and woven fabrics are stiffer and sturdier.
3. Nonwoven - Nonwovens are fabrics like felt, vinyl, and interfacings. They can be fibres that are meshed or melted together.
4. Hides - Hides come from all sorts of animals.
Fibres can be natural or man-made. To be a natural fibre, it has to come from a plant or an animal. Man-made fibres are oil based or composed of a manipulation of a natural fibre. Fibres are either filaments or staples. Filament fibres are one long fibre and can be natural or manmade. Silk is a natural filament fibre and Nylon is a synthetic filament fibre. Staple fibres are short fibres. Staple fibres can also either be natural or manmade, like cotton or polyester, for example.
Woven and knit fabrics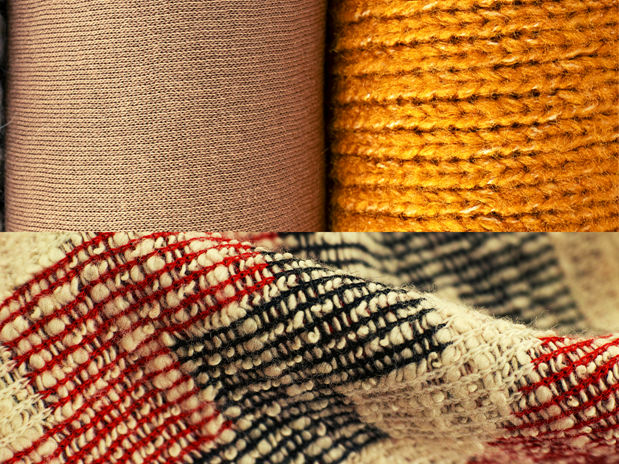 When dealing with woven and knitted fabric construction you will hear the terms warp and weft. Warp and weft are the directions of the threads or yarn. Warp goes up and down and weft goes left to right. An easy way to remember which which is to replace "left" with weft.
You can easily spot the difference between a woven and a knitted fabric by sight alone. The knitted fabrics have small v's of threads and edges that won't fray. A woven fabric's edges fray and you can see the woven construction by the threads interlacing each other up, down, and across.
Both knits and wovens can be loosely or tightly made. There are single and double knits and tricot and raschel knits that are made into fabrics used for common garments. Single knits are often used in jersey tops; tricot knits are used a lot in athletic wear. A double weave in woven fabrics is thicker and is typically used for outerwear garments, such as coats.
Blended fabrics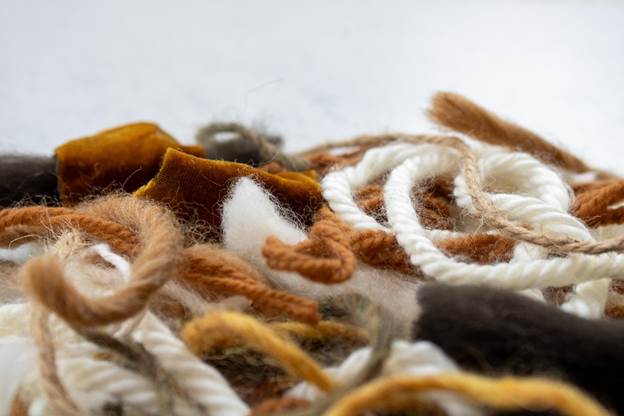 Fabrics can also be blended together with other fibres to create different types of fabrics containing any number of combinations of natural and synthetic fibres. Fabrics are typically blended together to change a fabric for improvement or as a cheaper alternative to the original.
To blend fabrics, you take a core fibre and wrap another one around it. You can decide on the ratio of how much you want of that blend. For example, a cotton/polyester blend could be 50/50 or 60/40. If you want a fabric that is stretchy, you would wrap elastic around your core fibre. You can also blend more than two types of fibres together.
Fabrics can also be anywhere from light, mid, or heavy weighted. When you are shopping and sourcing for fabrics, remember that the heavier the fabric is, the more it's going to cost you, as it uses more fibres.
Before you purchase fabric
Before you start sourcing for fabrics, have a plan of what you want. Fabric stores are a great place to wander around for inspiration for your mood boards and fashion designs, but not when you're ready to make a purchase. Otherwise, you could end up buying fabrics that don't go well together, fit your collection or colour story, or too much fabric (which isn't budget friendly) or too little (which is a hassle).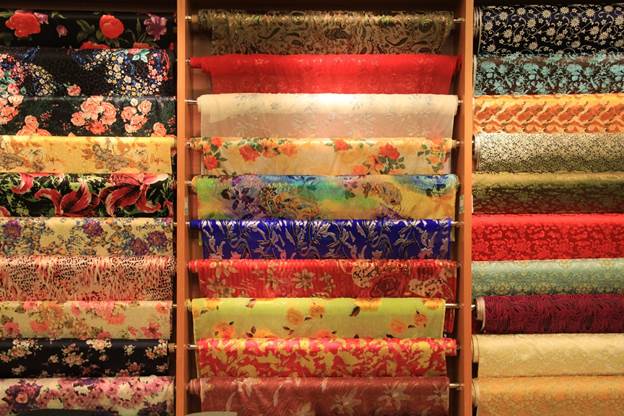 Have a game plan of what you need to buy and challenge yourself to use a fabric in more ways than one. This will help reduce the expense of having to buy multiple different fabrics for one collection and push you to be a more creative fashion designer.
This article has not been edited by Fibre2Fashion staff and is re-published with permission from makersvalley.net