As fast fashion trends begin to lose their appeal, a new way of defining what's in style emerges. One-off pieces, created by sustainable designers through efforts of upcycling and circularity, have become more appealing in recent years, and offer consumers unique textiles made specifically for them. In New York City, non-profit aims to give such designers a stage.
There's a reason why the most well-known fashion magazine is called Vogue. Though now predominantly associated with the publication, the word itself, in essence, is just a chic way of referring to things that are trendy.
When you think of trends, what comes to mind? Anything can technically become one, but in our modern world, the idea has conformed. Something trendy today could mean something that has gone viral. A video, a challenge, a song, a dance move. In our fast-paced world, trends can come and go as quickly as the videos we peruse on TikTok.
Perhaps the thing most associated with trends is fashion. What we wear and how we wear it. Trends born of this fast-paced era have a limited life span; fifteen minutes of fame moment before abruptly being replaced by something else. A seeming physical manifestation of our era's short attention spans.
<![if !vml]>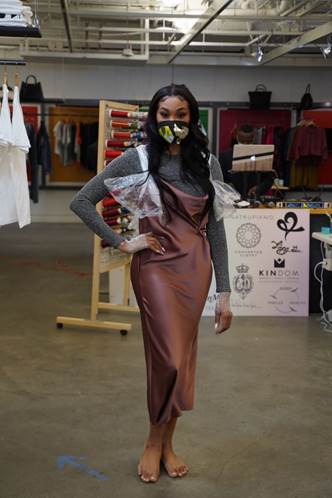 <![endif]>
Ironically, it is via the video-sharing social platform that most trends come into existence. Before the turn of the century, it was fashion magazines that gave way to trends. Then, with time, as digital media evolved, it became a mix of magazines and street culture. Today, however, as all of us migrate to the digital world that is intangible yet somehow still so very real, trends become seemingly determined by the youngest generation that dominates any given social platform. Once it was millennials running Instagram; today it is Gen Z taking over TikTok.
A shift in values
<![if !vml]>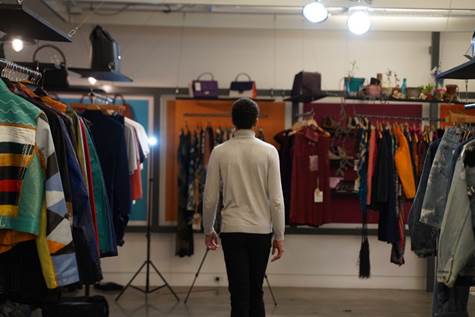 <![endif]>
But last year offered us an unexpected moment to reset, disrupting our incessant behaviours and forcing us to stay still. Fashion, an entity that relies on its now global supply chains, fell apart and was forced to innovate or risk going out of business. Sustainability and the idea of local fashion suddenly came to the forefront and grabbed the attention of brands, designers, investors, and innovators alike.
It's always seemed odd that the idea of a trend should be associated with fashion. If how we dress and style ourselves is meant to be an expression of the self, then shouldn't it be unique to each individual? Sure, it can come to be determined by the social climate of the time, and often is, but the representation should still feel exclusive.
If we consider some of today's fashion icons, such as Chloë Sevigny or Rihanna, they seem to have a grasp on this concept. Each dress in mod silhouettes without losing the individual expression they aim to convey. But most others seem to miss the mark, flaunting semi-different versions of the same outfit. To me, this feels like the antithesis of fashion, usurping one's desire for self-expression and acting as nothing more than an ad meant to sell us something. The norm is more toxic than may at first seem. Fast fashion fads may come and go from our wardrobes, but they will remain in landfills for generations to come.
One-off Sustainable collections Vs Fast fashion
But newly emerging sustainable designers have begun to shift and reshape the idea of what a trend can look like. To them, words like slow fashion and upcycling aren't just buzzwords, but rather lie at the core of what their designs and brands look like. To them, trash is not waste, but an opportunity and creative challenge to make something simultaneously special and stylish from what might otherwise end up in the landfill or our oceans.
The result becomes a one-off collection, where pieces are made from a variety of materials, including but not limited to CDs, cassette tapes, plastic bags, and most likely an assortment of scraps from previous collections. NYC-based sustainable designers slash influencers, Zero Waste Daniel and Debra Rapoport, have been creating such pieces for years now. It seems that in the process, they've managed to encourage others to do the same.
Spotlighting one-off sustainable collections in NYC
<![if !vml]>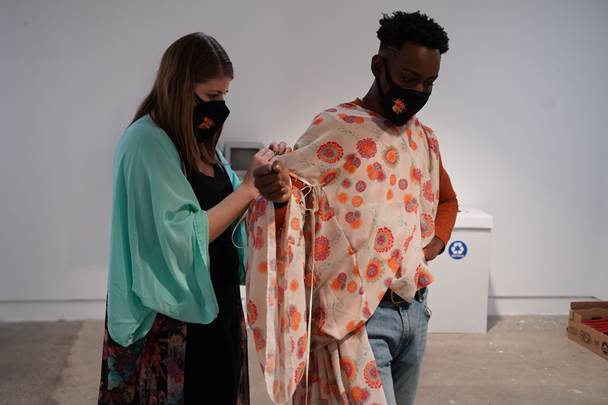 <![endif]>
In New York, the non-profit organisation Impact New York Fashion Week has been committed to spotlighting such sustainably-minded designers and their collections. Since late 2019, their goal has been to offer a "platform for emerging, sustainable designers to showcase their work in pop-up shops, showrooms, and on the runway." Through their efforts, up-and-coming designers are allowed the ability to reimagine what fashion, and its future, can look like when innovation is applied. 
The success of their first show, in which eight sustainable fashion designers showcased collections ranging from evening wear to streetwear to activewear, quickly prompted the production of another show, featuring new designers and their ensuing pieces. Due to at the time still in place Covid restrictions, Lizzy Gee - a sustainable designer, as well as the visionary behind Impact NYFW, and its producer - had to rethink how to best stage the show.
Like all other things as of late, Gee chose to go virtual. She pre-records the event and offered the viewing on Zoom, where attendees would be able to chat with the designers live and ask them any questions.
"I took elements from that first show and combined it with technology I had used with my own brand over the past year in the pandemic, such as Zoom and Squarespace, as well as my background with film to create the second Impact NYFW show", notes Gee via email. "I wanted to maintain that level of transparency, accessibility, and excitement the in-person show had through the online event portal."
Gee herself exemplifies that which she seeks and aims to recognise through the designers she features and sponsors she works with. "Ideally the future looks like a circular rainbow where everyone - size, gender, background - is included since everyone wears clothes and the industry stops viewing fashion as a movie with a beginning, middle, and end but rather an eco-conscious, transparent cycle of creating and recreating."
Her own brand, TresLizzy, is a combination of upcycled one-of-a-kind pieces and original designs made from zero-waste and deadstock fabrics. All designs are made to order and come in sizes ranging from XS - XXL.
If trends are influenced by the current social and political climates of our world, then one-off sustainable garments may just become the newest thing. Such pieces will come to redefine the meaning of a trend - offering individuals unique, long-lasting pieces, which will be passed down through generations. In this case, trends will finally exist as they were meant to be, and not what capitalism has spent decades morphing them into.
This article has not been edited by Fibre2Fashion staff and is re-published with permission from synzenbe.com