Sri Lanka's apparel exports declined sharply last year and have not recovered as much this year as well, even when global demand has seen massive uptick. Sri Lanka's economy depends tremendously on the apparel industry, both in terms of employment and foreign exchange and it has yet to pick up again from the pandemic lows and compete with its peers.

Sri Lanka's apparel trade was tremendously hit by the pandemic last year as all categories among top 10 saw exports decline by an average of 79.7 per cent y-o-y in Apr '20. However, apparel exports have grown from these lows. Exports of these 10 categories grew by an average of 25.5 per cent in Jan-Jul 2021 compared to a minus 29.4 per cent growth in Jan-Jul 2020. Apparel production is a crucial part of Sri Lanka's economy as it contributes to around 44.0 per cent of its exports and 33.0 per cent of its manufacturing employment. Sri Lanka's apparel exports are dominated by innerwear, constituting 27.9 per cent of the total, followed by trousers & shorts at 21.7 per cent, t-shirts at 9.7 per cent, shirts at 8.9 per cent and accessories at 6.9 per cent as the top five apparel export categories.
Figure 1: Growth in Sri Lanka apparel exports (Jan-Jul)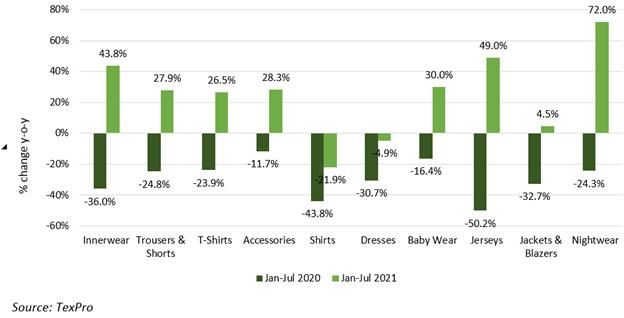 Jerseys exports saw the largest decline of 52.0 per cent y-o-y for Jan-Jul 2020, followed by shirts exports with a decline of 43.8 per cent and innerwear exports with a 36.0 per cent fall. As global demand resumed, Sri Lankan garment factories resumed production for its major markets. While the initial decline in its apparel exports was due to COVID-19 related restrictions, the consistent decline in the latter part of last year was also due to its garment factories shifting to production and exports of PPE suits. Exports of shirts, dresses and jacket & blazers therefore saw consistent y-o-y drop even in the later months of 2020, when other categories started to recover. The YTD data shows that these three categories have also seen the slowest recovery this year. More importantly, shirts and dresses exports have even fallen further than last year. Two factors are behind this trend – 1) shift of Sri Lankan exports to producing alternatives (such as PPE) which are high in demand and 2) global demand for products such as shirts and dresses generally being lower. It appears that both these factors are at play here.
Global exports of shirts (cumulative of more than 90 reporting countries) is shown along with exports of Sri Lanka in figure 3. The six-month moving average for global exports has picked up only slightly this year. Compared with a minus 31.8 per cent growth in Jan-Jun 2020, global exports saw a recovery by only 9.0 per cent for same period this year. Sri Lanka is only a fraction of global exports, making less than 2.0 per cent of global shirts exports. With very slow recovery in categories like shirts (and then assuming for dresses as well), Sri Lankan exports for these product categories will pick up only gradually.
Figure 2: Global and Sri Lanka exports of Shirts (6-months moving average)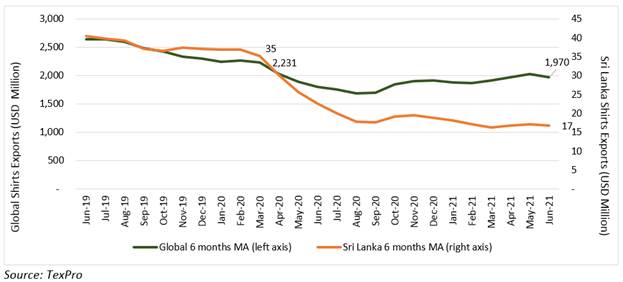 On the flip side, Sri Lanka's improving exports of innerwear has also followed the quick recovery in global demand for innerwear and personal hygiene products. Global exports for innerwear in Jan-Jun 2020 fell by 25.7 per cent y-o-y, recovering strongly with 39.6 per cent y-o-y growth in Jan-Jun 2021 surpassing 2020 values. Innerwear exports from Sri Lanka also recovered well growing 50.5 per cent in Jan-Jun 2021 after falling 38.7 per cent in Jan-Jun 2020. However, Sri Lankan exports are yet to surpass previous year's values. Although, Sri Lanka is the second largest exporter of innerwear globally, its exports growth was eclipsed this year by China at the top. In 2021, China's exports of innerwear have grown much faster, with Jan-Jun 2021 value higher by almost 20.0 per cent relative to same period last year. The demand for Chinese exports is led by a large spike in demand from the United States, followed by Japan and Germany.
Figure 3: Global and Sri Lanka exports of Innerwear (6-months moving average)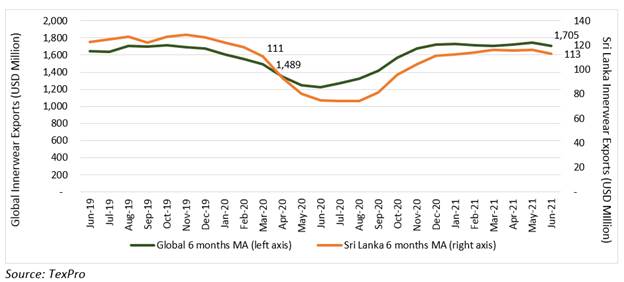 Sri Lankan exports have diversified well into making COVID-19 essentials, while recently its usual export categories have recovered partially, owing to rising global demand. However, Sri Lankan exports have grown slower than global exports. Also, lately a surge in COVID-19 infections impacted operations in many garment producing factories, also hurting the Sri Lankan economy. Garment factories remain functioning amidst COVID-19 restrictions and lockdown, but fuller recovery of production capacity and exports will take time. Aside from the COVID risk, economic risks in Sri Lanka have soared as inflationary pressures have pushed cost of living higher, tourism has been severely hit and its import costs have risen leaving import cover for only two months. Curbing COVID-19 infections remains the primary concern as renewed lockdowns could hurt its economy further.
1 How to read this heat map – cell colour becomes redder as values become more negative, and it gets greener as values become more positive. Values close to the average will show in yellow.