All Allied down is certified
Family-owned Allied Feather + Down is a leading US-based supplier of ethically-sourced down insulation to the bedding, fashion and outdoor industries. In an interview with Paulami Chatterjee, Daniel Uretsky, president of Allied, gives an overview of the global down industry, Allied's localisation versus globalisation strategy and its future plans.
What is down? Where is it produced from? Which kind of apparels does it find its application in?
Down is grown on waterfowl as an insulating layer under a layer of outer feathers on the belly of duck and geese. Down is a by-product of the food industry. Following culling for meat, the down and feather is collected from abattoirs, separated and cleaned. 
Down can be used effectively in pretty much anything that can use insulation, such as jackets, vests, pants, expedition suits, scarves and sleeping bags.
What are the properties of down that makes it an ideal material for insulation? How does it compare with other similar materials?
Down is a unique material due to both the composition and shape of the down cluster. First, it comprises a Kerotin, much like our hair, and so it is tremendously soft and resilient that allows it to be incredibly compressed and re-lofted easily for many years. 
The way down creates warmth is by interlocking down clusters to trap air… the bigger the down cluster, the more air will be trapped. This makes it incredibly light for the amount of warmth it provides. In fact, there is still nothing in the world that compares to the warmth to weight ratio of down. 
And being an all-natural product, it is completely biodegradable and has been shown through a recent LCA published by the International Down and Feather Bureau to have a small fraction of the carbon footprint of a recycled synthetic insulation. It truly is still the best performing insulation on and for the planet.
What changes has COVID-19 brought in the way of functioning of your business?
Like everyone, it has brought challenges at different times and to varying degrees. The most difficult part is the uncertainty of what will be open and where, which impacts our partners' ability to sell their products. It has caused us to be cautious in our approach to projecting for demand and we have tried to take a conservative approach to procurement of materials that we do not have immediate demand for. We have tried to be in even closer contact with both our supply chains and our partners to make sure that we always meet the needs of our partners.
How much has your localisation versus globalisation strategy helped you save on costs and other factors? Is such an arrangement temporary due to COVID-19 or will it be a norm henceforth?
The push for localisation has been something we have been doing since inception. With our supply chain, working directly with local farms has allowed us unique abilities to do things like help build the Responsible Down Standard and offer a level of transparency and traceability to all our brands. It became increasingly obvious how important this global web of localised supply chains is when there was a massive bird flu that decimated a majority of the supply chain. With the diverse nature of our global supply chains, we were able to procure material from other sources to help offset and not a single partner missed a shipment. The move to a localised production network was simply the next obvious step.
For us, it is a tremendous cost, but we know that as viruses and climate become more erratic, it is more important than ever to have plans A, B, and all the way through F. We know it also has the potential to significantly reduce the carbon footprint of our material if we can cut down on shipping material across the world just to ship back for manufacturing.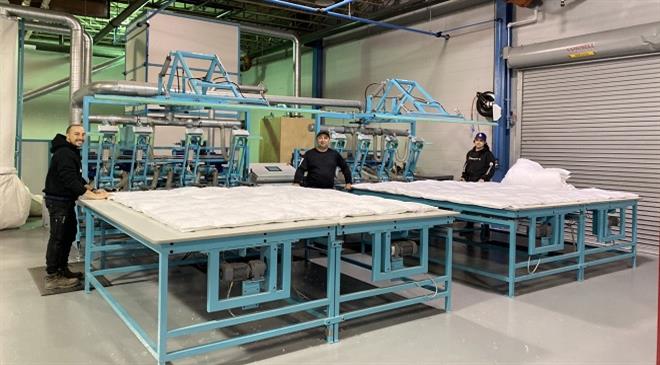 How have revenues been before the pandemic and now as it mutates and bounces back to disrupt life and businesses?
As stated above, COVID-19 has thrown off everyone's business in some way due to the closures, openings, and then re-closures. We have tried to diversify our company offerings to help offset any reduction in revenue in any particular area due to the pandemic.
Which are your major markets worldwide?
Allied has long been a global leader in the outdoor industry, featured in many of the largest and most technical brands. As the fashion and overall broader apparel industry has become more focused on a more sustainable supply chain, we have seen great growth there as well and it has given us the ability to engage with a new market and audience that otherwise did not consider the sustainable or more technical aspects of this great insulation.
In addition to apparel, Allied also has a retail bedding division, Allied Home (alliedhomebedding.com) selling to retailers and manufacturing for large bedding brands throughout North America as well as a growing hospitality division alliedhosptialitybedding.com) focusing on finished bedding products like pillows, blankets and mattress pads for various hotel chains.
Which new markts are you looking at?
We are always looking for ways to grow and building standards like the Responsible Down Standard with our apparel partners. We now see certifications like this becoming increasingly important to home and bedding, and our plan is for expansion there, particularly the luxury boutique and travel industry where some of the innovations we have researched for in apparel, are applicable to provide a cleaner and safer sleep for post-pandemic travellers. To that end, we are partnering with Fuze Biotech, which is on the cutting edge of safe and sustainable bacterial resistant technology. There is obviously a lot of chatter in this space at the moment, but most-if not all-of the current offerings are based on ionic silver, which is an older technology and proven not to be safe for humans or the environment. Reading the safety data sheet (SDS) of those current products is quite scary. It is part of our ethos and DNA to develop products that not only have unparalleled performance but are leading in sustainability as well. We are also looking at other product lines we can offer our partners that will help them offer a more complete package to their customers. For example, developing a down wash, which is a sustainable palm-oil free specially formulated home laundry solution made for down products.