Garment on Hanger service best suited for 'need-it-now' industries
APM Terminals Inland Services, South Asia is part of APM Terminals (part of the Maersk group), a leading global port and inland services company headquartered in The Hague. It has operations in 58 countries and has one of the world's leading global terminal networks. The company offers garment on hanger (GOH) service. GOH containers are standard dry containers converted or modified to be able to safely and conveniently carry garments on hangers-the way these are hung in major retail stores. Managing director of the South Asian arm Ajit Venkataraman discusses the length and breadth of GOH and the latest at the company.
Tell us about the Garment on Hanger (GOH) service.
APM Terminals Inland Services' GOH service enables dust-proof and hassle-free, direct-to-store delivery of retail garments in an export-import set-up. The activities that make up this service include customised fabrication of standard containers to suit the make, type, design and length of a garment; use of mobile GOH trolleys for effortless domestic and in-facility transportation and movement (ensuring safety and time saving); set up of GOH rooms ensuring safe storage of garments before being placed into containers and shipped; and skilled and efficient labour. This enables the retail store to simply pick and place the garments in the shop by removing plastic covers.
How many racks can a container fit? How many garments in each rack are hung?
The concept of GOH is different. The count is not made in terms of racks, but hangers and loops. As against the traditional method of arranging garments in cartons and stuffing the same in containers, in the GOH system, the garments are individually placed on hangers, covered with plastic and the hangers are then hung in a specially-designed and fabricated garment holding system inside the container. This is created when an existing container is modified to have beams from which hanger holding systems are suspended. There are two such systems-strings/ropes with loops and strips with loops. The capacity always varies with the type and weight of the garment. On an average, a twenty-foot container can carry 5,000 ladies' coats.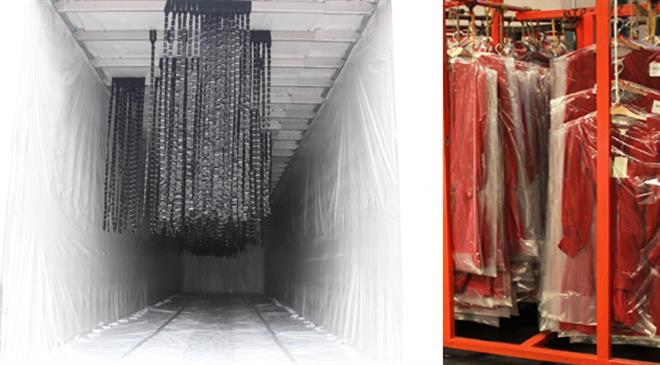 Does the movement and handling affect the quality of the garment?
That is the very issue that this service addresses. The entire solution is designed to maintain the quality of the garments. To provide direct-to-store services, it is critical that right from its point of first movement to the destination, the garments are protected from dust, moisture, creasing and damage. 
Here is how the garment moves: The garment is put on a hanger and covered top-to-down with a plastic sheet. We fabricate mobile GOH trolleys to move the garment inside our paved yard facilities and from there, to the specially constructed dust and moisture-free GOH Rooms. GOH Rooms have special lining and are structured to store the garments in the same hanging format. The access in these rooms is controlled and restricted; for example, there is special footwear to use in the room.  When it is time to export the shipment, we create customised GOH containers by fabricating dry containers with hanging systems technically best suited to handle the load and the volume of GOH. These systems are then load-tested to ensure there is no overloading or mishap on the journey, for example, the garments falling off the system onto container floor. We take pride in wrinkle-free delivery to customers. 
What is the size of the apparel companies using the GOH services?
The services are beneficial to large-, mid- and even small-sized companies. Most of our clients are medium-to-large scale organisations that have complex requirements of garment transportation and storage. Quality and speed are non-negotiable for them.
What kind of garments is the service used for-menswear, womenswear or kidswear?
This service is applicable for all. The concept is about ensuring that the garments don't need to be folded, and are in a state such that when the truck arrives with the consignment at the retail store, it simply is picked up and placed in the store as it is without any unpacking, unfolding, dust vacuuming or ironing, saving time and cost. These are factors that are critical for the fast-moving fashion industry. 
We have seen this is especially beneficial for long dresses, coats, jackets, blazers, kids' dresses and women's gowns that form a major proportion of garments we create GOH systems for. 
How was your performance in the last two fiscal and what expectations from next two?
APM Terminals Inland Services is an end-to-end logistics solutions provider especially for export-import trade with own infrastructure of container freight stations (CFS), inland container depots (ICDs), container services facilities, warehouses and cold chain storage facilities across India.  Last year has been a landmark year for our South Asian business, with an increased opportunity to provide store-door solutions to the customers and service India's high potential agriculture, seafood, pharmaceuticals and chemical industries. South India's first integrated CFS and cold chain solutions facility based in Chennai was inaugurated in 2018 and delivers services of global standards. It is already handling a variety of products from across the nation. Another recent development was the environment clearance certificate for the Pune ICD and integrated supply chain solutions facility. 
Broadly, our company has performed in line with the market trend where the western and northern regions of India have seen shipment and cargo growth. Being fairly new facilities, our business in Mundra and Tuticorin has shown an impressive pick up in volumes. Pune's ICD and integrated supply chain solutions facility too is delivering on its promise of being the one-stop solution for various manufacturers in the vicinity and neighbouring regions. The receipt of authorised economic operator certification has also helped add value to the customers' supply chains. 
Our container services division's performance has been significant this year, backed primarily by its leading expertise in refrigerated container maintenance and repair, and thoughtful GOH fabrication solutions.