Major contribution still from classic styles
Catwalk Worldwide Pvt Ltd (CWPL) engages itself in the design, development and production under the Make in India model, and also commercialisation of high fashion "affordable and disposable" footwear. Managing Director Asif Merchant talks footwear and retail.
Sourcing norms for single-brand retail have been eased. How will this impact the retail sector, especially footwear?
I think that it will further suffocate the local industry which is already suffocated by various regulations. In the excise regime, half of the industry was wiped out because of the strangest of norms-with VAT and excise we footwear players were paying 24-28 per cent (post discount) compared to 5 per cent on apparel. The funniest part was that when the footwear was not leather and if it was above ₹1,000 you keep paying the taxes, and if footwear is leather, which is very expensive, the excise was half. And now in the GST regime, again if the footwear is greater than ₹1,000, the GST is 18 per cent compared to 5 per cent again for apparel. This has wiped out all artisans, SMEs, MSMEs as they could not compete with China. 
If you import today, the cost will still work out to be much cheaper even after paying the duty of 25 per cent, whereas under the excise regime when you imported the shoes, excise was on declared MRP which discouraged imports in the VAT regime as the cost then worked out to much higher which eventually discouraged imports. So, now when we are having FDI, for the global brands it is on a platter as there is no Make in India requirement and they can use their existing global supply chain and beat the local market inside out due to their efficiencies of scale. 
Catwalk four years back took on the challenge for Make in India making affordable, disposable, fast furious fashion, (the brand's vision) and went ahead with backward integration. The brand incorporated extreme technology to roll out the processes for just-in-time (JIT) and just-in-case (JIC) for fulfilling its vision. The brand took over from farm to fork to drive efficiencies taking on the global bigwigs after FDI.  
What factors are shaping the footwear segment? What are the challenges?
There has been an increase in demand from fashion-conscious customers. And although the fashion awareness among consumers is increasing, the major contribution still is from classic styles. 
As a company, our current challenge is minimising the lead time from runway to consumer. Lack of manufacturing infrastructure to support Make in India is also an issue. 
The current GST on footwear above ₹1,000 is 18 per cent compared to 5 per cent on apparel. It should be at par with apparel so as to support the footwear industry. Considering the growing size of the market in India, our immediate requirement is infrastructure for manufacturing to be in tune with Make in India. Also, for accessories the import duty and GST rates are very high ranging from 12 per cent to 18 per cent which need to be corrected.
The art, the skillsets, the personnel- what does the footwear industry need to do to meet these challenges?
The footwear industry alone cannot do this. It has to be a tripartite effort involving the Centre, state and industry leaders where the mission and vision have to be clear. The China model is such and we need to work towards that. In recent years, the government has been only working to encourage exports and never heard of any initiative to stop imports by building requisite infrastructure in the country along with industry leaders. In both cases, be it export or bringing down import, the government will eventually be helping the currency or foreign exchequer.
Coming to your brand, what has the growth story at Catwalk been like? What is the retail presence of your brand?
The growth story has been one of success. There is 100 per cent YoY growth in our online sales and 22 per cent contribution to revenue. In case of brick and mortar, about 60 per cent of our sales are from tier-I or metro cities. We currently have five EBOs, 413 MBOs, 38 franchisee managed stores and are live on all major online fashion portals. Based on our market intelligence and sale analyses, we are working on increasing the fashion quotient of our footwear. With a large number of retailers entering tier-II and III cities, we see a lot of growth opportunity in these towns.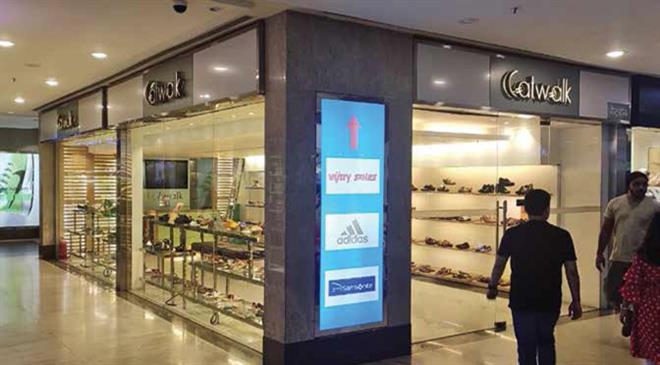 How many collections do you have? Which are the best-selling styles?
A leading footwear brand for women, the Catwalk vision-Affordable Disposable Fast Furious Fashion -caters to the fashion-conscious woman wanting to keep up with global trends on a budget. We have various collections like Gothic, Glam, Wedding Dreamers, Go Go Go (our athleisure collection), Wall St (our corporate collection), Comfy Coma and Hot Chic. We also have collections of new flavours that are launched every season. It would be difficult to pick a single style, as people purchase from Catwalk for both comfort as well as extremely high fashion needs. Our price point is our USP, with our MRP ranging at ₹1,895-3,695.
What innovations are you working on in terms of fibres, soles, and linings?
Sugar coatings for interlining, microfibres, high-performance technical foams for the manufacturing of footwear supplied by Zahonero. The top material used in each category: casual-suede microfibres; formal- PU microfibres; sports-mesh. We also incorporate premium styles in accessories. Fabric is mainly used for our athleisure collection and in our uppers and socks. The fabric is sourced from India itself and the usage has definitely increased in the last couple of years for that particular range.
What are the qualities that you look for before taking on a new vendor?
We look for vendors who improve with time and adapt easily to new technologies and who are ready to work under OEM and ODM formats. We are always open to new vendors who can bring in innovation. We have six vendors on our panel.
How is the design process worked out? How do you ensure quality of your products? What percentage of profits is ploughed back into R&D?
We have an in-house team of designers, constantly developing world class styles under the supervision of senior buyers with experience of 20+ years. We follow all global standards w.r.t. QC and technologies to ensure the best quality. Since the brand is working on making fast fashion available to domestic markets, the research cost takes up 30 per cent of profits.