What are the standards required to be followed by farmers or cotton gins to be qualified for CmiA?
CmiA has developed a standard taking social, environmental, and economic criteria into consideration. The two-tier requirements reflect the actual sustainability requirements for growing and processing cotton in the partner countries from the field to the gin. These include a strict no to deforestation of primary forests and the use of genetically-modified cotton, allowing only rain-fed irrigation, strictly forbidding slavery, human trafficking or child labour, and following global conventions on ethical trade, such as the International Labour Organisation (ILO) standards. There are criteria to exclude farmers in the initiative as well.
Being part of the CmiA programme ensures fair working conditions in the fields and factories. Farmers get access to pre-financing for investment necessary for cultivation and ginnery workers receive monthly salary on time. The salary exceeds or corresponds to at least the national set minimum wage. Training sessions in modern, efficient and sustainable methods help farmers, cotton companies and ginnery workers adhere to the criteria. Independent organisations periodically conduct compliance audit.
What is the amount of cotton produced annually by farmers under CmiA? What percentage of the produce is consumed domestically and how much is exported?
In 2016, 320,100 tonnes of CmiA cotton were harvested on more than a million hectares.  A growing textile industry only in a few countries, such as Uganda or Ethiopia, ensures CmiA cotton can be domestically converted to finished products. Therefore, a high percentage of CmiA cotton is exported to countries outside Africa.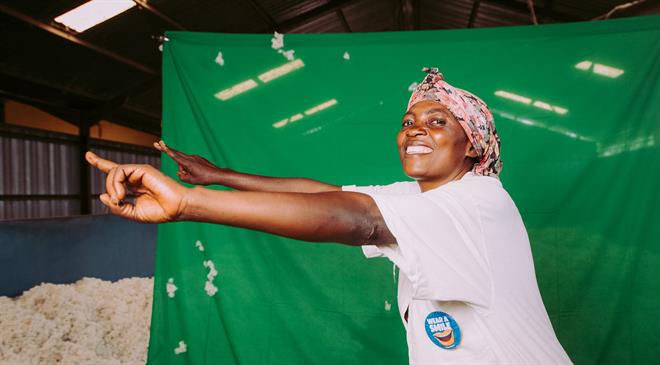 How would you describe the demand for CmiA cotton? What varieties are produced under this initiative?
African cotton has relatively long fibres and is carefully picked by hand. That makes it a high-quality raw material. It is no coincidence that cotton is a popular raw material for T-shirts, trousers and shirts. Cotton feels soft and pleasant on the skin, it is breathable and absorbent. Its staple length ranges between 18 and 42 millimeters, making CmiA cotton a medium staple variety that can be used and integrated in the international supply chain to make a wide range of products, such as T-shirts, bed linen and shoes.
What are the current and future projects under this initiative?
Despite the growing demand for Cotton made in Africa, there is still a high percentage of cotton not produced using unsustainable techniques that ends up in the supply chain. Our aim is to train even more farmers on how to grow sustainable cotton and to further increase the demand for CmiA cotton among retailers and brands. We continuously strive to improve the way we work with the farmers, cotton companies and ginnery workers and to make players along the textile value chain - from cotton traders to the consumers - aware of what they source or wear. 
To name just a few projects, we invest in training initiatives that help farmers protect nature and increase yield, such as the farmer business schools or the bio-pesticides project. Our supply chain management offers qualified sourcing services that support textiles companies and brands to easily integrate CmiA cotton into their supply chains and create a traceable and transparent value chain to drive the change. 
What kind of challenges does CmiA encounter?
A challenge for CmiA cotton is to do away with the prejudices African cotton encounters. We often hear that African cotton is not available in the global textile production markets and is of low quality. Thanks to our international network of cotton traders, spinners and vertically-integrated producers, we know that African cotton is exported and used worldwide. 
Being active in the textile supply chain for years, we can say that CmiA cotton is of medium staple length, can be treated easily like any other hand-picked cotton, and is used for a wide range of products. We still struggle with the stereotypes of the African continent that an NGO has to face. Instead of charity and compassion, we feel passion for this diverse and beautiful continent with a lot of business opportunities for setting up a textile supply chain that combines sustainability for people and nature with profitability.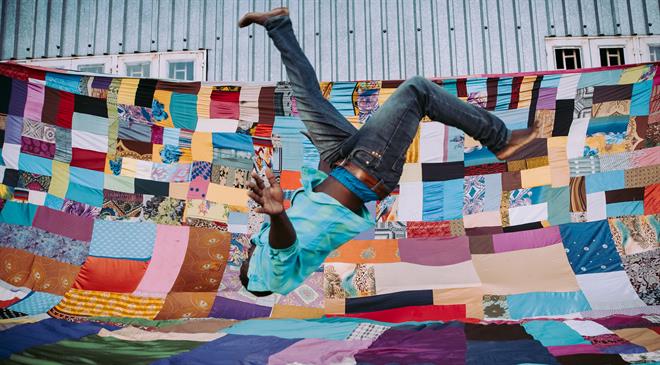 What revenue did CmiA make last year and what are your expectations from the future?
Due to the boost in sales of CmiA certified cotton, license revenues for the CmiA label increased by 47 per cent in 2016 in comparison to the previous year, reaching about 1.48 million Euros. The share of public financial aid in 2016 reached the lowest level of 1 percent. The figure substantiates the motto of our organization - Aid by Trade.(HO)