Do you work with the weavers on a project basis or is it more regular?
BR: Long-term regular basis so that under the projects a large number of weavers and dyers are supported for a stipulated time.
Telangana has a rich textiles history. What needs to be done to preserve the arts and crafts of yore?
KSKR: Yes, we are one of the states with a textiles legacy of many centuries and a large handloom production. We are trying to contemporise local skills such as ikat and finding new large scale markets for them. In 2016, we were appointed senior consultants to the UN for natural dyes and weaving advisory for East African countries. Creative Bee was made a technical partner for large scale training and entrepreneur skill building programme Disha that is supported by the Ikea Foundation, and implemented by the UNDP and IDF for women weavers from Yadadri, Nalagonda, Warangal and Siddipet in Telangana.
What does it take to create new weaves? Why do we not see creations of new weaves anymore?
BR: It will take more designers to work in the sector, and more R&D facilities.
Have you come up with any new organic shades from the ancient systems of developing colours?
BR: All shades of colours existed in the form of natural colourants for clothing as well as food over centuries; we had lost the knowhow. At the Creative Bee farm, we produce almost all natural dye colour shades needed for global fashion.
What is the kind of R&D taken up at your studio? What percentage of your profit goes towards R&D?
KSKR: R&D is a constant activity; 30 per cent of our cost goes into that.
Is the weaving, printing and dyeing done only in Hyderabad?
KSKR: We have trained weavers' groups not only in Telangana but also in Andhra Pradesh, Maharashtra and Chhattisgarh. The Creative Bee Dye farm is 40 km away from Hyderabad at Ghatkesar village. All our natural dyed-printed textiles are produced only at the farm.
What is the production per month of the fabrics when woven and when printed?
KSKR: Approximately 15,000 metres, all products put together.
What are the various products that are created by the brand?
KSKR:
Technique-wise we have ikat, upada, jamdani, plain weaves of chirala and mangalgiri, tussar and silk mix signature weaves of Bina Rao. We have thousands of blocks; some are revival of traditional kalamkari, some are themebased contemporary designs and custom-made designs of Japanese and other clients. We have revived hand-painted kalamkari in its highest quality; historic designs based on palmpore-chintz, and custom-made designs for European buyers are produced as well.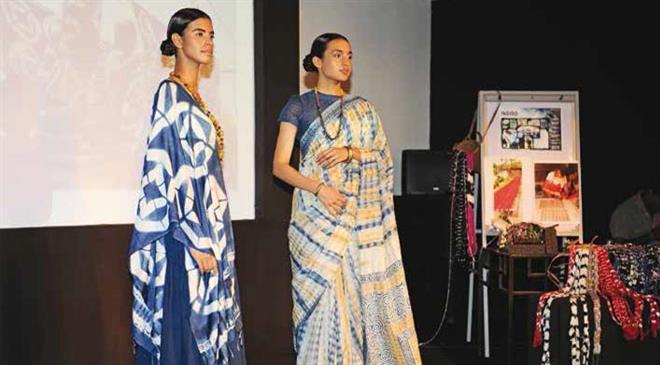 How do you comply with environment protection when it comes to the printing and dyeing?
BR: Our products are 100 per cent environment-friendly. We do not use any harmful ingredients in our natural dyes. We use zero electricity in all our processes, except garments.
What has Creative Bee done to publicise the brand?
KSKR: Not much; it is almost word-of-mouth and our growth is an organic, slow but sustainable growth.
What about your fashion house, The Design Studio?
BR: It is at Banjara Hills, Hyderabad. We have kept our design studio facility open to all designers. A number of Indian as well as foreign designers visit the facility, spend a few days, and develop their collections. The studio has quite a large archive of references and samples of two and half decades of our own work.
Tell us a bit about the Creative Bee Craft Foundation.
BR:
We both are artists at heart and temperament. So, crafts other than textiles too got us interested. Kesav has been extensively working on natural dye projects in Southeast Asia. We have a network of like-minded designers and professionals from Japan, Thailand, Malaysia and Indonesia (World Eco Textiles & Fibre Forum) working at a different level in the crafts sector. We saw that in our country, there is a need of training facilities for artisans of a semi-mechanised facility to prepare raw materials for large and unified productions of Indian crafts. Also, our diagnostic study of Indian hand-craft sector revealed the fact that the business of craft shouldn't have too many inter-mediators for artisans to earn a sustainable income. So, we have kept our craft side involvement, non-profit, (Creative Bee Craft Foundation), limiting it only to training and direct linkages of trained artisans to retail chain stores.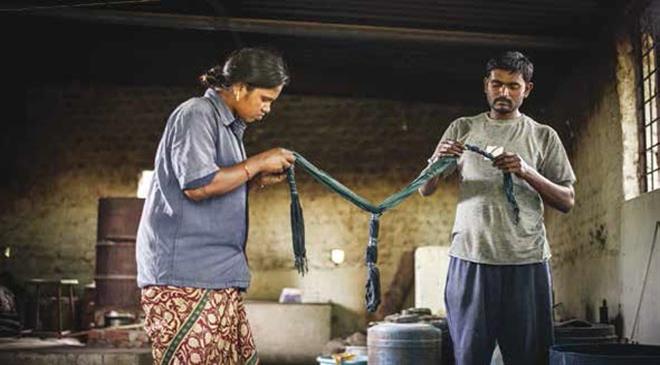 What are the different weaves that Creative Bee has?
KSKR: Creative Bee has revived a number of traditional weaving techniques of Andhra Pradesh and Telangana and transformed them into modern designs and trendy colour palettes. We now don't use their traditional names as most of them fall under GI protection and as a designer my strength is in creating new textures by using a variety of hand-spun wild silks, linen and cotton; so, these are like our signature weaves and we dye them in natural dyes and print, hand paint or tie-dye on them. The textures look amazing and almost impossible to replicate by others.
How do your training programmes work?
KSKR: We conduct training programmes (10 days to longterm as well as turnkey) only for resource people such as dyers, weavers and professors. The training programme has to be supported by the government of respective countries or NGOs, UNDP, etc. We also offer one-day exposure visits to the Creative Bee Dye Farm for foreign groups coming from wellknown organisations for textile tours to India.
What has been the response to your brand in the West?
BR: Good. If we had the ambition to expand, we would have expanded multifold with offices in many countries.
What sort of bulk orders can Creative Bee handle?
BR: We can handle up to 2,500 metres (mix of yardage, saris, stoles, etc) per month. In prints and weaves, we can do as much as 10,000 metres, and for handpainting and tie-dye we can do 200 metres. For garments, we can do 500 pieces. Usually, a lead time of 30 days is needed. So, our production cycle is 60-70 days.
How is the Creative Bee brand marketed in India and aboard?
BR: Through retail, e-commerce and high-end fashion boutiques. And also www.creativebee.in.