What is your export ratio compared to internal consumption within India?
We have a 60-40 ratio. Export is 60, domestic is 40.
What percentage of your sales is through brick & mortar and what through e-marketplace?
E-commerce is less than 10 per cent, but it is growing especially with the Covid impact. 90 per cent sales is through brick and mortar.
What are the major challenges facing this industry? Where should the government pitch in?
I don't think we need any more help from the government. We are a strong country with lots of positives in the textiles space: raw material availability, skill sets, heritage, ability to speak English - the list is too long. There is a large domestic market and we have the ability to do so much with the talented, educated Indian workforce who are available at a good value in dollar terms. There is nothing specifically needed.
If the government can create long term stable policies for the textile industry, that would suffice. The government has already done a lot. So, I don't subscribe to the view that we need any crutches.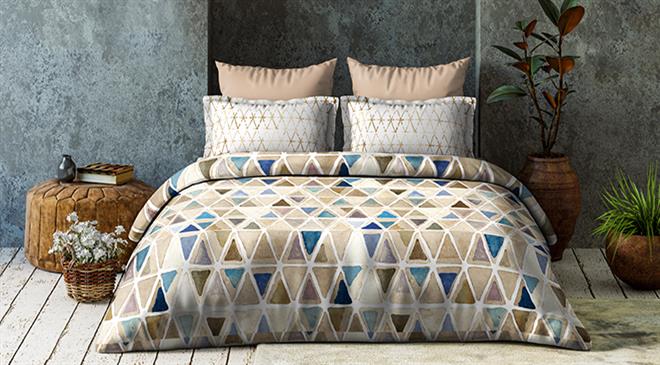 Which are the factors that will fuel growth for the home furnishing industry going forward?
The biggest factor on the domestic market front is - our population demography is such that homes are increasing, number of nuclear families is increasing, younger people are getting married and starting their own family. There is a true demand and need for this demography to own a house. The second factor that will pull the demand is - Indian companies are able to use better business models to penetrate the world market. The whole e-commerce and the digital piece is a big opportunity for the Indian companies. India is good in IT and textiles, and should be able to combine both of these and penetrate with better price points and closer to the consumer. The third factor would be global trade agreement which I think will be favourable to India. There is a high possibility of India and US signing a favourable trade agreement and there is also a high possibility of India and UK doing it as UK is coming out of the EU. So, that would allow us to have equal advantages what the other players have, whether it is a Bangladesh or Pakistan. The fourth factor is that the basic growth is there in the economy. Now the emphasis is on home. The whole world has got the wakeup call that home is a very important place and after the Covid experience, people are going to prioritise their home more.
You recently partnered with Swiss textile innovator HeiQ to launch antiviral and air purifying range of furnishing fabrics. What are the unique characteristics of such fabric?
As we are trying to save ourselves from getting infected, one of the frequently contacted surfaces is the home textiles. You just cannot avoid physical contact with upholstery on your chair or sofa, your bedding, etc. The antiviral, which is a topical finish, we are using this chemical in partnership with the Swiss company HeiQ. They have developed a product which is tested and is proven to eliminate any virus which comes in contact with any fabric within a minute and that efficiency keeps the next person who comes in contact with that fabric, completely safe.
What do the slogans 'Vocal for Local' and 'Make in India' mean to you? How are you adopting these trends within your products?
There is a need for India to grow its own economy and give employment to its people. So, this is 'Vocal for Local' and 'Make in India', the government's message. At D'Decor, this is a message that we have adopted from Day 1. Everything we do is in India; all our manufacturing is in India. 90 per cent of the products we sell to any part of the world come from our own manufacturing. We want to improve this by taking it up from 90 to 100 per cent.
We need to take the larger message - to create growth and employment and contribute to the Indian economy more.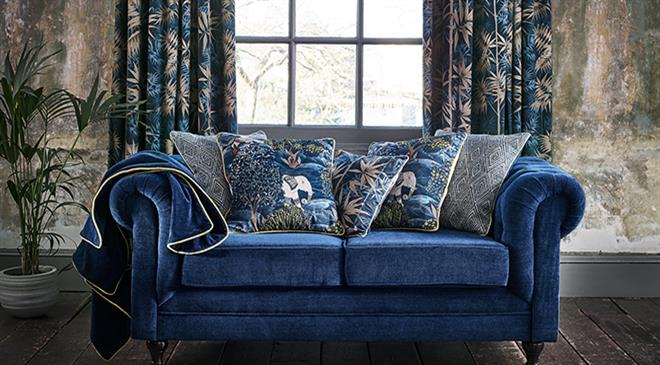 What are the short and long-term sustainability goals set at D'Decor?
Sustainability is something we have always been sensitive to. Today, 70 per cent of the water that we use in our manufacturing is recycled. We would like to increase it to 90 per cent, that is one goal. Currently 12 per cent of the electrical energy is coming from the renewable source - solar. All the roofs at our plants are covered with solar panels and the goal would be to double these numbers. The third aspect is the elimination of any harmful substance. The fourth is to give big priority to fibres that are sustainable. D'Decor is beginning to increase the offering and the production being done from these fibres, which are recycled polyester made from plastic bottles. We have a serious effort underway to eliminate a good quantum of plastic waste by using recycled polyester fibre. Then we want to encourage use of organic cotton, which is again sustainable. With respect to the chemicals that we use, we are compliant with a number of environment friendly regulations - REACH, Oeko-Tex etc. We want to eliminate certain harmful compounds which are bad for the environment which are put in finishing chemicals. The finishing chemicals do attribute some cleaning properties e.g easy to clean etc. We are collaborating with our chemical suppliers to achieve the same properties without any carbon or CO inside. 
We are working with Reliance and RSWM to source sustainable fibres. These companies have installed capacities which specifically convert plastic to polyester.
We are also looking at packaging on how we can make it sustainable. These are some of the sincere efforts we are pursuing on the sustainability front..
What are your expansion plans for the next 5 years?
We are a company that would continue to maintain a steady growth rate of 15-20 per cent every year based on what is happening in all our markets. We hope the brand D'Decor would go abroad in the next 5 years and expand its recognition with international consumers. (PC)