Weaving Brands
The Karnataka government helps start-ups grow through incubation, mentorship and funding. One such successful venture is Fabric Monde which helps small-scale weavers who produce indigenous handloom products to connect with top brands and urban markets. Co-founder and chief executive Jyothirmayi Dakkumalla charts out the story to Subir Ghosh.
How did your story / journey start? What exactly were you trying to do, or achieve when you set out? Looking back today, how much of your goal do you think you have been able to achieve?
Fabric Monde was born out of the idea of catering to the demand and love of the urban markets towards indigenous handloom products. Evolved from there, today we are working on a global supply chain for the fabrics to support and enable fashion brands to source fabrics in a sustainable way. Part of our success story is the support that we received from the ITBT&ST department, government of Karnataka. Through a tech-enabled platform, we intend to support small-scale businesses and fashion brands to optimise the supply chain for their sourcing needs.
We have optimised the supply chain for over 5,000 fabric products from 20+ states across India. We are working on interlinking the different levels of the supply chain in the textiles industry. Starting from the seed to the end fabrics, we would like to aggregate and build a network of different people dealing with fibres, yarn, dyeing and weaving on our platform. Leveraging this data and optimising the movement of raw materials within the textiles industry can have a big impact on the overall cost and the impact that it has on the ecosystem. 
Tell us more about the work that went into getting the project off the ground. What kind of homework did you do? What kind of experts did you engage?
We focused our initial days on understanding the sector-the product and the problem. Once the problem was known, the usual discovery of the business model as a solution to the problem was the focus. We spent about a year, failed in six business models and finally pivoted to the current business model which has been stable for a year in operation right now. Our participation at the Bengaluru Tech Summit-a flagship event of the ITBT&ST department of the government of Karnataka gave us the platform to interact with many other start-ups, trade bodies, mentors and venture capitalists, and helped us to revisit our business model. The homework involved travelling to clusters, organising 50+ popup stores, meeting hundreds of customers in the beginning. In the process, we met many experts like creative directors of companies like Amazon and Arvind, entrepreneurs, investors, mentors and channel partners who eventually collaborated to make Fabric Monde what it is today.
How many members in your team are experts in textiles? Or handlooms, to be specific?
In our team of 10 members, we have three textile experts. The co-founders- CEO and COO-have a hands-on experience of working with textiles and understanding quality management. Our designers and merchandisers are from the premiere institute for design- the National Institute of Fashion Technology (NIFT). Handlooms is a specific category where our expertise lies in end-to-end production and quality management processes.
How many SKUs (stock keeping units) did you start with? How many do you have now? Likewise, what about the number of weavers?
We started with a set of 30 swatches, and today our portfolio contains 11,000+ swatches which can be purchased online in swatch format, or for sampling with no minimums, or order for bulk quantities. The number of weaver organisations have also grown from a couple of them who were closely associated with us to about 250+ organisations who are now supplying their products to us.
How do you ensure that weavers retain their IPRs (intellectual property rights)? What kind of credit do they get? How much does a weaver or a weavers' organisation get to earn?
All the products in our portfolio are end-to-end traceable for the clients. At the time of onboarding the supplier, we take consent of the supplier to share the designs and provide market linkage for their designs. The designs produced by the suppliers are presented to the buyers with their details, and the orders are only passed to the vendor who produces the design. In case the vendor is unable to take up the order due to lack of bulk production ability, a prior notice is sent to the supplier.
Tell us more about how it works for, say, a manufacturer or a designer. And how does it work for a retailer?
It works the same way for a manufacturer, retailer or designer.
However, some features like Moodboard is something that a designer can relate to and virtually pin all his / her selections. On the other hand, the no-minimums helps a manufacturer make a sample and experiment with as low investment as possible. A retailer can directly order for bulk volumes to sell it off from the shelves.
You harp on quality. And how exactly are you able to ensure quality, especially given that you are not manufacturing anything. The more suppliers you have, the more exacting it would be to maintain quality.
Fabric Monde works mainly on three quality aspects-quality standardisation, quality management and quality delivery. We ensure internal inspection on quality parameters of fabrics. A four-point system is followed, and an average score is given to all the yardages that are dispatched from our warehouse. Additionally, callouts, effects, defects, physical parameters and test result numbers are shared with a customer beforehand, so that the client makes an informed decision. During the period of production, constant updates, QC (quality control) at various time points like at t=0, 20, 100 (in days) is taken. A checklist is prepared ensuring oneness in quality at all stages of the process.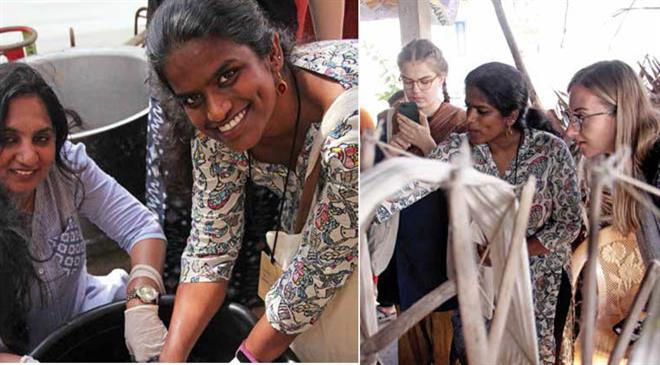 Continuing on the same thread, how were you able to sell the idea of quality to buyers when you started out? Could you give a few examples?
Selling the idea of quality assurance to the buyers was the most difficult step when we set out on our journey. We were in a chicken-egg situation where the big clients who were experts in the product asked us for past experience. Until one big name was attached to us, the other would not, as they do not want to risk on quality. At that point, having a clear plan of execution on how to manage quality at scale and learning the product and identifying the nuances of production helped us break through that catch-22 situation. 
After the first big brand believed us and experimented with us, the only job we had was to ensure that our plan was executed perfectly and gain customer delight-which we did diligently. Once we had one big name associated with us, the others gathered more confidence and now we have 300 brands at various stages of the sales process.
How does it work on the logistics front? How do you ensure a seamless supply chain? How much of it is transparent?
We are collaborating with third party vendors for our first mile, middle mile and last mile logistics. Our tech platform helps us choose the right vendor for the type of requirement from the customers. Depending on the nature of business, the B2B client may need the logistics to be fastest, cheapest or most convenient. Based on the need, we select our logistics partners and make it seamless.
What about funding? What were the project costs when you took off? Have you broken even? What kind of funding are you looking at in the coming days?
We had ₹74 lakh of total funding- IIM Bangalore: ₹15 lakh; Villgro Invent Fund: ₹50 lakh; Ekalavya Foundation, IIM Ahmedabad: ₹5 lakh; IIM Calcutta Innovation Park: ₹4 lakh. The project cost when we took off was ₹5 lakh. We broke even in December 2018. We are now looking at equity and debt funding that would enable us to grow our venture to greater heights.