Which are your strong markets in the US?
Based in New York, we are definitely East Coast-strong. As we have travelled along the coast to beach towns in New York, New Jersey, Massachusetts, Virginia, and so on, we've developed communities and loyal customers in these different places.
Where do you source raw material for swimwear from?
The plastic bottles are sourced from mass recycling facilities worldwide, and then sent to their respective manufacturing facilities to be broken down, spun, sewn, and shipped out.
How many pet bottles go into making a Fair Harbor swim trunk or boardshorts?
Each pair of boardshorts or swim trunks makes use of approximately 11 recycled plastic bottles. We project to use more than 100,000 recycled bottles this year alone.
How many collections do you come up with every year? How many styles are there in each collection?
This definitely varies; we don't have a set number of styles or even collection schedule. It's an extremely organic, creative process that we're navigating as we go. We just released our debut women's collection in May, and have more exciting things planned for the future.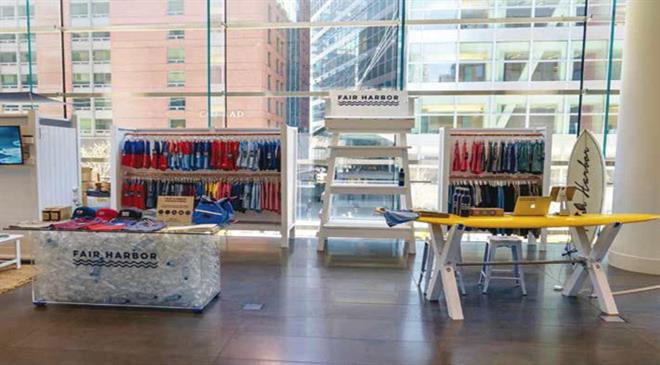 Tell us about FH's soon-to-be launched women's swimwear line.
We just launched our first women's collection, spearheaded by Caroline, my sister, co-founder and creative director. The line was inspired by her time spent in Fair Harbor, as well as abroad in Australia. It speaks to the inclusivity of the island that I spoke to earlier, and Caroline aims to make this collection about body positivity. There's a style for everyone and the intent is to feel comfortable in your suit-whether you're lounging around, playing beach volleyball, or riding some waves.
How many retail stores do you have? Do you plan to open more?
Our first retail space opened in downtown Manhattan in May. We have thoughtfully designed the space with small pieces that remind us of our childhood in Fair Harbor that people can experience for themselves. This location will be a place where people can come touch, feel and engage with our brand in a new way. We have strong retail partners that carry our gear across the East Coast of the States; however, Fair Harbor itself is e-commerce-based. We're incredibly strategic about those partnerships, but focus primarily on our directto-consumer business.
Which are your best-selling products online and offline?
Made from recycled plastic bottles, organic cotton and a bit of spandex for stretch, our One Short is one of our best-selling styles. These shorts can be worn throughout the day at the beach and into the evening by throwing on a collared shirt. They are extremely transitional, and we haven't been able to keep them in stock.
What's next for FH? Do you plan to expand your current product basket?
We have a lot of exciting new products launching this summer! We've just released a new performance boardshort and athletic short that use the signature recycled polyester from plastic bottles and upcycled coconuts. We also have a collaboration collection coming out featuring a local artist, Johnny Vacay, with his photographs digitally printed on to our signature boardshorts. They're incredibly unique and limited in quantity. As we look into the future, we're constantly creating new products that relate back to the Fair Harbor lifestyle and seeking different ways to develop a community around our brand.(HO)