When do you plan to go live?
We plan to go online in May or June, depending on how fast IBM is able to put things together. The backend is now ready. We will have time till May/June to sort out all the teething issues. We will be ordering another Kornit machine. Once we are online, we cannot afford to have any downtime. It will not only increase my capacity, but also have a backup ready. You cannot tell your customer that you cannot deliver since the machine is out of order. Once you fail to deliver, you lose face, and the cascading effect starts. So, despite the fact that it is a huge investment, I do not want to take chances. 
Given this customisation bit, what is also true is that virtual fitting rooms, for instance, have not really taken off. How do you react to that? By and large, the technology had been expensive. Yet, a concept called 'Try on' is available at the Indiranagar (Bengaluru) showroom of Louis Philippe wherein a customer can stand in front of the magic mirror and actually see the shirt on him. That technology is available at an affordable price now. So, this will slowly become popular. Moreover, this technology was mostly available in countries like Italy or Germany. 
How do you see the concept of customisation shaping up in the future (vis-a-vis ENVS)? Will it be hot?
No, not immediately. It would all depend on how we advertise ourselves. We have to make ourselves known among the target audience. But for sure, customisation has a great scope in the future. Everybody wants to look different. People can buy/wear what they want, and not what is offered to them. Currently, you may like a particular print, but it may not be available in the style you want. But now you can get around that issue by getting both the print and style that you want. And size too.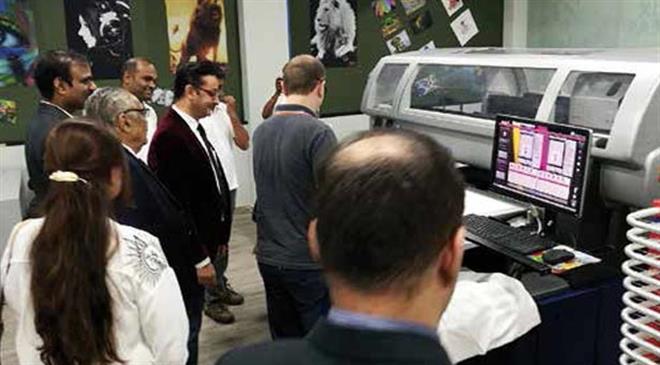 What kinds of fabric would you be placing on offer?
In cotton, we will be going in for organic. Silk, by itself, is organic. We will be offering viscose, etc, as well. Moreover, we will also be looking at the bags and shoes market, since this machine can print on those surfaces as well. It can print on PU and rexin fabrics too.
Fast fashion?
No, I wouldn't call that fast fashion. Talking of fast fashion, and I don't want to name anyone here, there are brands that offer very cheap products and they are not eco-sensitive. They talk big about being sociallycompliant, but the same brands produce garments which are not ecofriendly, and the garments… how are they disposed of?  As it is, they are not eco-friendly or biodegradable.
So, will you source recycled textiles?
Yes, we are already in conversation with some mills (mostly in the North) that use recycled polyester. In the South, you get a lot of organic cotton. But here we have to be careful. The cotton can be organic, but when you give it for dyeing, it would end up with a lot of chemicals. So, how would that remain organic?
You talk about compliance issues. What kind of certifications do you have?
We have SA 8000 from Social Accountability International for our European customers, and Worldwide Responsible Accredited Production (WRAP) for the benefit of US clients. And now we have applied for GOTS certification as well. The Kornit machines themselves are pre-certified by GOTS. We should be getting it soon.
Coming to your products, how expensive are your garments going to be?
Our products are not going to be cheap. A shirt, for example, would be in the range of ₹2,500. In any case, we are not expecting a boom the day we launch our portal. We would slowly like to grow our customer base, who want to be eco- friendly. We will have a whole gamut of products from shirts and t-shirts to blouses and evening gowns.
What about your existing business (i.e. FMO)?
We have about 8-10 clients and we do a sizeable business with them. I only look at the bottomline: am I making a product that is profitable, or am I just serving the client? There are a lot of companies that concentrate only on the turnover. We don't want to get into that kind of rat race. We want to remain in a niche segment, supply high quality products to our customers, and take a price for that.
What about your financials?
Last year, we closed at a turnover of about ₹50 crore. This year, we are looking at ₹75 crore. About 90 per cent of our turnover is from exports. At one point, we were serving a lot of domestic clients. But we are not happy with the domestic segment. Many domestic brands have still not evolved, according to me. They expect a lot of things that are realistically not possible. We prefer our customers to be flexible and understanding.
Is that why you are going solo?
Yes. I don't want to be supplying to domestic brands. I want to create my own space. Yes, it is going to be a daunting experience and a challenging task.
How long did it take you from the conceptualisation to execution of this project?
I had contacted Kornit in 2014, and wanted to buy a machine. I know a Kornit printer was 10 times more expensive than a usual one. But at that time they were not supplying in India. I happened to get in touch with them again in September 2016. They said they were still not supplying in India, but if I were keen, then they would work on it. I wanted to buy both the machines (in all costing about $1 million). I signed the deal with them on October 11, and just three months later, the machines are here- installed, and ready to roll.