We want to develop a brand around the concept of being green
Fashion Matrix Overseas (FMO), a Bengaluru-based manufacturer and supplier of high fashion apparel launched its new venture ENVS Eco-friendly Digital Fabrics India Pvt Ltd (ENVS) in January. As part of the launch event, the company demonstrated its state-of-the-art production technology supplied by Kornit Digital. ENVS will be relying on Kornit's Allegro for digitally printing on-roll fabrics and on an Avalanche 1000 for direct-to-garment printing. FMO Director Vipin Sethi spoke to Subir Ghosh about the company's new initiative that intends adding a new dimension to garment customisation through its portal.
Let's start at the beginning. What's the story behind Fashion Matrix Overseas (FMO)?
I entered the industry in 1996 after completing my business training. I worked for an export house for about seven years. She (Seema Sethi, who is my business partner and sister) joined me in 2001; we worked in the same company. In 2003, one of our customers gave us the encouragement to move on our own. That's how Fashion Matrix Overseas (FMO) came into existence. When we left, all our customers moved with us and wanted to continue working with us. They moved with us despite the fact that initially we had no office or factory. But they had a lot of trust in us, and wanted to do business with us. The first one year we managed working from the basement of our residence (here in Bengaluru), and in 2004 we started a 3,000 sq ft office. God was kind and things went well. In 2006, we built up an area of 30,000 sq ft (in Peenya), and we started our first garmenting factory in January 2007. Till 2006, we had been shirt suppliers. We saw that the business of shirts was slowly moving to Bangladesh, which was a much cheaper destination. It was a stroke of luck in 2006 that a customer of ours was having some trouble with a Delhi supplier. So, she wanted to do some styles (with us) that were new to us. We took up the order as a challenge, and delivered the product in time. Those were typical high fashion ladies styles, which is essentially the forte of Delhi, and not normally produced in Bengaluru. The customer was happy, and started working with us in a big way. That was the transition of FMO from being a men's-only supplier to a primarily women's supplier. 
In 2010, we ventured into a very niche market: Bavarian garments, which are mostly worn in the countryside of Southern Germany, Austria, the Czech Republic and Switzerland. It is a very specialised garment; it required a lot of skill and learning. We had to convince a customer to give us a sample. We duplicated the sample and returned it to him. He was satisfied and started placing small orders of a few hundred pieces with us. As he started having confidence in our quality, he started increasing the quantities. Today, we produce about 200,000 pieces every season. Now, customers search for us, and come to us. We now offer an entire package.
Who are you doing this for?
We are producing for one of the biggest labels in the Bavarian region called Stockerpoint. We are also working with a lot of other labels. We now offer them a complete package. We not only offer dresses, but also trousers, blouses, shirts, t-shirts, sweaters, among other things. The sweaters are made at our unit in Ludhiana, and meant for the Bavarian region. That (Bavarian dresses) is our niche segment. We have a monopoly in that segment, and have developed our own skills over the years after a lot of mistakes.
What were these mistakes?
Initially, the fittings take a lot of time. Then people ask for different kinds of embellishments on the garments. At times, customers want specific kinds of laces that have never even been seen in India. Even Chinese suppliers have not been able to make those laces. Now, we make most of them (laces) here. At this point in time we can say with confidence that if there are challenges in the Bavarian segment, we can definitely overcome them and deliver to the customer. The customers have confidence in us, and that is why they keep coming back to us.
So, the Bavarian dresses are your USP.
Yes, they are. We want customers in the Bavarian to look at FMO as a onestop destination for everything.
Who do you get your feedback from, the brands or the end-user?
We get feedback from brands.
Now, about this new venture ENVS.
We all live on this planet. We all have the right to clean soil, water and air. It is everybody's responsibility to go green, and give future generations a clean planet to live in. So, the reason we chose Kornit Digital is that they are eco-friendly. I could have purchased ten digital machines at the cost of one Kornit machine. But with those machines I cannot be eco-friendly. We want to develop a brand around the concept of being green, and we would want to serve those customers who are conscious about it. We would like to look at a niche market where people are conscious about contributing to a cleaner planet. Kornit is the only company in the world that offers ecofriendly inks.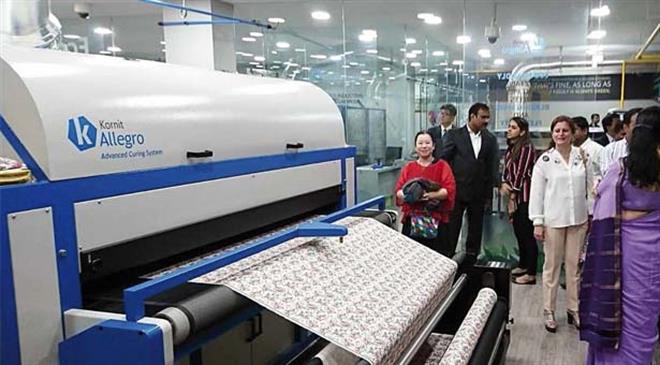 What is ENVS going to do that FMO already doesn't?
We have tied up with Kornit for the backend technology, and with IBM for the frontend. IBM will be managing our portal. We plan to subscribe to a lot of international journals which forecast prints and designs for the next season. We will upload the designs that we buy from them onto our website. To begin with, we will be uploading close to 50,000 prints, and we will be refreshing them every month. We want to introduce concepts called fabric-ondemand and fashion-on-demand. We want customers to express their individuality. When a customer logs on to our portal, s/he will be offered a huge number of designs, and will be able to interact with the site. S/ he can choose the design first, and then the fabric too, be it cotton, silk or polyester, etc. We will be offering a range of fabrics on which the customer would want the design to be printed on. We will print the desired length/quantity and ship it to him/ her. This has a potential in both the B2B and B2C segments. In the B2B segment, we will tie up with some furnishing and furniture companies, for instance. They can have bespoke furnishing or furniture for their own customers, ranging from blankets and curtains to cushion covers and pillow covers. There is also a huge space in the children's segment as well as lingerie. The garments/fabric would be eco-friendly and pass all tests prescribed for children's clothing. The same reasons would apply to intimatewear as well.