What about sustainability? Do you spell out any requirements for exhibitors, or have a section dedicated to it?
We have a chapter on machinery related to engineering products in which we are covering renewable energy resources such as solar energy as well as sustainability through rainwater harvesting, care towards environment by using appropriate wastewater treatment plants, effluent treatment plants with zero liquid discharge, etc.
Please give us a break-up of weaving, knitting, printing, garmenting, embroidery and technical textiles machines and ancillaries displayed at the fair.
As given below: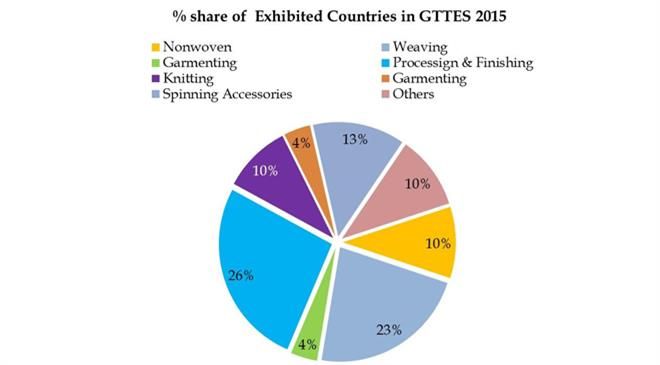 Where is India lagging behind in terms of textile technology when compared to its rivals?
Indian textile technology has left its footprint on the global scenario in manufacturing machines for spinning and partly for weaving preparatory and fabric processing. However, it lacks in developing good and efficient technology for weaving and finishing equipment.
How successful have you been in being a catalyst to the growth of the textile engineering sector?
Forty years back, when India ITME Society was conceptualised, the Indian textiles industry was heavily dependent on handloom and Europe for textile technology. Today, India has become the second largest textiles industry in the world and competing in production and quality in the global market. Availability of modern machinery has helped this journey from traditional to modern. Also, many machinery manufacturers have set up manufacturing units in India providing cost-competitive technology to the Indian textiles industry. India ITME Society, in the past 40 years, has facilitated these influencing factors in the textile & textile engineering industry. India ITME Society events have a significant role to play in this progress.
What is the amount of textile machines and ancillaries annually imported by India?
See the table below: