Creative manufacturing is backbone of rural non-farm economy
Industree Skill Transform Pvt Ltd is a for-profit skill development company, incubated in partnership with the National Skill Development Corporation (NSDC). COO Sanjev Nagar speaks at length about the institution's intervention in enhancing design capabilities of producers, making them employable, thus, increasing the artisans' status in the society.
What was the seed capital you began with? Who are the founders and major investors now?
One of the founders of Industree Foundation is Neelam Chhiber. Her inspiration for Industree had its roots at the National Institute of Design. During her days there, it became clear that for livelihood in creative manufacturing to grow, artisans in rural areas would have to reach out to more distant markets, where their skill would be appreciated and valued. Over the years, she was advised that the people who work in the creative manufacturing sector need support and hence the idea for the 6C ecosystem approach slowly began to reveal itself.
How does the Industree-NSDC partnership work?
Industree Skill Transform Pvt Ltd (ISTPL) is a skill development company that was incubated in 2013 by Industree Foundation with support from the National Skill Development Corporation (NSDC). ISTPL works with under-compensated handloom weavers and handicraft artisans, who represent a large traditionally-skilled rural workforce that is unorganised and suffers from poor production infrastructure, working capital and contemporary entrepreneurial skills. ISTPL's intervention results in enhancing the design capabilities of producers and making them employable, as a result, increase their social and financial security. This means that ISTPL's intervention involves the capacity component of the 6C ecosystem. It focuses on setting a curriculum, with inputs from the Industree Foundation and with the case of some modules, using the framework set by NSDC.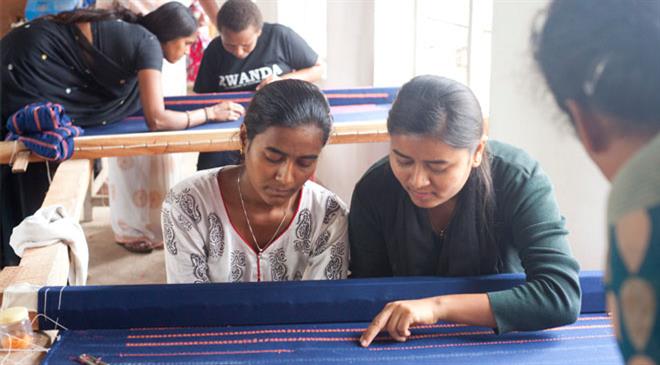 How many brands are you associated with?
Under Mission Creative Million and as part of the relationship between ISTPL and Industree Foundation, there is an equal division of responsibility. As a result of this relationship between the two entities, the mobilisation efforts of ISTPL are complemented by the sourcing of market linkages that have been sourced by Industree Foundation. For example, women in the Mandya district of Karnataka have been in charge of fulfilling work orders from Fab India, to give an example of one brand. Internationally speaking, Industree Foundation has an ongoing relationship with Ikea.
What is the number of people being trained and upskilled at your institution?
For the 2017-18 financial year, Industree Skills have trained approximately 7000 artisans by entering into CSR partnerships. Since its incubation, over 16,000 artisans have been trained by implementing various projects under government such as PMKVY, RPL, Special Projects with NSDC, CSR Projects through NSDC and short-term trainings.
How many artisans do you work closely with in India and in which regions?
In Mandya, Industree began working with producers in the apparel value chain by encouraging women to group themselves in producer-owner companies.  In Odisha, Industree is working with the Odisha Forest Sector Development Project (funded by the Japan International Cooperation Agency) to impact 300 women in the siali leaf value chain in Phulbani and Baliguda forest divisions. In Tamil Nadu, Standard Chartered has funded a project to build the financial capability of 5,000 producers across multiple craft clusters and districts. Of these, 1,000 producers will also be trained in building financial capability at an enterprise level. Project implementation is ongoing.
Which are the major focus areas of Industree?
The major focus areas of Industree includes livelihood generation with emphasis on increased and regular incomes and ensuring equitable and fair conditions in the apparel value chain. In addition, another focus area is the holistic development of women by focusing on empowerment at home and work, resilience to life crises and improved standard of living for the next generation. Industree also aligns its work with the United Nation's Sustainable Development Goals Framework namely gender equality, economic growth, responsible consumption and production.
At present, how many textile artisans are associated with you? How are you promoting on the national and international level?
In terms of geographical outreach, we are associated with textile artisans from Karnataka, Tamil Nadu, Odisha and more recently in Andhra Pradesh. At the national level, market entry is supported by applying the 6C ecosystem approach, as mentioned earlier. At a simple level, this means that while the production unit has been set, all the other factors of production are being sourced in tandem such as market orders and the mobilisation of the local population that will work in the production unit.  Under our Mission Creative Million, we are implementing the model in Ethiopia. We have conducted scoping studies about the cotton value chain in several East African countries as part of an International Trade Center initiative. Industree in association with ITC-SITA will be working on the farm-to-fashion value chain in Ethiopia.