Is the competition in your line of business getting fiercer? How do you cope with the competition?
The influx of machinery and machine-made goods in the market is a major setback for the hand-knotted carpet industry. These machine-made carpets are cheaper and faster to produce. However, choosing not to replace thousands of jobs to a machine, we continue to work with weavers and spinners to create hand-knotted carpets.
We cope with competition by distinguishing ourselves; what sets us apart are our weavers. The way they pour out their soul into every single knot in every rug is the reason we have grown so much. Our endeavour has always been to make sure our weavers get their due. A large part of the success of our social impact, scale and scope is the people-centric model that my father put in place. We are focused on ensuring that our customers get what they want, but at the same time we are able to do that by providing sustainable livelihoods to our artisans.
Our rugs are inspired by rural India, which is also what gives us a unique identity and is a pull for eminent influencers to collaborate with us.
Not all handmade rugs are woven in the same way. Tell us about your style of weaving.
Our artisans are experts in Persian knotting in all qualities, from 6x6 sq. ft. to 14x14 sq. ft., which would mean that in a single square inch there are 36 to 196 knots. A rug can have up to 2 million asymmetrical knots. 
Tell us about the new technologies used in dyeing. How sustainable is your dyeing process?
Usually, we use a 'bhatti' for dyeing. However, if the quantity of yarn exceeds 100 kg, we use the dyeing machine. Apart from this, all our dyeing processes are hand-managed. 
Technology has proven to be a great asset. Though the actual process of making the rugs is purely manual, we do use technology to support our weavers. For example, technology has allowed us to generate computer-assisted designs for our weavers that give them directions knot by knot. We also use technology to collect consumer insights and gain a perspective into their purchasing habits and preferences. This helps us align our designs with consumer requirements and thus, helps the business.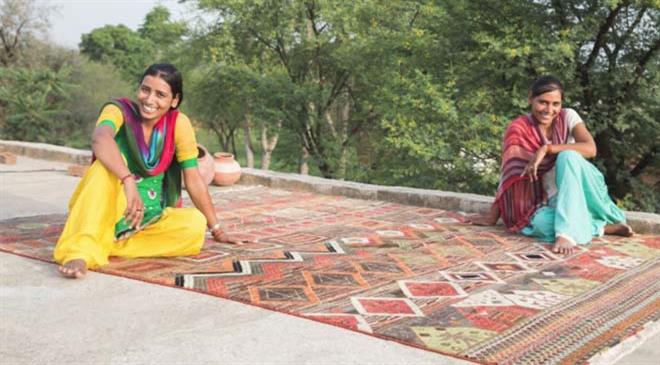 Who are your major customers in India? What about exports?
Our customers in India comprise young millennial-professionals holding senior positions in the corporate world, well-travelled individuals with an enhanced and evolved aesthetic sense.  Art connoisseurs, architects and interior designers across the globe are our customers.
We export to over 45 countries, while the Unites States is one of our biggest importers. We also export carpets to several European countries.
Tell us about the after-sales service.
We offer the following after sale services:
Rug Repair: Our professional repair staff has the expertise to repair even the finest rugs.
Rug Washing: To retain lustre and beauty, the carpet should be deep-cleaned every 12 to 18 months, depending on the life-style of the household, frequency of vacuuming, and whether the carpet is of light or dark colour. Cleaned rugs look better and last longer. It is generally recommended that a hand-knotted or hand-woven rug be washed every three to five years. With 40 years of experience in rug-making, we have skilled staff with expertise to provide professional cleaning services.
Rug Warranty: Our products come with a product warranty of up to 12 months against manufacturing defects depending on the weaving.
What percentage of revenue is invested in R&D?
We have dedicated departments that are thorough with their research in design development, trends, consumer behaviour, demand prediction and changing trends. 
What is the size of the rug market in India and abroad?
At a global level, the Indian carpet industry has been on the top since the independence era. Today, India stands as one of the largest manufacturers and exporters of handmade rugs and carpets. From a business standpoint, this will prove to be a big advantage for the foreseeable future. Around 75-85 per cent of rugs and carpets manufactured are exported.  India is amongst the only five countries globally making hand-knotted carpets. The others have shifted to machine-made rugs.
How do you rate the pace of growth of rugs, especially handmade, in the Indian market?
India is a growing market for this product. There has been a shift in people's perception towards their living spaces. Today's consumer is widely-travelled and well-informed about trends. It is interesting to note that the luxury retail industry around the globe is experiencing a modest pace of growth for the past three years. Exchange rates are constant and luxury companies are no longer benefitting from the trends of favourable market and free-spending consumers. 
Consumers not just seek the accumulation of products, rather they seek experience. The secret is to lead with the customers' experience, augment it, expand it, structure it, and build it up, and ultimately that will change how customers experience the products. The achievers in the retail space will be those who can make customers experience 'happiness'. Ultimately, if retailers and marketers are able to change the perceptions of people and their expectations of the products, they can take charge of everything. Marketers then have the power to take charge of what consumers buy, how much they spend on it, and how satisfied they would be with their purchase.
How is the domestic and global demand for man-made and machine-made rugs?
They both cater to different markets and do not fall in the same segment. The handmade and hand-knotted rugs are premium products and fall under the luxury category. The sheer amount of time and effort that goes into making a single rug is quite high. 
Their machine-made counterparts are manufactured in large quantities and are much more affordable. The Indian market has a huge preference for traditional motifs, patterns and vibrant colours, which is contrary to what our global counterparts like: abstract patterns, muted colours and modern designs.
What training do the weavers and artisans undergo to meet customers' demands?
We have programmes to train weavers in areas with no viable work. These are typically villages that rely entirely on the seasonal employment of agriculture. 
Our involvement has given them a means of living that lasts the entire year and does not depend on unreliable weather conditions. Artisans are identified and trained through an intensive campaign that motivates them, explaining the cause of Jaipur Rugs, and then imparts skill trainings. These trainings are undertaken by experienced weavers and our staff while providing trainees a stipend. 
Jaipur Rugs works with a network of 40,000 weavers in six states. What about your expansion plans?
Over the past decade, we have expanded from two to more than 45 countries. We want to establish ourselves as a premium consumer brand in the coming years. Our goal is to constantly work towards the betterment of our weavers so that they are looked at as artists and weaving becomes the go-to job in villages. (RR)