Can the government move on mandatory handloom purchases help the KVIC?
Initiatives like these assert the good intentions of the government to boost the sales of khadi and village industries products. In order to provide employment to the doorsteps of remote villages, it has to be ensured that it is equally backed up by a well thought out marketing strategy.
Innovation always does the miracle! Khadi has recorded a jump of 62 per cent in fabric production in the last five years, i.e. from 103.22 million sq m in 2014-15 to 170.80 million sq m in 2018-19. And, this increase of 65.42 million sq m happened once we encouraged the registration of new khadi institutions and stressed on artisan-centric programmes and aggressive marketing since 2015. During this time, there have been 376 new khadi institutions and over 40,000 new khadi artisans. 
With aggressive marketing we have enhanced the quality of products, introduced new product lines and innovative ideas like khadi gift coupons, etc. It is quite notable here that the coupons were introduced in September 2017 and till date coupons worth over 
₹
93 crore have been sold.
The new guidelines from the Government of India on 20 per cent compulsory purchase of KVIC products will give a big boost to the khadi sector and I anticipate it will create at least 1 lakh additional jobs and in the coming years the turnover will also see a quantum jump.
Is KVIC planning to sign deals with foreign brands for the supply of khadi?
In the last two years, the KVIC has held exhibitions and participated in trade fairs in more than 60 countries. Recently, we participated at the Feria India International Trade Exhibition in Peru between March 11 and 15, 2020. While we are trying to increase our presence, we are also exploring opportunities for tie-ups with retail partners and e-commerce portals, as well as ways to increase the exports of khadi and village industries products. 
While we are continuously getting offers for partnerships with foreign brands, we do not want the authenticity of khadi to be played with or its purpose to be compromised at any cost. However, any such proposal which satisfies the purpose of the KVIC is definitely welcome. 
Interestingly, the KVIC is going to set up its first international retail store in Bhutan very soon. The proposal has already been approved for implementation. Our objective is to unleash the potential of the fabric of Indian heritage. The KVIC will not leave any stone unturned.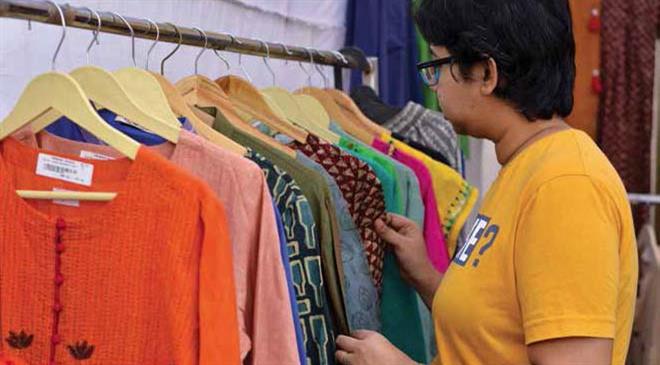 Which are the other sectors that the KVIC would like to bring under its umbrella?
When Mahatma Gandhi and others floated the concept of khadi, around 40 training centres were opened across India to extend skill development training to develop khadi and village industries products. Senior experts from various industries joined the KVIC to impart the best training. These industries included rural engineering and bio-technology, bee-keeping, and various others. As years went by, the trainers retired and gradually the skills and products diminished. Unfortunately, this decline in the skills and production of village industry products was not recognised by the earlier governments and all such verticals were made defunct. We are continuously reviving all verticals and the success is there for everyone to see.
Are you planning to tie up with big brands, like the Uttar Pradesh Khadi & Village Industries Board recently announced a tie-up with the Raymond Group?
At the KVIC, every state khadi board is an independent body and has the discretion to unleash its full potential. Personally, I would want every state khadi board to bag as many tie-ups as possible. At the central level, we have just created a centralised mechanism for procuring, distributing and managing orders. Large orders from the government, PSUs or corporates are managed at the central level. We are continuously guiding all state khadi boards to join us in the expansion and revival of the khadi outreach.