How much is the digital printing industry set to grow in the next 5 years?
As consumers increasingly demand customised, personalised, and on-demand apparel, accessories, and home goods, digital printing is the most perfect fit for meeting that demand, so our outlook is fantastic. Our goal is to make Kornit Digital a $500 million company within that timeframe, and considering market conditions, we believe that goal is absolutely reasonable. While Covid-19 has been a clear accelerator for digital transformation in the apparel and home fashion supply chain, conditions have long favoured our business model, and we see no reason why that would change.
How are factors like mass customisation and shorter lead times affecting the digital printing industry?
Those factors are driving brands and fulfillers directly to our doorstep. Traditional print methods require too much preparation, too much labour, too many logistics for an ever-shrinking profit margin. Digital offers total agility, and the ability to generate profit from a single piece ordered, produced, and shipped. If you want to keep up with the demands of ecommerce, when consumers expect limitless options, in any quantity, shipped within 24-48 hours, you need digital.
What kind of software goes along with your digital printers? Is it proprietary software or a third-party software? What kind of configuration does the printers require?
The software eco-system surrounding our systems consists of a variety of proprietary and specially developed solutions for Kornit by third party players, to ensure a full suite of best-in-class solutions. A reliable, versatile workflow solution adds considerable efficiency and control to the end-to-end production process, which is why we added Custom Gateway to our portfolio. A good RIP product is also critical to delivering precise, high-quality graphic impressions, and we incorporate solutions from ColorGate and QuickP into our print systems. Kornit Konnect is a proprietary platform that enables managers to monitor and control their production operations at all times, from any location. Our trained system engineers tailor each system to the needs of individual customers, so those businesses can hit the ground running and generate profits from day one.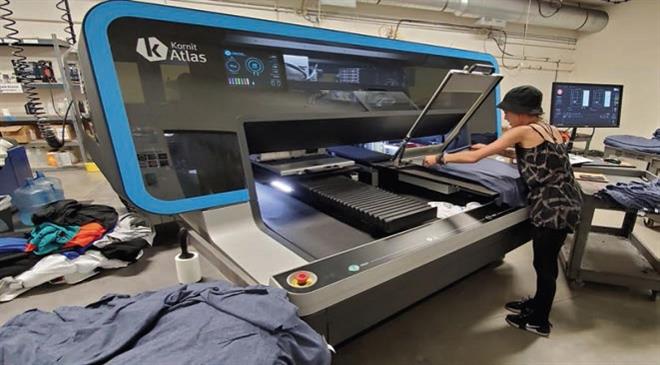 Which are the major markets (geographically) for your printers? Which markets are you planning to tap in future?
We serve customers and market to new opportunities all over the world. Our largest market is North America, but we also have a very strong organisation in Europe, and are expanding our capabilities in Asia, South America, and Africa, as well. The ecommerce age has impacted all corners of the globe, and we intend to enable on-demand production wherever it is needed, enabling the proximity production model that's been a success for our industry and many others. As with those using our systems, the closer you are to your customer, the stronger your advantage is in the marketplace.
Tell us more about your direct-to-fabric (roll-to-roll) decoration industry technology?
Kornit Presto is our system for roll-to-roll, direct-to-fabric printing. It includes single-step, inline pretreatment and drying, and prints at more than twice the speed of our previous system; our high-capacity Presto S is the fastest of the lot. It can print to all types of fabrics, to be cut and sewn for any number of applications-the fastest and most sustainable way to get from a digital design to a printed fabric in just a few minutes, and in less than a 10-metre-long process line. We have worked with a number of workflow and cutting vendors, notably Gerber in America and Zund in Europe, to show how this technology provides the ideal cornerstone for a microfactory production model, with every piece of the process taking place in a single, consolidated location. With the recent release of our Softener solution, barriers between digital print and much of the fashion industry have been overcome, and fashion designers can now reap digital's benefits of versatile, graphically brilliant, on-demand production while minimising their reliance on outdated fashion cycles that are ill-suited to the high-speed and intensely personal nature of consumers in the ecommerce age.
Are all your machines Industry 4.0 compliant?
Absolutely. Technologies like our Kornit Konnect platform for remote monitoring and management of productivity reflect our vision, which includes the workflow eco-system with connectivity and data flow between the different stages of the work process. As we have a huge legacy install base across the globe, compatibility and connectivity will continue to grow.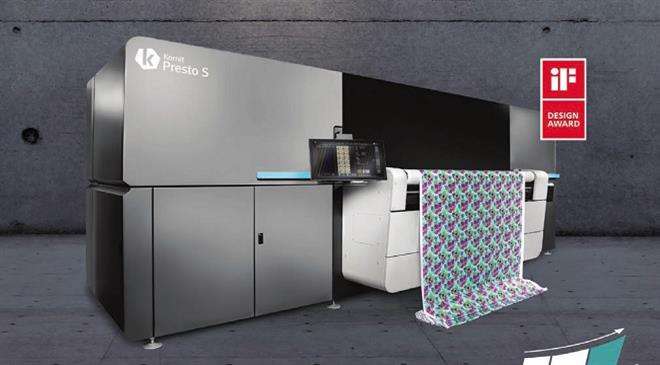 What are the future trends for the textile printing industry markets?
We expect to see continued focus on production on demand, eliminating inventory waste, and fundamentally changing fashion cycles forever. Textile printers will continue to compete for the title of "most sustainable or socially responsible" technology. Social listening as a driver of trends will persist, and people who design their own pieces via tools like Etsy will need producers who can make their ideas into tangible products, either for themselves or to support their own e-businesses. The microfactory, which eliminates supply chain vulnerabilities by bringing every aspect of the production cycle under one roof, will drive demand for efficient digital print technologies. Conversely, the proximity production model, which disperses means of production to localised "spokes" that serve different regions, will drive demand for digital print technologies that can be monitored and managed remotely, producing consistent quality in all locations.
What are the marketing challenges you face for your printers in different markets?
Early incarnations of digital textile printers were, quite frankly, very rough, producing inconsistent results at a very high cost; this left a lasting negative impression among those accustomed to more traditional print methods, but we believe the results coming off our machines today speak to the considerable gains digital has made to become a legitimate foundation for any on-demand print operation. Many screen printers are hesitant to change what's been comfortable for them for a very long time, so overcoming that fear of the new is a common challenge; quite often, the reality of shrinking lead times, shrinking print runs, and competition among those printing anything at any speed will do most of the convincing that digital is a worthwhile endeavour. There's also, sometimes, the belief that sustainability comes at the expense of profit, but our value proposition will demonstrate fulfillers can give consumers the responsible production practices they demand while becoming more cost-effective at the same time.
What are your expansion plans in the coming years?
We have long been clear about our intention to grow via both organic means and acquisitions, and our recent purchase of Custom Gateway expanded our reach and capabilities significantly. It is our vision to become a trusted, comprehensive resource for the print-on-demand industry, serving the ever-greater needs of our customers, and being recognised as advocates of the industry's revolution to bring more sustainable production in an on-demand world. To that end, any expansion that increases Kornit's ability to serve our customers' planning, production, and infrastructure needs, as well as supporting them on a consistent and localised level, will be in play.