3D printing allows for high freedom of design
Belgium-headquartered Materialise puts 27 years of 3D printing experience into a range of software solutions and 3D printing services. The company's flexible solutions enable players in a wide variety of industries including healthcare, automotive, aerospace, art and design and consumer goods, to build innovative 3D printing applications. Business developer and innovation consultant Valérie Vriamont discusses 3D printing technologies in fashion and footwear.
How would you describe the market for 3D printing in fashion? What is the size of the market?
I think 3D printing in fashion stands on two pillars. On the one hand, we have high-end fashion or couture, the side of the market where end-consumers are willing to pay a higher price to wear unique pieces. 3D printing is the perfect technology to create these special pieces because it gives a lot of freedom to design. Designer Iris Van Herpen is a great example of this and so is our collaboration with Miles and Lineapiú, where we used the traditional art of lace to create delicate 3D-printed details on the clothes designed by Miles. On the other hand, there is the mass-customisation market segment, where 3D printing can bring integrated functionality for smaller parts of a design. In these cases, you don't print a whole garment, but you can develop parts of the piece where personalisation makes sense, and integrate 3D printing there. The potential for 3D printing in fashion is huge. With more advances in technology, speed and materials, the market will expand rapidly. The growth that we can reach in 3D printing for fashion still depends largely on the development of machines and materials. Last year, we established a strategic partnership with BASF for the development of new materials.
Where do you see the application of 3D printing in fashion growing-accessories, footwear, clothing?
There is a growth in wearables that can be also considered as fashion pieces, and that can be totally customised, like insoles or eyewear. Eyewear used to be a utility product and now it has become a fashion item with democratised prices and a wide offering in the market. 
3D-printed mass-customisation makes a lot of sense in this case because eyewear designers need to be responsive to market demands. 
A flexible manufacturing technology like 3D printing enables them to bring products to the market faster and iterate designs more easily than with traditional production methods. There are some examples of 3D-printed textiles in couture, but the most frequent are cases like the one where we worked with Miles, where 3D printed items are mixed with traditional methods and fabrics to improve and create new textiles.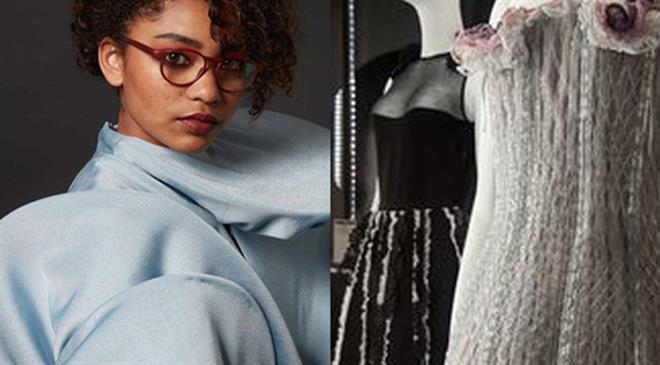 In what ways can 3D printing transform the fashion industry?
First of all, 3D printing can bring flexibility for designers because it allows for high freedom of design. Not just designers will profit from the flexibility of 3D printing, from a manufacturing point of view, 3D printing makes on-demand production possible and shortens the development cycles. 3D printing is also a digital technology that makes it easier to adapt trends continuously with multiple iterations on a design. Another aspect where 3D printing can transform the industry is in making it more sustainable. 3D printing technologies generate less waste and the on-demand production creates less dormant stock.
What technologies and printers do you use at Materialise?
Selective laser sintering (SLS) is the most common 3D printing technology used for fashion and 3D-printed eyewear. This technology offers design of freedom and also makes high quality finishes possible. Another material we use for 3D-printed fashion is TPU, a more flexible material. We worked on a project for 3D-printed personalised midsoles with Adidas in this material.