People have become accustomed to performancewear
Ministry of Supply, founded in 2012, combines innovative materials and purposeful design to solve everyday problems presented by traditional work clothes. The Boston-based fashion-tech startup makes high performance businesswear for men and women using some of the same temperature-regulating materials as NASA astronauts in their clothing. Aman Advani, chief executive and co-founder opens up about all that makes their clothing cool and the technology behind the new intelligent jacket.
How was MoS born? Who are the major investors in the company?
We met at MIT as co-founders of two different ventures working on two different products.  While Gihan, a collegiate runner, was trying to create a sweat-proof dress shirt, I was busy cutting the soles out of my dress socks and replacing them with the soles of my athletic socks. After we discovered that we were working on similar ideas, we decided to team up to create a new type of apparel-performance professional. We launched our first product, the Apollo dress shirt, on Kickstarter in 2012, and ended up breaking the Kickstarter record for money raised by a clothing brand with about $430,000 contributed. Six years later, we have expanded our product offerings to include socks, pants, suits, sweaters, dresses and outerwear, and currently have six storefronts. We never would have been where we are today without the help of our supporters, including a professional sports franchise owner, VTF Capital, Macerich and Eric Friedman.
Tell us about the recently launched heat-controlling intelligent jacket. What technology does it use? How is it different from the rest?
The Mercury intelligent heated jacket is a first-of-its-kind voice-controlled winter jacket that learns and heats to each wearer's preferred temperature. With a quick 'Alexa, turn on my jacket,' the nearly weightless built-in heaters will warm up before the wearer steps outside. Using an accelerometer, body temperature and outside temperature, the Mercury warms up to the perfect amount. Also, similar to a Nest, the jacket uses machine learning to adapt to the wearer's preferences-so they can comfortably move between walking outside in the bitter cold to riding a toasty, crowded subway or bus without overheating. While there are other heated jackets on the market, the Mercury jacket is the first intelligent, voice-enabled garment.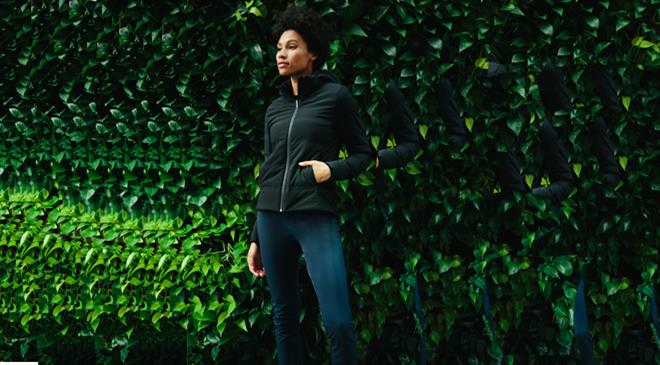 How many orders have you received since your launch? Is it a pre-order only product or will it be available on shelves in your stores for people to try on?
We initially launched the jacket on Kickstarter in order to test the market demand for this type of product before we make it at scale, and it's clear the appetite for a voice-enabled, intelligent heated jacket is high. With only a few days left in the Kickstarter campaign, we've raised over $500,000 from nearly 2,000 backers-crushing our original goal of $72,000. We plan to ship out the product to our backers in November of this year, and then eventually roll out the product to our greater customer base.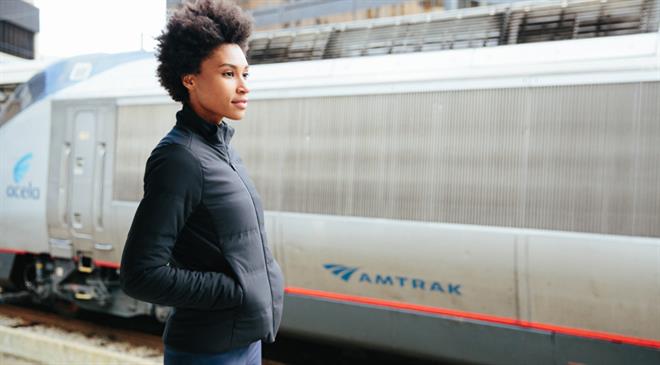 Is the technology used for your intelligent jacket patented?
Yes, it is.
How would you describe the market for performance workwear in the US? What will the performance workwear of 2025 be like?
With athleisure's boom in popularity, people today have become accustomed to performance clothing in the gym or on the trail-but don't usually find the same functionality in their clothing on their commute, at their desks or during big meetings. At Ministry of Supply, we've created a new type of clothing-performance professional-marrying style with functionality and keeping today's businessmen and women looking sharp while feeling comfortable.
When we first set out, we originally thought we would be targeting millennials, but we've come to learn that it's not just 18-32 year olds who are looking for form and function in their professional clothing. Our client-base is defined more by psychographics than demographics-typically active professionals, who are working in careers that require a more buttoned-up wardrobe.
As we move forward and technology improves, we predict workwear to become increasingly technical, solving everyday wardrobe problems, similar to what we are looking to achieve with the Mercury intelligent heated jacket. We also think the biggest changes will come to the supply chain-right now, we have a 3D Print-Knit machine in our Boston store, which makes custom, on-demand apparel. Technology and processes like these enable us to cut the supply chain and turn stores into 'microfactories.'