Need for efficiency is a key growth driver
Mouvent is the digital printing competence centre of the Bobst Group and is dedicated to exploring, creating and delivering the future of digital printing. The company's printing technology enables digital printing on any substrate including machines for label and textile printing. CBO Reto Simmen speaks about the increasing use of digital printing in labels and more.
What innovations did you showcase at ITM this year? How was the response?
Mouvent introduced its TX801 digital inkjet textile printer into the Turkish market at this year's ITM show in Istanbul. The TX801 is a very compact high-quality and high-performance textile printer, based on the unique Mouvent Cluster technology. It is therefore no surprise that the TX801 was clearly one of the highlights at the show and generated a lot of interest.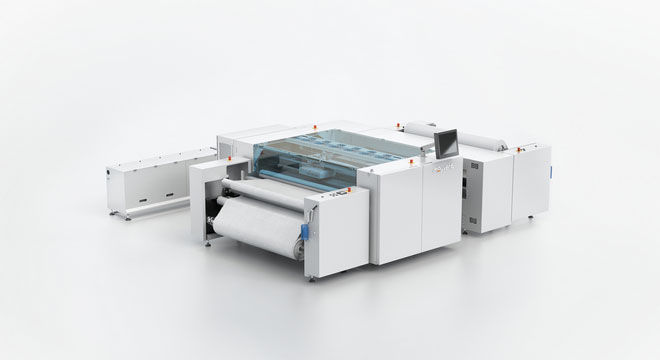 What is the global market size for digital textile printers? What is the expected growth rate by 2020?
The total textile printing volume is over 30 billion sqm/year, whereas digital printing had a share of slightly above 3 per cent in 2017. Overall, textile printing is expected to grow by 2 per cent (CAGR) to 2020 and digital textile printing around 20 per cent (CAGR) during the same period.
Which are your major markets for digital textile & label printers?
For textiles, our focus is on major textile countries such as Italy, Turkey, India and China, and increasingly the surrounding regions. The latter is a market transition we closely follow. We will add regions as we continue to grow. Digital printing in labels has over the past few years evolved across the entire world, and we aim to roll out our label presses worldwide, following a balanced roll out plan.
What are the top growth drivers for digital textile printing?
We have identified the need for more efficiency in textile printing as one of the key drivers. This is reinforced by shorter reaction times and higher flexibility throughout the entire supply chain of textiles. Digital printing offers different design options and a significant reduction of waste. It is not only economical, but also more relevant in terms of being environment-friendly.
What are the latest innovations in DTP?
Improving print quality and performance in terms of effective output are the key developments in digital textile printing. This is precisely where the Mouvent TX801 offers a clear advantage in the market.
What is the USP of Mouvent inks and coatings?
Inks provided by Mouvent are balanced with the Mouvent Cluster technology in a way that customers can expect top quality print results on a reliable and sustainable base. The combination of the Cluster technology and inks is the underlying factor that leads to the outstanding print quality we produce throughout the Mouvent textile digital printer portfolio.
What are your thoughts on the integration of Industry 4.0 in DTP?
Industry 4.0 offers a wide range of opportunities to the digital textile printing industry. As a business born in the digital world and in the age of Industry 4.0, we will not only explore these opportunities, but ensure that it is an integral part of our product and business development.
What is the budget allocated towards R&D annually?
We will continue to develop the Mouvent product portfolio according to our product roadmap.
What are the future plans at Mouvent AG?
Mouvent will continue to develop a vast product portfolio for the different digital printing markets and roll out its products worldwide. (HO)