Work under way to treble Nashik plant's capacity to 30,000 tonnes per year
PerPETual Global Technologies Ltd manufactures esters from post-consumer polyethylene terephthalate (PET) bottles. It produces feedstock that is used to manufacture PET from PTA and MEG and supplies to thermoplastics and thermosets industries; and high-grade sustainable filament yarns that are sold to customers worldwide. The company was incorporated in 2007 and is based in Singapore with a plant in Nashik, India. CEO and founder Vivek Tandon speaks about the company's unique processing technology to extract impurities from used PET bottles and the growing recycled sustainable filament yarn market.
What is the size of the RPET filament yarn industry? What is the average annual growth rate?
The total filament yarn (fibre) market size is approximately 32 million tonnes a year and is expected to grow at approximately 3-5 per cent year on year.  Of this, recycled sustainable filament yarn constitutes less than 1 per cent per year but is growing rapidly as many large brands make a switch to use more recycled polyester in their products in a bid to become more sustainable and environmentally conscious.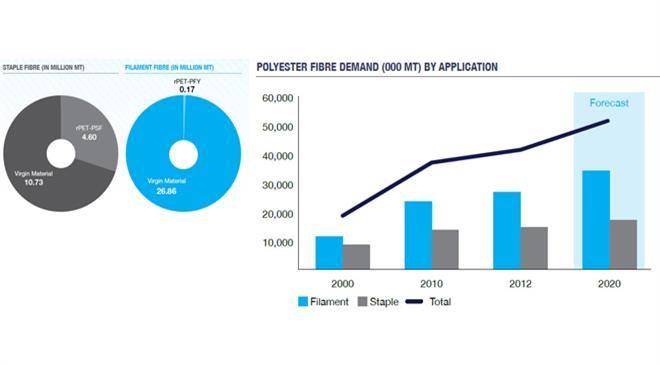 Which are your major markets for RPET yarns? How is India placed with respect to the demand for RPET yarn?
Over 48 fabric mills and garment manufacturers that have partnered with us to use our PerPETual  yarns to produce high quality sustainable garments made from 100 per cent used plastic bottles whose quality and prices are indistinguishable from those garments made from petrochemical based filament yarns. 
Approximately 40 per cent of our yarns are supplied to customers in India and the remainder to those based in countries like Turkey, Sri Lanka, Vietnam, Taiwan, Thailand, Korea, Bangladesh, China, Brazil, France, Portugal, Italy, Spain, Germany, the United Kingdom and the United States.
What is your annual production of sustainable filament yarn?
Our current manufacturing capacity is 8,000 tonnes per annum, transforming approximately 2 million bottles a day into sustainable ester, which is converted into 8000 tonnes of yarn through our manufacturing partner Polygenta, based in Nashik.
Have the applications of the yarns gone beyond apparel and home textiles?
The use of sustainable filament yarns made from used plastic bottles was originally promoted by sportswear brands like Adidas, Puma and Decathlon.  However, Perpetual  yarns is now widely used across the entire textile range including fast-fashion, for example, H&M (with their own 'Conscious' range) and Zara, home furnishing sellers like Ikea, and the automotive sector with applications in seat covers, floor carpets and car upholsteries.
Adidas recently expressed its desire to switch to only using 100 per cent recycled polyester in its products by 2024. Decathlon also recently stated its pledge to use 100 per cent more recycled polyester in its textile products sold in France by the end of 2021.
What is the USP of your RPET yarns? How are these different from their counterparts?
Over the past ten years, Perpetual  has developed its own unique processing technology that is able to extract all dirt and impurities from used PET plastic bottles far more efficiently and cheaper than mechanical bottle recyclers.  Our process is a continuous environmental chemical process rather than a mechanical batch-based process allowing us to manufacture sustainable yarns whose quality matches that of yarns made from traditional petrochemical materials.  Our process entails the transformation of the plastic bottles back into sustainable esters before being converted into filament yarn. This ensures that the yarns we produce are highly consistent and the quality is what one would expect from a traditional petrochemical-based plant. 
Perpetual only manufactures sustainable filament yarns made from 100 per cent used plastic bottles.  Our customers have the knowledge that all yarns purchased from us meet strict environment and social sustainable standards and come from post-consumer used plastic bottles. 
Our technology is globally patented and in addition to our manufacturing partner in India, we are currently discussing joint venture and licensing deals with several other organisations. 
What is the growth trajectory that you are looking at for this particular division?
By Q4, 2018 we would have expanded our production capacity at the Nashik plant to 10,000 tonnes a year from the current 8,000 tonnes.  We have also already started work to treble the capacity to a total of 30,000 tonnes per year enabling the Nashik plant to recycle approximately 8 million plastic PET bottles per day.
In addition to the expansion of the plant in Nashik, Perpetual has also started the global rollout of our unique technology and we are in discussions with partners to build a further 200,000 tonnes of production by end of 2021.