Focus lacked on workflows before, after garment printing process
Australia-based PTM Innovations was born as a solution to the workflow bottleneck of having to treat dark garments prior to the direct-to-garment printing process. Jerry Erich, part of PTM Innovations management team, talks to Fibre2Fashion about the company's new PTM machine, and how it is making the process of pre-treatment of shirts easier.
How was PTM Innovations born?
PTM Innovations was born as a solution to the workflow bottleneck of having to treat dark garments prior to the direct-to-garment printing process. Increasingly, printers are demanding simpler and more predictable systems rather than using a hand spray system. They are looking for turnkey solutions encompassing all steps to produce a quality digitally printed garment.
What is pre-treatment of shirts as a process?
Pre-treatment can be considered as an undercoat for the ink. Its main purpose is to allow printing of white ink on dark textiles. The white ink is based on titanium dioxide, and therefore, will effectively sink into a fabric if it is not pre-treated. The additional benefits can be a better colour gamut and better fastness. This is particularly true for printing on white garments with CMYK only.
What is unique about the PTM machine?
The PTM machine was designed to be as simple as possible. Pre-treat itself is inherently corrosive, thus the more mechanisms and electronics are exposed to prolonged pre-treatment application, the more will be the corrosion that can compromise the functionality of the machine. The PTM spray chamber is fully enclosed and is coated with anti-corrosion coatings. The spray system itself is fully electric and requires no compressed air.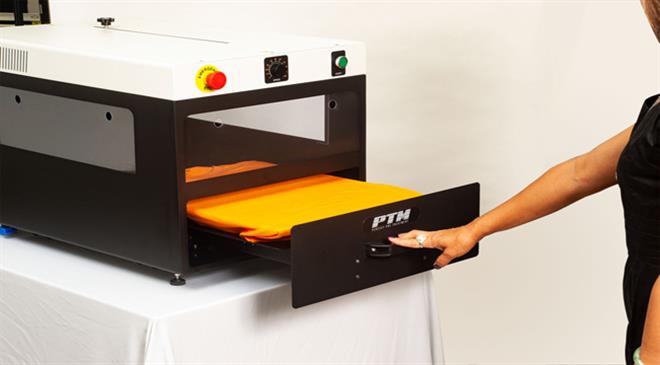 What does pre-treatment entail and how environmentally sustainable is it?
Pre-treatment solutions are largely non-toxic and saline-based. The pre-treat solution offered with the PTM machine are all Oeko-Tex approved in accordance with EN ISO 17050-1 declaration of conformity.
What is the timeline for making a ready-to sell T-shirt from a pre-treated shirt?
A comfortable workflow will allow a user of a PTM machine to make ready three shirts per minute. The additional process of printing the garment is very much dependent on the printer hardware used.
Can pre-treated shirts be mass-produced? How many T-shirts can be printed in a day?
A user can pre-treat a large number of garments and have those ready for the secondary printing stage. There is no real limitation to this workflow.
Does pre-treating shirts retain the original colour and texture of the fabric?
Yes, it does. It is possible to apply too much pre-treat solution, which may give the fabric a slightly harder hand feel, which will, however, wash out. Fabrics will differ and may require more or less saturation of pre-treat liquid. The amount of pre-treat applied is easily controlled by the user on the PTM machine. A quality pre-treat solution should never discolour the fabric. I have seen some inferior pre-treats causing white garments turn yellow once the print is cured.
How long do pre-treated shirts last?
The pre-treatment process can be done long before a garment is actually printed. The final wash and hand feel of the garment is dependent on the actual direct-to-garment printer the PTM is paired with. Wash fastness will depend on the actual ink used and post curing that is applied.
Can the PTM machine pre-coat all types of fabric?
Yes, it can.
Who are your major customers around the world?
As the developer of the DTG printers (DTG M2, DTG M6 and G4-DTG), we bundle the PTM with our printing solutions. However, the PTNM system is available under an original equipment manufacturer (OEM) agreement and can be offered to any brand's direct-to-garment printer. PTM machines at present are offered to various resellers and distributors throughout Europe, Asia and North America.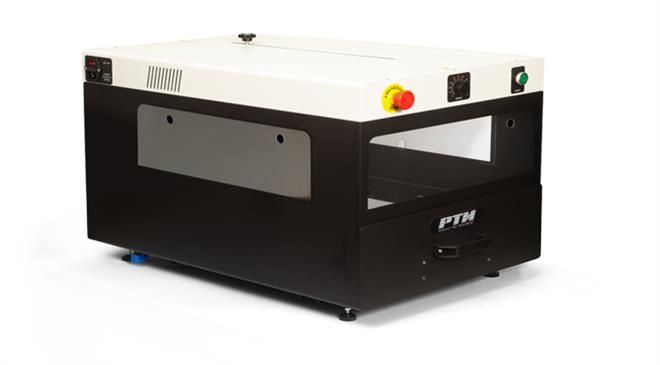 Do you provide training to your customers?
The PTM machine has a simple installation procedure. Clear and concise installation documentation is provided with every machine.
How long has PTM been in the garment business? When did you introduce the PTM machine?
We have been manufacturing DTG printers since 2006. The PTM product is reasonably new; we have been producing these for approximately 18 months. It is compatible with every DTG printer.
What innovations are in pipeline?
Numerous innovations in the pipeline will be revealed in the near future.
What can we expect from you in future?
Our belief is that direct-to-garment printers have greatly improved over recent years in terms of stability and speed. However, there has been little focus on the workflows before and after the actual printing process. We aim to offer significant improvements in the workflow surrounding the actual printers. (PC)