Every product designed from start to come back
Rapanui Clothing makes sustainable clothing though circular supply chain. The company makes products from natural materials, using renewable energy, and everything it makes is designed from the start to be sent back when it is worn out. The company makes new products from the materials it recovers. Fibre2Fashion speaks to Rob Drake-Knight, Co-founder, Rapanui Clothing, about the idea that went behind creation of the brand, what its platform Teemill does and what further steps Rapanui would be taking to achieve its lifelong mission of making clothes sustainable.
How would you define Rapanui as a brand? What went behind the creation of the brand?
We are known for building the first open access circular fashion supply chain. We started small but with a big ambition - to redesign the fashion industry. Like a lot of young people, we wanted to do something about sustainability so we tried to change and buy products made from natural materials for Rapa, using renewable energy and when we couldn't find any, we decided to make our own. When we tried to make our business more sustainable, we realised the factories were part of the problem and so we started building our own factory and a new type of business model. It's great that we've shown there's a different way of operating, but we are also aware that the solution has to be as big as the problem for it to work. So, these days we work on taking the technology we've built to make circular fashion possible and share it with other start-ups, charities and businesses so we can all scale. We share access to all our tech at Teemill. It is basically a springboard for tomorrow's brands where they can do what took us 10 years in 10 minutes.
Where are your factories located?
Our factory is on the Isle of Wight, just off the South coast, in UK. That's where most of our teamwork and where our most advanced production technologies are developed and built. Our raw material is GOTS organic cotton, which starts life in a field in Northern India.
Every product we make is designed from the start to come back when it is worn out, and we make new products from materials we recover. It's a circular supply chain, where instead of making waste, we make new products from it.
Where do you source from and what is the process of collecting the textile waste and readying it for reuse? How biodegradable is the product made from the recycled raw material?
In a circular economy a lot of the material is sourced from our own customers, so our customer is also our supplier. Each product contains a QR code in the neck label that customers scan on their phones to receive a coupon code and instructions on how to send and contribute back. Organic cotton is just a plant, so even if the customer chooses to throw it away instead of getting the value back (which would be mad) it is 100 per cent biodegradable. Lots of engineering and design work went into making this possible, and the details are really tricky. But details matter, like timber buttons, recyclable water based printing and plastic free packaging.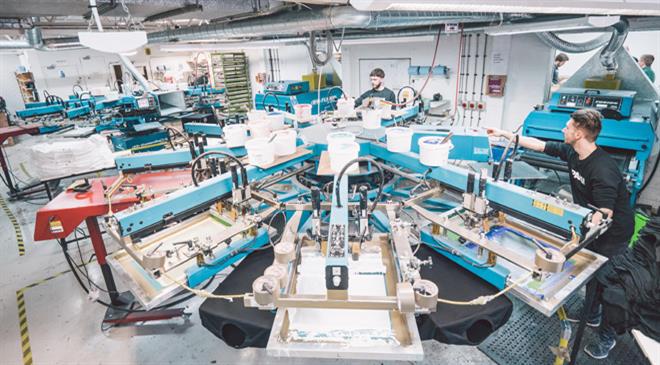 How many kilograms of recycled items goes into making a t-shirt? How many pounds of clothing do you recycle annually?
We need about 200g back to make a new product, but it depends on the size and the product we're remaking. That's about a t-shirt back plus a bit of float. Last time we checked the flow is about a tonne a month, with over a million items in circulation (customers currently using them) and tens of thousands of remade circular products in stock on any given day. By building the systems that make real time manufacturing possible, it proves that it is possible to run a circular fashion business. It's what we do each day.
What was the new type of production process introduced by you which makes it possible to make t-shirts in real time? What is the underlying technology?
It's just a system we built. Some parts are really advanced like the AI that runs the order scheduling in the real-time part of the factory, other stuff is basic and mechanical, some stuff is fun like 3D printed robots, and some just downright nifty like the raspberry pi microcomputers that connect up lots of parts of the system together IoT style. 
To be clear, technology by itself doesn't actually do anything. It will just amplify or accelerate whatever your values are. People can use tech to increase throughput and actually create more waste. What is different about our approach is that we used it to design waste out.  What matters is your intent, the tech is just extra.