There's increased pressure to personalise and curate fashion
True Fit is a data-driven personalisation platform for footwear and apparel retailers that decodes personal style, fit, and size for every consumer, every shoe, and every piece of clothing. Its Fashion Genome is the industry's most comprehensive dataset and collective. Co-founder and chief product and marketing officer Romney Evans talks about trends and prospects of the personalisation profession.
The subject of sizing is much-discussed nowadays. Why has this topic suddenly gained currency?
Discovering clothes and shoes that you love and that fit you has always been a fundamental hurdle for purchasing digitally. There's an increased urgency to solve for both style discovery and sizing because of the rapid increase of digital consumption where try-on happens at home and people have to place their bets prior to the real moment of truth, when they finally unbox an item, try it on, and find out if they love it or not. It's historically been a gamble. Further, consumers are being conditioned to sample at home and send back the things that don't quite match their style, or don't fit or flatter their bodies. This trend started with Zappos introducing free shipping and free returns, which broke down serious barriers and helped usher in an era of online fashion, and the industry followed suit. 
This policy innovation helped eliminate some of the financial disincentives for consumers to order online, but came at a high cost to retailers. We see this kind of consumer behaviour embraced and encouraged with Stitch Fix, Amazon Wardrobe, and many others. As a result, size sampling, style sampling, and colour sampling are all driving factors that are pushing up industry return rates and putting pressure on inventory carrying and shipping costs that the retailer is bearing to support consumers, and stay competitive with services that embrace sampling. 
There's increased pressure to personalise and curate fashion in a world where consumers are impatient to be delighted, as 70 per cent of shoppers won't look beyond the first page of results. This is further exaggerated when shopping on a mobile device, where the constrained form factor limits the number of product thumbnails that can be viewed and the customer fatigues more quickly. Retailers are racing for to provide relevance, to funnel shoppers towards items that they're likely to love and that will fit them. 
Fit is strategic for brands. Consumers who have a positive fit experience are 81 per cent likely to purchase from that brand or retailer again. Consumers who have a bad experience will lose patience and continue their search elsewhere. And finally, the reason they're talking about it so much is because the Fashion Genome has been mapped. The industry's disparate data has been connected into a massive consumer fashion graph that can decode a person's own style, fit, and size.
True Fit's technology has been rigorously tested in market, and the early adopters are enjoying the fruits of their investment, and finding 4-8 per cent net incremental revenue lift for their entire business. By eliminating sizing guesswork, infusing their shopping experience with personal fit and sizing confidence, and using the same connected data to curate entire catalogues and eventually personalise every customer interaction, those who haven't yet taken advantage of the data and AI technology are hustling to get it in place at the earliest.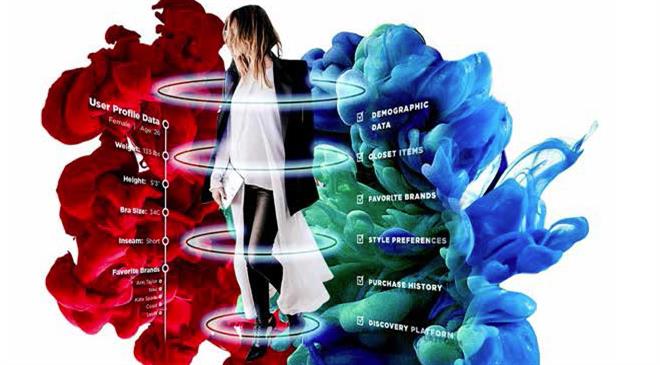 And since sizing is an issue, how would this play out in apparel manufacturing as well as retailing?
Now that the data is connected, there is tremendous demand and enthusiasm to use that data to help brands and retailers uncover insights and opportunities for improving marketing, merchandising, and even design and production. We worked with a panel of 30 brand partners to help us design one of our newest products, True Insight, that does just this. Brands and retailers can access analytics dashboards to better understand the demographic and body attributes of their customers, and how it's changing over time. They can see, by category, a breakdown of their detailed product attributes and how they're selling relative to the number of styles that they hold with those attributes. 
This is valuable to assess and make changes in inventory and allocation. They can better understand what other brands their shoppers are buying across the network of retailers and that's changing over time. There's a fit consistency report that shows how each of their styles is running (small, true, large, etc) compared to other like items across the industry. They can benchmark returns against the industry and drill into specific styles that have high return rates. Retailers know their own return rate well, but they don't know how it compares to others. Our returns benchmarking report shows this. Our brand and retail partners helped us prioritise which reports and dashboard to create first and every quarter we continue to release new reports and dashboards in partnership with our retail and brand partners.