Industry has to make systemic changes
The Sustainable Apparel Coalition (SAC), the leading association representing the apparel, footwear and textile industry in sustainability, recently appointed Amina Razvi as executive director (ED). Razvi, with SAC since 2015, earlier served as vice-president of membership and then as interim ED. Razvi spoke to Subir Ghosh about the sustainability issues of our times.
You have taken over as ED of SAC at a very critical juncture. How do you assess the responsibility that comes with the new job? What would be your immediate priorities?
I am honoured to be in this new role. It's an exciting time at the SAC. The path we started on ten years ago was unchartered for any industry. The kind of collaboration the SAC has achieved in bringing the industry together to standardise social and environmental sustainability is groundbreaking. We hope it's an example of how other industries can follow. 
Now that we have built a suite of tools with our members for the industry, we have an opportunity to unlock the Coalition's full potential towards our vision. Climate change is the most urgent crisis of our time. We have an obligation and an opportunity to fundamentally improve how the industry operates in order to protect people and the planet, and everyone has a role to play: brands, retailers, manufacturers, NGOs, governments, and consumers. 
In terms of our progress, the Higg Facility Tools have been available for several years, and we're currently updating the Higg Brand & Retail Module. Next year, SAC will complete the Higg Index suite of tools with the introduction of the Higg Product Module, which will be a historical achievement for the Coalition and the industry. It will represent a full suite of tools for businesses to measure their social and environmental impact across their value chain that can inform strategic decisions. 
At that point, our work will take a significant turn as we move from building the tools to leveraging the tools globally to drive change across the industry. When all facilities, brands, and retailers are using the Higg Index, they will derive insights that inform strategic action, drive systemic changes in how businesses operate, unlock greater transparency, and ultimately, result in positive improvements across the industry.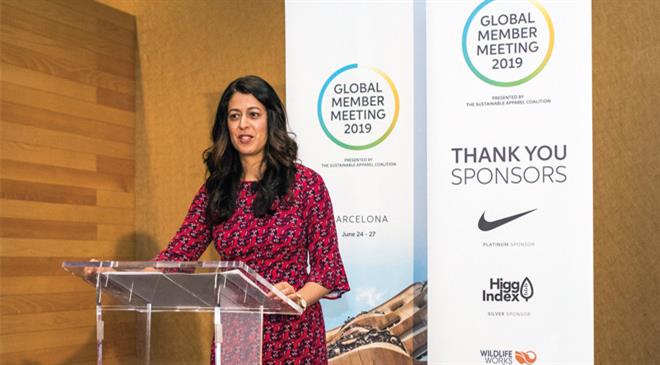 The Coalition has been around for some time, and considerable amount of work has already been done. How do you look at the base that has already been built, and what is it that you think you can build on? Simply put: how solid is the existing base?
Ten years ago, the Coalition began as a radical idea between Walmart and Patagonia to bring the industry together. Today, more than 250 organisations are part of SAC. We have developed the most trusted standard in the industry to measure social and environmental impacts and drive improvements. Four years ago, about 6,000 facilities were using the Higg Index, today there are more than 13,000 Higg users. We are scaling the tools' adoption globally, and we'll see this number increase as more organisations use these tools to assess where they are and where they can improve. We invite all industry organisations to join our effort; committing to this work is a strong reflection of an organisation's values. 
We're also expanding our work to support members in sharing their sustainability commitments and performance publicly with their business partners and consumers. This has been a central goal of the SAC's mission since its founding. Consumers increasingly want to know more about where and how their clothes are made. Next year, they'll be able to start using the Higg Index to help them make informed decisions. 
The Higg Index is a business suite of tools all companies can use to develop sustainable products and communicate this to their value chain partners and consumers. Consumers want stylish sustainable products, and they are also pushing companies to address climate change. If companies hope to remain relevant and viable with their customers, they need to prioritise sustainability, and the more quickly they can do this, the better for their business.
Likewise, a lot of things might have been done and many initiatives taken, but still a lot would remain to be done. In other words, how do you ascertain the challenges that lie ahead-both for the Coalition, as well as yourself at the helm of affairs?
There is an urgency to address global systemic issues in a way that I've not see in the past decade. The impact of climate change is undeniable and will affect everyone. The industry has an obligation to make systemic changes to protect people and the planet. We can achieve this by working together-scaling use of the Higg Index globally, leveraging the insights to drive collective action, and engaging with business and consumers around transparency efforts. Whether members are using the UN's Sustainability Development Goals, signatories of the United Nations Fashion Charter for Climate Change, or committed to other initiatives, we encourage them to set ambitious science-based targets and integrate data collected through the Higg Index to measure, identify areas for improvement, and report their impacts. By design, the more organisations that use the Higg Index, the more robust data it offers the industry, in turn, driving greater insight into performance improvement and the work that we can only achieve together at scale. 
This engagement has to occur at all levels, with all stakeholders. We need to engage governments and stakeholders, as we are doing through our policy efforts in Europe. And we need to engage businesses, as we do through the growing Coalition and increased consumer transparency efforts. Unless this work is taking place at all levels, along every part of the value chain, we will not be able to achieve common objectives.
What is the future of transparency and how SAC is working towards this vision?
Consumers don't want to have to choose among comfort, style, price, and sustainability-they want it all. With consumer expectation for better options on the rise, transparency becomes that much more critical. Brands need to communicate their social and environmental practices in a way that supports consumer desire for information and, in doing so, purchase decisions become easier and faster. 
The data collected in the Higg enables a full cycle of sustainability-from design to end of life-and allows brands to be confident in the data and stories they share with consumers.
There seem quite a few organisations and initiatives working on fashion and sustainability (on the international level). Do you think there are far too many, or far too few? Do you think there is that imperative need for all these organisations and initiatives to join forces? Is it a possibility that organisations working on sustainability / circularity come under one common umbrella, yet retain their independence and push this agenda in a cohesive manner?
We are at a critical juncture in sustainability efforts. It's incumbent upon organisations and imperative for those working on sustainability to align with one another and work together in the clearest way possible so that we can achieve the future we collectively envision.
At the SAC, we have always collaborated with organisations across the value chain, including stakeholders, governments, and partners, and will continue to align efforts where the Higg Index can be leveraged and used to drive improved performance and increased transparency. We work with our members and partners to inform and drive action toward progress. There is a role for many of these organisations to play; the key is how we work together to achieve common objectives. It's important to understand synergies, so we're not duplicating efforts and diluting resources or our potential for impact.