What is your role in making textiles supply chain more sustainable?
Sustainability has undeniably become an even bigger buzz word within the fashion industry this year. As a term, it is so intrinsically linked to supply chains: design development, raw materials selection, manufacturer compliance / environmental impact, packaging and logistics. After many years of being an add-on and afterthought, not considered commercially viable by some, it is exciting to see the fashion industry reach a tipping point in 2019. Consumers, brands and policymakers are suddenly aligned in their agendas and, for the first time, are working together to drive change. I believe in the next decade, sustainability will sit at the heart of, and impact, every decision made from design through to delivery for fashion brands. 
Before rethinking and rebuilding more efficient and responsible supply chains, brands must first truly understand the complexity of global supply chains. They then need internal alignment, for every single employee to be on board with the new supply chain strategy; it cannot sit in silo with the sustainability team. Teams need to be open to new ways of doing things and most of all, be flexible throughout the design development and decisionmaking production process. Brands should then assess all their relationships to ensure they have solid, trusted relationships with all their supply chain partners and to be ready to look ahead and build a long-term plan. From that point, the real secret sauce is collaboration; brands need to start seeing their manufacturers as strategic partners. For us at Supply Compass, it is about bringing supply chains into the 21st century. This means vetted online marketplaces and the digitisation of design development, sourcing and production management methods. Once every player in a supply chain is working from the same platform, the interconnectivity and purchasing that happens through the system will allow brands much greater traceability and certainty on compliance and impact. Not enough focus has been placed on driving change and implementing innovations on the supply side to date; this is where new innovations like our sourcing platform can really add value.
Which brands and manufacturers avail of your service?
On the brand side, we are focusing on working with fashion and homewares businesses that have between £500,000 and £10 million in revenue. Predominantly, they are European brands; however, we have increasingly had lots of interest from Australia and the United States. 
On the manufacturing side, we have manufacturers around the globe with our main hot spots being the Indian subcontinent and mainland Europe.
How will the fashion supply chain transform in the future?
Consumers are increasingly expecting radical transparency from the brands they buy from, with millennials leading the way. They want to know more about where their products are made, what those are made of and the company or manufacturers they're made by. An increasing number of brands are starting to make real change, and governments and policymakers are indeed waking up to the impact the fashion industry has on people and the planet. 
This all means it is more important than ever that products are made under the right conditions and that the most sustainable practices and materials are used. For brands re-evaluating their supply chain, this means it is not just about finding new partners, making the process more efficient and finding ways to cut costs, it is also vital to consider the most responsible products and solutions. 
In volatile times, it is inevitable that some businesses sink and some swim. Those who succeed are invariably those who do not do things as they have always been done and instead challenge the norm, re-think and question how things could be done differently. To any brand concerned with the current climate, my advice is to be an early adopter or game changer, seek out new technologies and do not be afraid to experiment with new ways of doing things.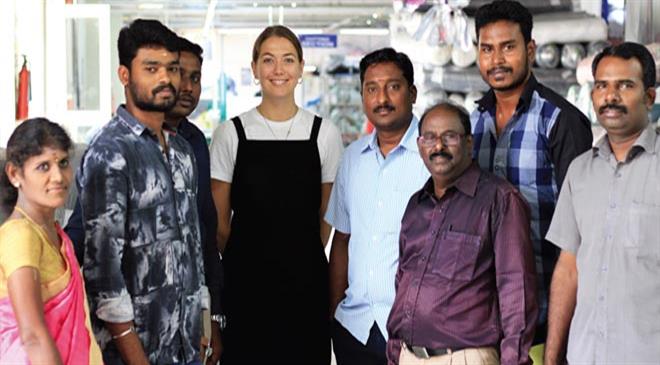 How are technology and data playing an increasingly important role in helping brands and manufacturers synchronise their supply chains?
An overwhelming amount of innovative digital solutions have appeared in recent years to help brands get ahead, save time and save money. Brands can create a website from scratch in 24 hours, build their brand and sell their wares easily on Instagram and deliver products to customers on the same day. However, while this innovation has been happening elsewhere, supply chains have remained relatively untouched; for the most part they continue to be offline, fragmented and inefficient.  
Uncertain times often necessitate a strategic re-thinking of supply chains; a consolidation of manufacturers and suppliers, and exploring new countries, new partnerships, and even new materials. To do this effectively and without too much disruption to day-to-day business, buyers and production teams should focus their attention on ways to digitise their supply chains. Although this new way for sourcing involves a shift in mindset and approach, the results can be transformational to a business and help them better navigate through these times of uncertainty. As brands look for new partnerships in countries they perhaps have less experience working with-for example India, which is a leading manufacturing country outside of the EU-they need to quickly build new, trusted supply chain networks. Digital sourcing platforms formalise these supply networks by bringing manufacturers, suppliers and brands online. The result is that brands can easily and instantly find new trusted manufacturers in any country. Sourcing platforms also facilitate greater collaboration between supply chain partners and increased efficiency. Working from one single point of truth reduces mistakes, miscommunication and delays.
Where are the manufacturers and your partners from?
We have 50 well-established, progressive factory partners in India, Sri Lanka and Nepal and mainland Europe, including Portugal, Spain and Italy.
How many successful matches have you made?
We currently have 50 factory partners and 50 brands that we are working with. To date, over 1million products have been responsibly made as a result of Supply Compass. 
Suitable fashion and interiors companies are matched with a manufacturer within a day for free, with pricing based on a commission structure depending on the order value and manufacturing costs. We then operate on a three-stage approach: 
1. Intuitive product development: Accelerates the design development process with simplified processes, digital tech packs and sustainably-led designing. 
2. Trusted manufacturer selection: Matches brands with world-class suppliers and manufacturers, using our visited, vetted and hand-picked extensive network, who adhere to responsible manufacturing practices. 
3. Streamlined production management: Creates fast and efficient global supply chains by helping brands operate via a single dashboard with structured processes and collaborative manufacturer relationships.
What are the major concerns of buyers when it comes to sourcing apparel and what concerns do manufacturers convey?
Buyers want to be able to design and deliver great quality product, have it delivered on time, and be certain that its responsibly made. Manufacturers want clients that want to produce great product, easy and efficient to work with, and with whom they can build long and mutually prosperous relationships.
What fees does Supply Compass charge and at what stages from design to delivery do you step-in to offer services?
Brands pay a percentage of the order value they place with the manufacturer as a service charge. We always aim to beat brands target production prices inclusive of our fees, so it usually ends up being very affordable for the brands compared to what they currently pay, especially when you include the work we remove from their internal teams.