Sustainability will be central to all decision in 10 yrs
Headquartered in London, Supply Compass is redefining how global sourcing occurs with a software with a service (SwaS) platform that enables brands and manufacturers to find each other and work better together. In a chat with Hiral Oza, co-founder Flora Davidson touches upon ground realities of sourcing and discusses the challenges.
How did you think about Supply Compass? You began your journey in India, why did you move out?
In preparation of our launch last year, we lived in India for two years spending most of the time on the road visiting factories. It was crucial that we spent time inside factories; we could not build a supply chain platform from a desk in London. We visited over 200 factories armed with a camera and lots of questions. We wanted to know what they felt was going wrong with supply chains and what they needed from brands for things to work better. We took the opportunity to absorb as much as we could, all the time gaining inspiration for how we should shape and build our business. We found some incredible manufacturers, suppliers and mills, which think differently and are open to new ways of working.
While visiting and researching manufacturing, we quickly came to understand that daily challenges were not just a thing experienced by brands, but that manufacturers and suppliers were facing issues daily as well. The common issues cited by factories we visited were a lack of understanding from brands about the complexities of supply chains, the reality of lead times and audit fatigue. We witnessed first hand the positive impact of making more socially- and environmentally conscious choices, something we have embedded into the very core of our DNA. We decided early on that we would build a new digitally enabled way of sourcing for that worked not just for brands, but for every single player in the supply chain. Brands immediately see the savings we bring them-for example, reducing the time spent managing production by 40 per cent, reducing the time from design to delivery by half and saving up to 45 per cent on production costs- and feel a greater sense of certainty and control over their supply chain. While sustainable manufacturing has become the new norm that consumers expect, brands are having to be more competitive on their pricing and must deliver products quicker to stay ahead. They need a responsive solution that enables this.
Who are the major investors in the company? What was the seed capital?
Our first round of funding was a £2,85,000 pre-seed round in April 2017. This allowed us to build our minimum viable product (MVP) and get proof of concept as well as work with our first 40 clients.
We recently secured a £1.5 million seed fund deal led by early-stage venture capital investor Episode 1, alongside Mumbai and London-based Unicorn Ascension, Ascension Ventures and Andy Chung and Philipp Moehring from AngelList. The deal makes us the first UK-based sourcing company to receive funding of this level-a huge leap forward in supply chain innovation and sustainably-manufactured goods for consumers across the globe.
Which supply chain innovations have you launched in the fashion, accessories and clothing brands? What is planned?
Transparency is a good starting point for where supply chains need to go as there is a lack of it at present. Supply chains are stuck in the dark ages-often online, inefficient and fragmented. Brands are struggling to contend with ineffective communication, poor processes and a lack of collaboration between partners. Our aim is to bring global supply chains into the digital age and to accelerate the transition towards more responsible ways of designing and producing. Fundamentally, increased transparency will do three key things: help protect those who are at risk of exploitation; provide all parties with greater certainty; and drive innovation and collaboration. 
We have big ambitions. We are on a mission to transform global supply chains into faster, more efficient and more sustainable outfits. Our vision is to become the leading sourcing software for the pioneering fashion and interiors businesses of the future, and this funding from investors Episode 1 will help us to do just that. In the next two to three years, our focus is on helping brands and factories find each other and work better together. We will continue our journey to build future supply chains, continually helping all parties within supply chains to be faster, leaner and more responsible.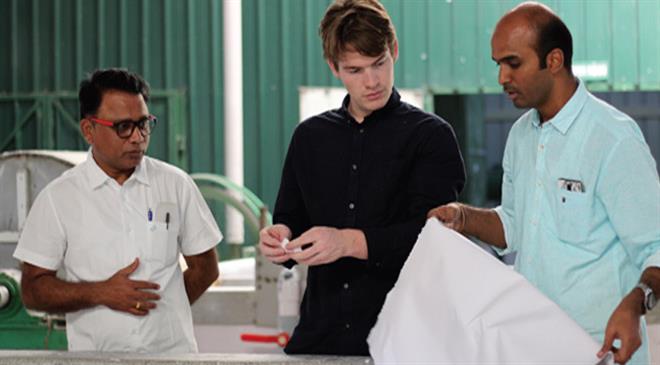 Which are the top three ways in which blockchain can revolutionise global supply chain in textiles?
Traceability: Blockchain can help all players of the supply chain have a documented and un-editable traced journey of all components of their product from seed to shelf. 
Accountability: It also enables all parties to see what has happened to a product and when. When something is so publicly auditable, it drives greater accountability and analysis of each party's role within the process. 
Authenticity: Being able to track a product from seed to shelf and have information linked to each stage of the process helps all parties to demonstrate the authenticity of the product.
With Brexit, what is the stability and viability of European supply chains?
For fashion and interiors brands, the uncertainty of the current political climate has made it even more challenging to run a successful business today. British-born businesses have experienced years of relative stability with regards to the movement of raw materials and finished goods within the European Union. The looming impact of Brexit-and a no-deal Brexit-threatens to disrupt this and put into question the stability and financial viability of European supply chains. On top of this, consumers are increasingly expecting greater honesty and transparency from the brands they buy from, demanding more supplier and product information. This implies for many brands, the need is greater than ever to think strategically and futureproof their supply chains. Ultimately brands need faster, leaner, more reactive and responsible supply chains to survive.