Stock density can increase by 30 per cent by using Jangers
London-based Janger manufactures unique space saving hangers for apparel retailers. Established in 2010, the company provides hangers that reduce costs and increase garment margins, improve garment density in store, reduce freight costs and hang garments in a fashionable and modern way. Founder & CEO Guy Taylor speaks about the inception of Janger and the research efforts at the company to make hangers more sustainable.
How did you come up with the idea of a unique hanger model?
I was supplying jeans for 40 years to major global brands and couldn't believe the increasing costs of hangers-unit price and the added shipping costs from Asia to Europe or the United States. I thought there had to be an alternative to reduce costs and use less plastic and I came up with the concept of Janger.
When did you start Janger? When did you go from business-to-business (B2B) to business-to-commerce (B2C)?
I started Janger in 2010. I kept getting contacted by consumers who had seen the jangers in the stores asking if they could have some for their home and so have been considering adding a B2C product for a long time. We finally took the leap in 2018 with the Janger for consumer launching in January 2019.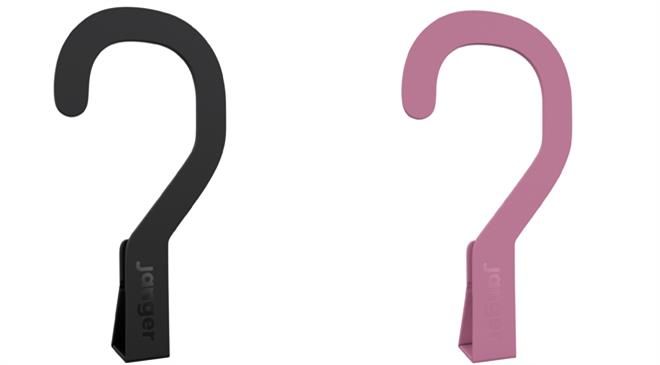 What is the global market size for clothing hangers? Is this rate declining with the growing trend of online shopping?
The Janger sits aside from other global hanger manufacturers as we only design and supply hangers for jeans. There has definitely been a decline in order size in line with the rise of online shopping but the focus on reducing plastic waste has balanced this for us, with more retailers turning to us for an environment-friendly option.
Where does Janger stand in this market?
We are a small, niche company in this large market. This allows us to focus on our speciality and ensure jangers meet the exact expectations of retailers and we can react quickly to changing trends. For example, due to the focus on sustainability, size labels are becoming less popular as they hinder the recycling process. Within months of noticing this, we developed and were able to supply a sizing system using fully recyclable plastic blocks.
Which major retailers are your clients? Who are your other major markets?
M&S and C&A are two of our most well-known and long-standing clients. Australia and the United States are two main regions of interest for us now, particularly the latter, as we see that country moving towards more sustainable options.
What is the USP of Janger? How much space do they save?
A Janger uses 60X less plastic than a traditional hanger whilst still allowing retailers to display their garments in a highly presentable, consumer-friendly fashion, leading to cost and environmental benefits.
Stock density can increase by as much as 30 per cent by using Jangers.
A lot of brands and consumers are steering towards sustainability. How sustainable are the hangers at Janger?
Jangers are 100 per cent recyclable, and compared to traditional clip hangers, use one-seventh of the energy to produce, 60 x less material and offer significant environmental benefits in transportation due to the weight saving.
An independent report by The University of Sheffield confirmed the above statements. We are endorsed by Farapack Polymers as a 'sustainable alternative to the traditional clip hanger and a solution to the issue of plastic waste'. We also supply Jangers in bio-degradable material now.
How much revenue is invested in research and development (R&D)?
We estimate more than 15 per cent of our turnover has been invested in R&D, especially over the last two years. For the upcoming year, we are investigating further solutions to the plastic waste problem and how we can make janger more environment-friendly.
Where are your products manufactured? What is the annual production capacity?
We manufacture primarily in Hong Kong and Bangladesh. Our annual production capacity is more than 200 million pieces.
Many retailers are also opting for intelligent hangers. Do you have any plans to use artificial intelligence?
Not at present. (HO)