In the value chain you work where do you focus more, Brands or mills?
We don't just sell the fiber, but we work across the value chain to create value for the mills as well at the brands and retailers. Being in between we are able to create interest for the brands on fabrics based on our technology and at the same time introduce them to the mills who can provide that technology thus creating a win-win situation.
We've heard that another big manufacturer plans to start spandex production in India. How will that affect your business?
Global Spandex consumption is increasing at a fast pace, so there is a need for extra capacity, moreover we are in a branded spandex space where we focus more on creating value rather than volume. Also when mills transact with us they don't just buy the LYCRA® fiber but the complete package which includes innovative fibers, technical support, marketing support, and also leverage brand equity of the LYCRA® brand, this is a unique business model in itself creating value for all the stake holders.
What market share does LYCRA® fiber has in India?
When we talk of LYCRA® brand we talk of high end of the market so talking about market share in terms of consumption is not meaningful.
But to give you a broad view, we have had good growth with Indian brands and retailers, we have a spectrum of customers from premium brands to value retailers working with us. One category which has seen tremendous growth is ethnic leggings, the garment being body hugging, women realize the value of LYCRA® fiber here even more as it provides comfort stretch with good recovery.
Generally, the fashion trend first comes in the US & Europe and then to South Asian countries. So what do you largely see changing in fashion and how it impacts the LYCRA® fiber business? I somewhere mean are rigids coming back, is skinny / body hugging fading?
Nowadays, we talk about global trends. Fashion trends are more in terms of style, but comfort remains integral part of the garment, and LYCRA® fiber is all about comfort. You may have wide or skinny garments but what customers are looking for is that garments should be comfortable when they wear them. Even for vintage looks which is generally rigid, mills are putting effort to get the look with comfort at the same time.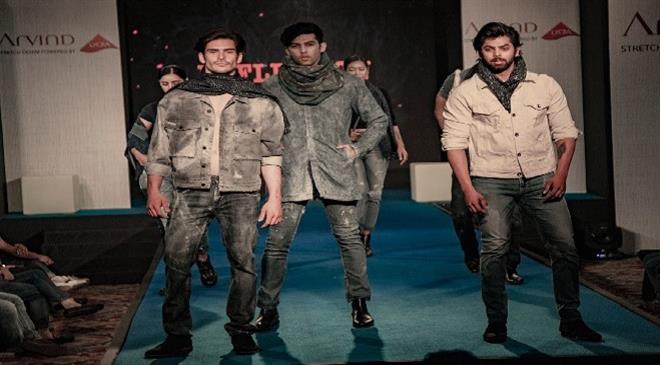 Could you tell us about the last few products and what is in the pipeline?
In the recent past, we have launched various new products which are quite innovative. Within our ECOMADE family we launched LYCRA® EcoMade fiber which is made from post industrial waste, therefore making LYCRA® fiber truly sustainable where we use our own waste to produce fiber. Another product in this family we launched recently is LYCRA® T400® EcoMade fiber which is made from recycled PET bottles. We also launched LYCRA® FitSense™ technology which is a revolutionary patented technology innovation. A water-based dispersion which includes same molecule as LYCRA® fiber. The dispersion is screen printed directly on to the area of the garment which results in targeted modulus and recovery power, enabling the use of lightweight fabrics to create apparel that delivers on consumer needs. We also launched LYCRA® MyFit™ fiber, which is made from a new polymer. The fiber helps to develop more "shape tolerant" garments which results in to more customized fit experience for a range of body shapes within a size.
Could you also elaborate on the new sustainability platform?
Sustainability for us is not just a buzzword but a commitment to doing what's right for planet, our people and for our industry. The way we look at sustainability is not a problem but a journey of continuous improvement and therefore we have developed The 
LYCRA Company Planet Agenda which is based on three pillars:
The first is Corporate Responsibility, which includes striving for safe and healthy records consistently, be a good corporate citizen by supporting the communities where we operate, and be an employer of choice by treating employees fairly and respectfully.
The second pillar is based on Manufacturing Excellence and focuses on reducing energy consumption, water saving and waste reduction.
The third pillar under our Planet Agenda is Product Sustainability by developing products that use fewer resources and improve environmental performance of fabrics and garments throughout their lifecycle. This according to me is a very important one, because making garments that last longer is another way to look at sustainability. A big portion of garments end up in landfills without even reaching the shops. Further when consumers buy garments that don't last long, we are adding even more waste. LYCRA® fiber because of its high stretch and recovery properties keep the shape of the garment for a longer time, so having a fiber that helps to keep the shape longer means that people will wear it longer. e.g LYCRA® fiber 162L used for ethnic leggings has very good recovery power, therefore delaying the bagging sagging on stress areas and enhancing the life of the garment. Similarly, we have LYCRA® fiber type 166L which can withstand severity of washes, and therefore giving stretch and recovery properties to the fabric / garment for a longer time.