What are the primary social and cultural factors that are driving these changes?
Driven by the country's growing wealth, changing lifestyles, and rising urbanisation, an increasing number of Indian women have become more health conscious and are adding new health and wellness routines to their hectic lifestyles. As a result, the athleisure clothing trend-of using sportswear as casualwear, spearheaded by millennials who view comfort as a very important factor in their apparel choices-has now made its way into the wardrobes of women of all ages and lifestyles.
India is a country where young women today are more conscious of their body image and are aware of the benefits of a healthy lifestyle. They are giving more priority to fitness, comfort and looking good while working out. An increasing number of women, especially in urban areas, are joining gyms and other fitness activities such as power yoga, zumba, etc. They know that not only is it important to be active, but also to look good while doing so. Fitness has become the new mantra for them and they are prolific in sharing their stories on social media. 
Combined with the need of today's consumers to be aspirational and quality conscious, this has led to the (sportswear) category increasing in both value and volume. Further driving the growth are endorsements from Hindi film celebrities and sports personalities who have become the spokespersons for the fitness movement. Indian sportswomen who excel in the international arena have become role models for millions of their followers, cementing the importance of being fit.
What are the primary economic factors that are driving these changes?
Women in India today are part of the workforce even more than before and with this comes higher earning power and more disposable income. The pressures of work-life and sedentary lifestyle that come with it have placed the spotlight on the need for an active lifestyle. Higher disposable incomes have allowed women to participate in a variety of fitness activities, each of which requires different sporting attire. Being brand conscious, they are not afraid to splurge on a branded sporting gear.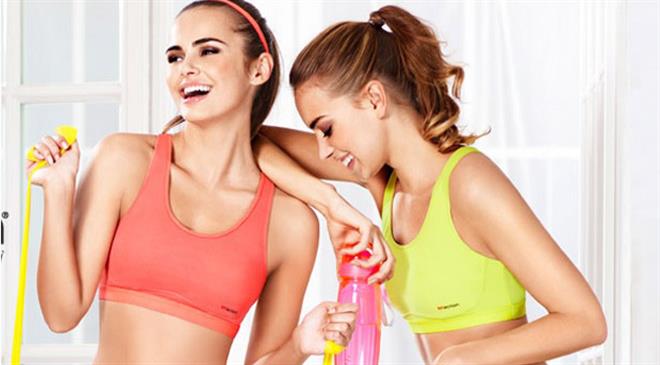 Among your own products, which particular product category is a runaway hit with buyers?
We have a diverse portfolio with over 350 style-colour combinations, including beginner bras, T-shirt bras, sensual lace bras, minimisers, mature & support styles, maternity bras, sports bras, cotton bras, shapewear and a variety of briefs and we have loyal customers for each of these categories. 
Triumph has been instrumental in introducing higher fashion quotients in line with global trends to the market. Our Triaction range of sports bras has been experiencing positive growth over the past year. This collection features different styles specially engineered for different types of workouts depending on the intensity levels. The category has padded and non-padded styles for various levels of support. We launched our new Triaction sports bra range last year that featured non-wired sports bras with removable pads that provide support, control and a comfortable fit during exercise. The racer-back design with moisture absorbent mesh fabric at the back provides ease of movement and a dry feel to the wearer and is perfect for medium intensity activities. 
Another category that does very well is the 'minimizer' range. Minimizer bras are specially designed for heavy-busted women who want to visually minimise the bust by one size. Triumph is one of the very few brand in India that cater to larger cup sizes with bras that go up-to a H cup! Another of our best sellers is the 'Body Make-up' T-shirt bra range. These seamless bras are perfect for everyday wear and under tight clothing. They are made from a special fiber blend that makes them super lightweight for a second-skin feel. 
Customers also love our Shape Sensation range of shapewear. We are one of the few lingerie brands in India that offer an extensive shapewear range offering a variety of styles for women who want to enhance their confidence by shaping-up their curves. From high-waist panties to thigh shapers, our collection features modern, seamless designs using the finest of fabrics.