Farming Fashion
Ananthasayanan, Aka Ananthoo, is one of the co-founders of Tula. Tula works with cotton farmers and helps them farm organically. The cotton is then procured, handspun, handwoven, dyed with natural dyes and manually stitched. Profits from the sale of garments are ploughed back into promoting livelihoods. Ananthoo shares with N Kalyani what went into the creation of Tula.
What prompted you to take to promoting the organic way?
After we decided to quit our corporate jobs, my wife and I travelled around to assess the status of agriculture and plight of farmers. We were moved. There were also a few others like us who had quit their corporate jobs just then and were keen to help farmers. During our travels we found that sustainable agriculture-organic farming-was a better solution to most crises- ecological, economic, climate-related and human health. That is what pushed us to take to promoting the organic way.
You are a co-founder of Tula. Please tell us how the organisation came into being.
We began working with farmers and helped them go organic. We started a not-for-profit organic retail outlet 11 years back called Restore, (restore. org.in). Subsequently, we floated the OFM (Organic Farmers Market http:// www.ofmtn.in/) to take the organic produce to the middle class, thus running a series of collective stores as a distributor-retailer cooperative model.  
Tula's roots emerged out of a revival of organic farming of indigenous foods. The project began in 2007 in Chennai, during a brainstorming session amongst friends, who wanted to address the agriculture and farmer crisis ravaging India through an environmentally and economically sustainable way.  
It was the picture of cotton that was a sorry state of affairs. We were concerned with issues such as the condition of the farmer, use of chemical fertilisers and pesticides, costs of production, returns on investment, genetically modified crop varieties and availability of seeds. These issues became the basis for Tula to focus on reviving rain-fed desi cotton. 
Organic clothing has become the need of the hour as much as understanding its ethical value chain, revival of khadi and promoting local livelihoods. Desi cotton was always accompanied by manual spinning and hand weaving of the most skilled and aesthetic kind making India world famous for its textiles. Even the world famous Dhaka muslin was woven with desi cotton. 
So, a set of friends invested, through the crowdfunding model, and took up cotton growing to upgrade the value chain in an ethical and eco-friendly manner. Tula was set up to conduct the whole process, as a not-for-profit, ensuring all livelihoods in the value chain improved and were empowered. Tula can be viewed online at tula.org.in and facebook.com/tulaIndia.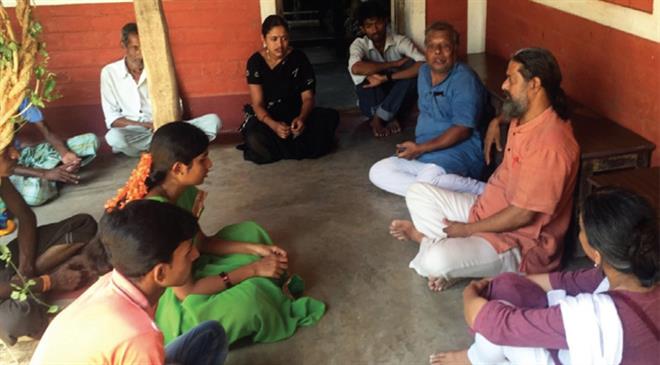 Tell us more about how the cotton sourced from rain-fed cotton plants is used to create the hand-spun and manually tailored apparel of Tula.
Tula works to revive and encourage the rich artisanal traditions of India and its rain-fed desi cotton. To help some of our farmers and artisans in dire need of support, fifteen like-minded friends decided to step in and make a difference by bringing a niche clothing line purely to revive rain-fed desi cotton, making sure everyone involved gets remunerated well enough so as to raise their lives from mere subsistence. We now have one of the most eco-friendly lines of garments and a light one too. 
Each of the friends who came together invested ₹1 lakh, amounting to ₹15 lakh collectively, and they commenced the initiative. And a few of them are involved actively in the entire lifecycle to date. 
At Tula our focus is on being sustainable, bringing together rainfed desi cotton farmers, skilled khadi spinners, master weavers, dyers who specialise in vegetable dyes, embroiderers, handblock printers, and such other workers as a decentralised model to create eco-friendly garments. 
In order to minimise the carbon footprint and transport costs significantly, Tula follows a unique model of Cotton-to-Cloth within the respective states. For instance, when cotton is sourced from Karnataka, the spinning, dyeing and weaving are done in and around the state of Karnataka. Likewise, a similar system is also followed in Maharashtra. Tula emphasises on decently remunerating all farmers and artisans involved, and in a fair and timely manner. Tula attempts to create very light garments using rain-fed organic desi cotton that is then handspun, handwoven, naturally dyed and manually tailored.  
What started with ₹15 lakh in Tamil Nadu in 2014, expanded to Karnataka and in the next year to Maharashtra, all with the same first investment. What started by touching 100 livelihoods is now touching 300, thus exhibiting a different model especially in terms of the per employment investment.