What are the strengths of the French machinery industry? What new technologies are manufacturers investing in?
Our members are investing in R&D and organising services around the globe. They are not working from ivory towers but in close partnerships with their customers who are long term partners. Of course there are trends like energy, water and raw materials savings. But as we want to answer the specific needs of each customer, we have to attract textile and mechanical engineers, chemists and business oriented young talents.
To convince our customers, we have to offer them precise ways to estimate their return on investments. For example, a software to estimate very precisely their own annual savings (water, energy, chemicals) is offered by Alliance Machines, the dyeing and finishing machinery manufacturer which has also invested in virtual reality system to offer the customers the possibility to explore deeply inside its range of machines.
What incentives and initiatives by the government are driving domestic and international investment in this sector?
The French government understands the needs of the industry. Amidst the pandemic and the shutdowns, it has taken the necessary steps to help go through the thunderstorms. I think such measures have been taken in most countries.
In some countries with a very important textile industry and many related jobs, the equipment is outdated and the local industry has more and more difficulties to meet the global competition. This is why some governments are helping their local textile industry modernise its production processes. It is necessary because the gap is getting bigger and bigger between the top of the class and the followers. Your own country, India, has a very creative traditional textile industry which needs huge investments. Your government has recognised this need and is active to achieve this goal but, up to now, we have been a bit disappointed with the orders from your country.
Which segment in the textile industry is growing rapidly - spinning, weaving, processing, cutting &stitching, nonwovens? Which are the major constraints for your industry?
Nonwovens are growing at a very rapid speed since the last few years thanks to technical textile products. This sector has accelerated due the incredible worldwide demand for PPE's including protective masks. The demand will probably stabilise for a while but it may decrease thereafter. Then I am afraid that overproduction of some products may appear. In other sectors the demands are linked- if you spin, you have to weave or knit and then dye and finish the products. The constraint of our equipment industry is mostly due to the increasing productivity of our equipments. Each equipment is producing more every year, and so less equipment will be needed to produce more products. This is the main constraint of our industry.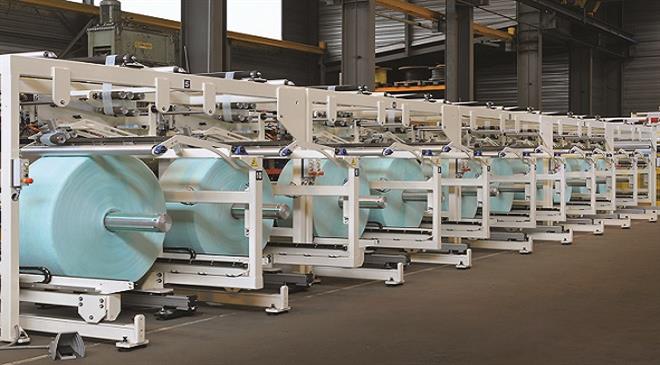 Which textile segment remains the largest in terms of imports from France?
France is well known for its creativity in apparel. Many French brands are mythical and attract buyers from all over the world but apparel production has shifted to Maghreb and Asia. Being capital intensive, the textile production has also moved closer to the apparel industry.
Technical textiles on the other hand are still produced in Europe and particularly in France where we have very creative companies in such sectors such as glass or carbon fabrics being used in composites for many applications in aeronautics or the automotive industry.
Which countries are the biggest importers of French textiles machineries?
Most of the turnover is exported to China, India, USA, Europe, Turkey, the Middle East and Africa. We offer hardware, software and services and work in close partnership with our customers. We offer them our state of the art technologies and not off the shelves equipments only. We often design the special equipment that our customers need to introduce new products to their markets or improve their production processes. Our objective is to let the customers get the best returns from their investments. R&D and service are embedded in the French Textile Equipment Manufacturers' DNA. It has always been. Remember that Jacquard, the star of the textile machinery invention was French! We are SME's in which the information flows very rapidly between the commercial, technical and research departments. This is how it should work and it does. It allows us to go much further than purely involved in commercial relationships with our customers.
The Internet of Things, Industry 4.0 - all machinery is being increasingly geared towards that. How is the French machinery industry keeping pace with this?
Industry 4.0 is becoming a reality in the textile industry. In fact, it is already a reality in some factories and it will expand much quicker than most people envision. 
Let's try to propose a definition of the factory 4.0. It is a factory in which data are collected through sensors or radio frequency identification tags ( RFID) at each step of the production process, analysed online and automated decisions are made instantly to improve the process  inside a factory or between two factories whether inside the same company or with clients or suppliers' factories.
We, as technology partners, have to offer not only innovative (each year we introduce some improvements in our machines) but disruptive solutions. The internet of things is certainly the main way not only to improve the process of each machine but the whole line of production process. 
Industry 4.0 requires more and more sensors. Let's give two examples: Fil Control provides such sensors thanks to their 30 years of experience in the yarn sensors and yarn cutter industry. After 5 years of development from Fil Control R&D team, the ring spinning market is now ready to welcome the Motion Reflective Sensor. The company has high demand for their MRS-P speed sensors for ring spinning machinery that allows monitoring, controlling and optimising the yarn manufacturer productivity for better quality at lower cost. The new Motion Yarn Tension sensor developed for tyre and carpet yarn twisting attracts many yarn manufacturers that were looking for many years for a reliable product with homogenous output signal sensors.
Superba with its new Superba B403 automatic winder marked a real technological breakthrough. Its individual spindle motorisation drive, combined with a single tension sensor per position, enables a constant tension winding process, a very accurate bobbin length measuring as well as a unique quality control for each yarn position. It opens up new opportunities in terms of winding quality. Connected through cloud computing to the new Vandewiele Texconnect supervision system, the B403 is part of the Factory 4.0 concept. It provides ready data on yarn tension to supply the predictive maintenance and reduce yarn waste, allowing manufacturers to make the highest quality carpets at the most economic prices. (PC)