How do you take care of sustainability issues while making your 'perfectly sized' jeans?
We first and foremost address the issue of excess inventory. By creating on demand, we eliminate the need to stock standard-sized inventory that might not see the light of the day. In the actual production of the jeans, we work closely with some of the world's most sustainable denim mills to source comfortable fabrics that have components of Better Cotton Initiative (BCI) cotton, recycled and upcycled materials, with technologies that reduce the use of water and chemicals during the process. We also repurpose the cut waste to get as close to our zero waste vision as possible.
How much time is required to make a jeans pair?
It generally takes us about two to four weeks to deliver custom denim from the moment the customer places the order.
How has been the response so far for your customised jeans product?
Let me share a few actual feedback quotes from the past month:
"Hi unspun, I just received my Mission jean and I m really happy. What a fit. Thanks so much."
"I've worn these jeans 3 times so far and I wear other pants on the other days. The other pants have quickly become second class citizens. These jeans just feel so good! They fit right, feel right and I feel good in them. But seriously - these jeans boost my confidence."
"I don't wanna take them off!!!! It fits me like my skin!!!! I love the jeans."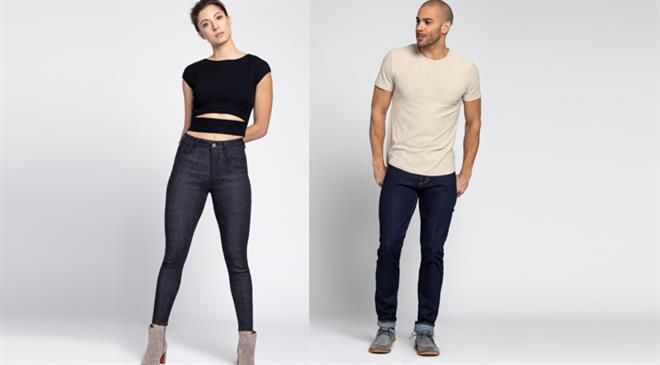 Who is your sewing partner?
Our California sewing partner is National Apparel. SFMade, a San Francisco-based non-profit organisation that supports local manufacturers for a more vibrant, equitable, and resilient economy, recently ran a feature together with our sewing partner: https://sfmade.org/blog/company-spotlight-denim-unspun/
Is there any latest research work you are doing to make the customisation process simpler?
We are constantly fine-tuning our software algorithms so that they are more accurate and quicker to pick up new information and have also looked into how the relationship between the user and the jeans grow with time now that we have more information. We have begun a wear log where our ambassadors provide us with valuable feedback about how the jeans age. That has also sparked internal conversations about how we should treat the afterlife of jeans that have served their missions!
You are present in San Francisco and Hong Kong. Which are the other markets which hold a lot of promise for you in future?
The usual suspects of countries with deep denim culture such as Japan, the Netherlands and the United States are obvious targets. Outside of core denim markets, customers that are attracted to sustainable fashion and futuristic trends are also drawn to the brand.
Which brands and retailers are you currently associated with?
We are under strict non-disclosure agreements, but we are in lively conversations with brands and retailers that naturally have a big innovation and sustainability agenda.
What are the positives for you becoming part of the SFMade community?
SFMade has helped us to scale local production. It connected us with our manufacturer, National Apparel on Market Street, which has made localised manufacturing possible for us alongside people we can grow a strong relationship with. The SFMade network is extensive and endlessly ambitious. We have hosted events with other folks in the community and it has proved powerful to spread the word with people who are focused on starting here in San Francisco. Since we marry technology, automation, fashion and sustainability, being connected with SFMade has allowed us to further promote an atmosphere of technology that is more grounded in human connection and awareness of nature. People in the community are receptive to this and we are grateful to SFMade for expanding our reach.
What can we expect from you in the future?
We are more guided by the impact we create on the world, and in that sense, I think the world will see that we will keep re-inventing ourselves through the creation of new products, experiences and strategies that serve that purpose. (PC)