What do the apple and the arrow passing through it symbolise in the Greenshowroom logo?
The logo was already used by the Greenshowroom when we took it over. The arrow can certainly be interpreted as 'hitting the bull's eye' while the apple symbolises nature.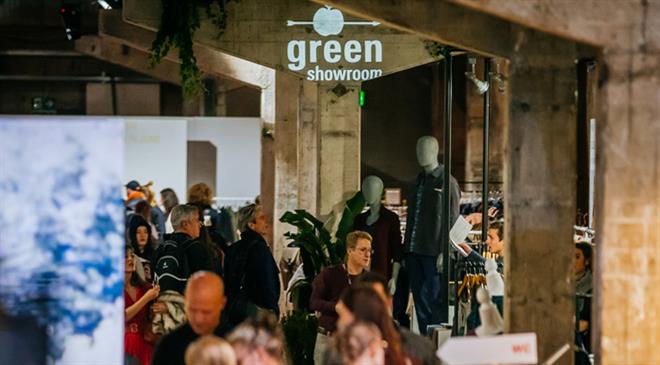 What is the agenda for these two shows in 2019? Will it be bigger?
We have had a very successful première at the Kraftwerk Berlin and a perfect start to our partnership with the Premium Group. We are now going into the preparations for our summer edition in July 2018. We will continue to promote the Kraftwerk as the most relevant meeting place for international buyers, influencers and media, looking for innovative brands with real stories. The offer will be enhanced by a number of inspiring side events such as curated runway shows, highly valued seminars, workshops and guided infotainment tours, plus a number of informal networking formats. Kraftwerk Berlin will be the place to find out about the future of fashion in summer 2018.
Which are the hotspots for sustainable fashion globally?
In terms of business and knowledge platforms, the Greenshowroom and the Ethical Fashion Show Berlin form Europe's biggest B2B platform for ecological and fairly-produced fashion making the Berlin Fashion Week unique compared to other international fashion events.
If you are asking about the number of sustainable fashion brands, the European countries are very strong. This is, at least, what we see from our exhibitors. However, in our last edition, we also had exhibitors from India, Korea, Thailand, the United States, Israel and Peru. Sustainability in fashion is becoming more and more global.
What are the challenges that sustainable and ethical fashion faces today?
Some of the big labels are already well established in the fashion market and their collections are increasingly to be seen in conventional trade. In the sustainable-fashion segment, there are also many small and young labels, which already have a substantial following. And this is the fascination of this part of the fashion world.  
To be successful in the long term, sustainable fashion labels must, just like their conventional counterparts, reflect the zeitgeist of the fashion world. Innovativeness, especially when it comes to new materials or manufacturing processes, is also important. For example, natural materials, such as bio-cotton, are subject to environmental influences that can impact on the quantities available. Vegetable-tanned leather sometimes has flaws that make certain colour combinations difficult. Moreover, a variety of materials are unsuitable for specific collections. And sustainable labels must be able to cope with this. They must find solutions that ensure not only stable production but also a critical mass of customers in the long run. 
Do you think the mainstream consumer is ready for fashion with a conscience?
Extremely interesting in this connection is the current Oekotex study, published last October. A worldwide poll of 11,000 consumers showed that 80 to 90 per cent are familiar with 'environment-friendly' clothing. Thirty six per cent of those who have purchased such garments have positive associations with them.
In fact, the buying behaviour of a large number of consumers is undergoing a process of change. More and more are buying bio foodstuff, travelling by climate-neutral means and shifting over to e-cars or car sharing. These consumers also pay attention to environment friendliness and fair payment when buying clothes. Accordingly, many fashion retailers and brands already offer their own sustainable collections or include sustainable labels in their assortments. In Germany, I would say that, just as every discounter has bio-foodstuff in their assortment, it will not be long before all conventional fashion retailers are also selling sustainable fashion brands.
What is your goal for 2025?
The fashion business is a fast-moving one. That also applies to the sustainable fashion sector. We, therefore, try not to look too far into the future. However, when it comes to fashion in general, we hope that sustainability will become the standard in the near future. (HO)