Our software is agnostic regarding printing technology
Founded in 2015, WeaveUp facilitates consumers to order and print customised upholstery and home furnishing products. The company enables customers to choose fabric and print, and order designer home décor and furnishing products. It also enables users and designers to upload and sell the designs online. President Flint Davis chats about the potential for on-demand home furnishing items and explains the company's unique end-to-end solutions.
How did you come up with the idea of WeaveUp?
I was collaborating with the senior leadership team from Valley Forge Fabrics (VFF), one of North America's largest sellers of textiles to the hospitality industry and we knew we wanted to leverage the inherent benefits of digital printers (unlimited coulors, large-scale motifs, production flexibility) to attack the sales cycle in hospitality. We decided the biggest win would be getting a colour accurate custom sample in the client's hands faster since the traditional process can take months. The proprietary digital platform we built enables VFF to get a custom sample in a prospect's hands in two days.
What is the scope for on-demand upholstery?
Within the commercial market it is significant. Interior designers and their clients are always looking for a way to differentiate their properties and textiles provide a tremendous opportunity. But I would not limit it to upholstery. I would include drapery, top-of-bed, carpet and wall coverings. In fact, we had one client use the same design on a fabric headboard and the wall covering behind it to produce a dramatic effect. I would say the residential/consumer market is only a few steps behind.
Are you the only solution provider? What is your USP?
WeaveUp provides an industrial, end-to-end software platform for companies that want the competitive advantage that digital textile print-on-demand provides. From automatic colour separation and curation of art files, to the intuitive customiser (allowing changes of colour, scale and repeat) to metadata normalisation and workflow management, we offer everything.
Our suite of modular solutions means clients benefit from a short, straightforward integration and can rapidly deliver custom solutions to their customers. This integrated approach eliminates the obstacles, delays and headaches associated with ad-hoc attempts to address the many and varied issues usually associated with producing on-demand textiles.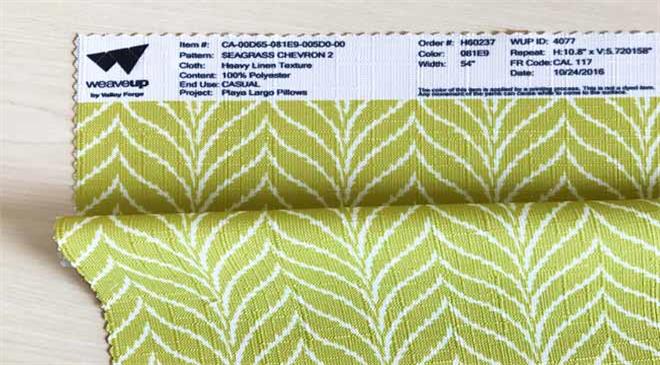 Where do you get the products made?
WeaveUp is a software platform and does not own any printers. We do, however, have a growing network of print partners, carefully screened and using our print production software, that produce textiles for some of our clients including Joann and Budget Blinds.
Which are your major markets in the United States? Do you ship globally?
Our clients are in the Americas, Europe and Australasia, but, as a 'software as a service' (SaaS ) business, we focus more on industries rather than geography. We work with clients in apparel, home and commercial décor, window coverings, upholstery vinyl and wallcoverings. We have also been approached by companies in carpet manufacturing, decorative films and laminates.
Which designs and prints are more popular? What kinds of fabrics for upholstery do most people go for?
The popularity of designs and colourways varies by audience and geography. The most popular designs in Joann's MyFabric programme are not the same as the ones for our commercial clients. As the platform offers flexibility around colour selection, we also see greater diversity in colourways than you see in rotary fabrics.
Another significant benefit of the WeaveUp platform is the unbundling of colour, scale, repeat and design from the base fabric. Now, clients can create a finished textile from the flexible stock of print-ready basecloths they carry. This makes a difference even when colour-matching coordinates. Adding a matching stripe and solid is like creating a new collection.