Do you see any drift towards DTG or are Indian manufacturers still trying to use conventional methods? How cost effective is DTG from traditional techniques?
The DTG market in India is still very new and not matured. The reason is that the products are technically challenging and require expertise and certain skillsets. Knowledge of fabric and the processes (pre-treatment and curing) are necessary to get the desired result. Cost is another aspect concerning Indian manufacturers. When compared to the conventional method of printing, DTG printing cost is almost ten times higher. Currently, the volume of printing is very low, making direct-to-garment printing very expensive. Today, DTG is usually used for personalised printing and analogue method of printing is preferred for large volumes. The DTG market is growing at a considerable rate in India, but it is taking slightly longer than what we had expected.
What is the latest offering in DTG at Epson? What is the USP?
In May 2018, we launched the Epson SureColor F2130 DTG printer replacing the previous model-Epson SC-F2000 model. The new model has an automated maintenance design that includes a cleaning cartridge configured to automatically clean the print head cap, enabling continuous operations and reducing manual maintenance efforts. The machine has additional improvements like a quick-load platen and Epson Garment Creator software. This takes productivity even further, while the all-new integrated self-cleaning system means less downtime.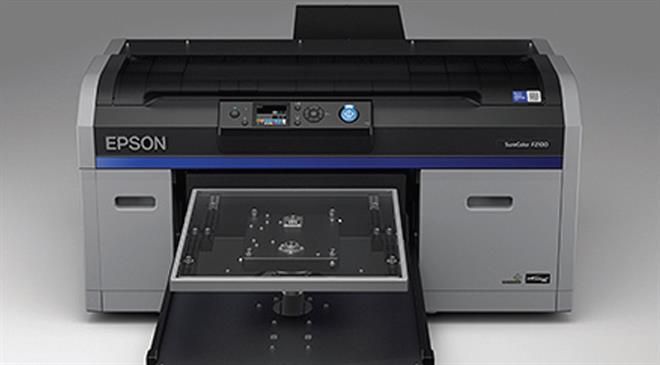 Please share details of the last two fiscal years and the expectations for the next two.
DTG printer sales witnessed a significant growth in the last two years, especially for Epson India. In the last two years, we have sold over 150 units of DTG machines in the market. Epson is aiming for a minimum of 30-40 per cent growth year on year.
What are the plans at Epson India for the textiles and apparel sector?
Epson is the only brand offering three different technologies for textile printing. Epson will also be launching a new pretreatment liquid, which will enable the same printer to print directly on 100 per cent polyester garments as well. This will enable the customer to print on both polyester and cotton t-shirts. Epson is the only company available in the market, which offers sublimation technology, direct-to-garment technology and direct-to-fabric technology. We have interesting products coming up for direct-to-fabric, direct-to-garment and even for the dye sublimation segment.
Are Epson printers integrated with IoT? Are those Industry 4.0 compliant?
Currently, all our direct fabric machines are connected directly to the server located in Japan and are monitored 24/7. Our accounting tool software is bundled with the machines. Through this software, customers can configure their e-mail ids. This can be used to alert us regarding any machine glitches as well. Therefore, whenever there is a problem, it will immediately respond, provided you have the SMPT mail server. The same service is available for dye sublimation products as well.