We plan to bring 24x7 after-sales service and spare part support
Surat-based Sunrise Imports & Exports Co is a manufacturer and exporter of weaving and embroidery machines. The company is also the distributor for Shanghai Yinchun Machinery. CEO Manoj Sorathiya discusses the strengths and the challenges of the Indian weaving industry.
How have the man-made filament yarn and machinery sectors in India evolved over the years?
India is a major manufacturer, consumer and exporter of textile products in the world. India has great potential to compete with other nations. The Indian textiles industry is evolving from the ordinary technique of fabric-making to the latest and upgraded way of creating world-class fabrics, but still has a long way to go. Man-made filament yarns have a wide application in our daily lives and the share will increase with each passing day. India is ready to accept any kind of challenge in this sector.
What is the annual import of textile machines in Surat?
About 6,000 sets per year are imported.
Which imported yarns and machinery are in demand in Surat?
All kinds of yarns are in demand in India. In case of machinery, waterjet looms, rapier looms and airjet looms like high-speed shuttleless looms are in good demand.
Which are your major markets for textile machinery ?
Our high-speed shuttleless looms have good demand in India, Turkey, Taiwan, Egypt, Pakistan and Indonesia.
Tell us briefly about the journey of your company. How did you come to start your company, who are the founders and the milestones achieved?
We established our company in 2002. Over the past 10 years, we have made huge progress in the production of waterjet looms of different models. We have sold nearly 40,000 sets of waterjet looms in the domestic market.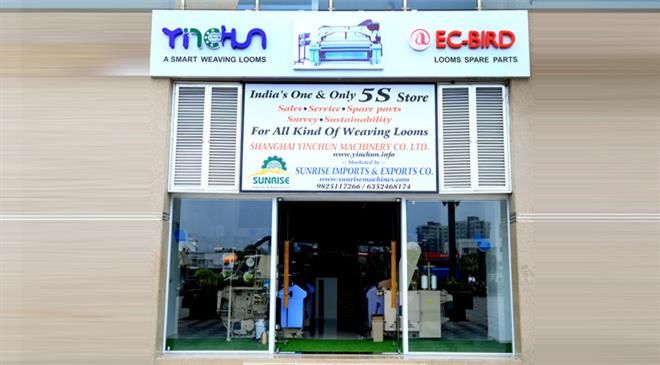 Tell us about your latest product launch. What are the key features of the products?
We just launched a new model of waterjet looms. The key features of the machine are that it has a stable and strong body, advanced electronic system and a cloud-based smart loom monitoring system, which uses the Internet of Things (IoT) to manage production data. Over all, we provide advanced looms for lean manufacturing equipped with Industry 4.0. We also recently launched our 5S store in Surat. The 5S stands for high-speed shuttleless weaving looms that provide sales, service, spare parts, survey (customer feedback) and sustainability (entrepreneur training) to the Indian weaving industry.
Has Surat's textiles industry recovered from the aftermath of GST and demonetisation? Which verticals in the textiles chain were affected the most?
Yes, it has recovered. GST brought a major change in the tax policy of India. People were not aware in the beginning; so, it was hard for them to follow. But it will create a good environment to do business.
What are the challenges that yarn and machinery manufacturers of Surat face?
Substandard yarn and machinery create a negative impression in the industry. For this reason, entrepreneurs are afraid while choosing a supplier. We are entering the market with a 24x7 after-sales service and spare part support to serve the weaving industry of India.
What are your thoughts on Industry 4.0?
Technological revolution has changed the manufacturing sector. The IoT can play a major roll for production of quality and innovative products that change lives. We are fully prepared with products that can be used in Industry 4.0 with our smart monitoring features which uses IoT for better production and quality fabrics.
How sustainable are your manufacturing units?
Our manufacturing units are equipped with state-of-the-art technology and we have an R&D department that helps develop new products and maintains quality and are also able to cater to the demand. This makes us more sustainable.
What is your production capacity? Where do you source raw material from?
Our production capacity is of 400 sets/month, and we source raw material from China.
What has been your growth story in the last couple of years?
Each year we have grown by 30 per cent.
What are the top HR practices followed at your company?
Salary based on performance; standardised performance and management; respecting the company culture and trusting employees and systematic employee training are some practices followed at our units.
What are your future plans?
We are developing a new model that can create future fabrics along with after-sales service centres to serve the weaving industry better.