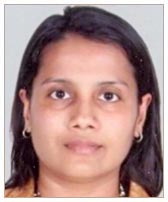 Ms Sonal Baid
MD
Aura Herbal Textiles Ltd

Company Details
Business Area:
Manufacturing, Brand building, Retails
Turnover:
Approx. 4 Crore
Export Capabilities:
Domestic: 50% & Exports: 50%
Clientele:
Europe, Australia, USA
With advent of CSR-sustainable approach towards business, how do you see India girded for growth in organic wear segment?
There is surely been some interest in the Organised Retail Garment sector for organic garments. So far there have been very few instances; it has been more on the paper than the actual product availability in the market. There is a huge growth potential in the Indian market not only in the Garment sector but also in other textile sectors.

More companies need to make an effort in promoting Organic Cotton and other eco-textiles, not only because it is trendy and a relatively untapped market, but also because it is the need of the hour.

Most of the goods that are available in the Indian market go un-scrutinized. They are not at all questioned; neither on social responsibility, nor on ecological safety, not even for the health of the user.

CSR should apply to any or all the production that is happening whether for the Indian market or for exports.
There needs to be an awareness drive to make more conscious buying. The user needs to understand that any negative impact on any part of the supply chain will affect them sooner or later.

Consumer awareness will create further demands for conscious productions and therefore a conscious supply of goods in the market. The government, the industry as well as trade unions and media should work together on making an aware and conscious market.

Along with this, there needs to be a truly sustainable supply chain which will go hand in hand to the awareness.

Socio – Eco responsibility is not a choice it is a must, not only for the corporate but also for entire society. For, if the society changes; the corporate will have no choice but to change. If we realize this, there is no reason for India to lag behind. It is each individual's Dharma (duty) to protect the society, its people, and the environment.
*******
Published on: 18/04/2011
DISCLAIMER: All views and opinions expressed in this column are solely of the interviewee, and they do not reflect in any way the opinion of Fibre2Fashion.com.