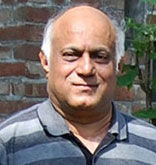 Mr. Syed Naved Husain
CEO
Beximco Ltd

Company Details
Business Area:
Manufacturing and Marketing of Yarn, Woven, Knit and Denim Fabrics
Turnover:
Taka 25 billion
Export Capabilities:
PFY 28mn linear metres, Knit fabrics 8mn lbs, Apparels 20mn pieces
Clientele:
Springfield, Van Heusen, CK, JC Penny, Izod, H&M, Mothercare, Arrow, Bershka, Esprit, Levis
What is the current status of Bangladesh apparel industry and what are the growth prospects and does it face any immediate threat or competition?
When you look at the Bangladesh Apparel industry today it is doing very well and poised for an excellent growth trajectory in coming years. A country with a population of 160-170 million out of which around 80 million are between the working age group of 20-30 years. This age group holds tremendous potential for upside growth for the apparel industry. Secondly, quota free regime & Europe has been generous to Bangladesh and the country has been the beneficiary of duty free access to this market and exports to Europe have been continuously growing. Major international apparel brands and retailers have set up their offices in Bangladesh which has helped our manufacturers & exporters.

On the other hand, China is facing acute labour shortage, their growing aged population, compulsion on domestic market front, etc. Whereas in India, industry dynamics are changing rapidly and emergence of IT and other industrial sector has overtaken apparel industry in terms of growth prospects & employment. It is no longer cost effective to produce apparels in India. These factors put together, brighten the scope for Bangladesh apparel industry. Countries like Vietnam, Cambodia and Sri Lanka are far from competing with Bangladesh. Bangladesh is competing with China now, though the gap between China & Bangladesh is pretty huge; however the gap between Bangladesh & other countries in apparel exports is widening now.

Bangladesh is in the best position to take advantage of the emerging situation. Assuming world apparel trade touches $600 billion in coming years; China could contribute around $ 180-200 billion with 30-35 % share. The rest of the market holds huge upside potential for growth for Bangladesh In a decade or so, we expect, Bangladesh to be the undisputed leader in apparel exports. Bangladesh is gradually progressing from basic garment to fashion garment. It is currently in middle segment but it will catch up fast in fashion garment as well. I also foresee the South Asian block to generate an overall huge potential in the global market and make a difference in textile-apparel worldwide trade.

Published on: 05/02/2013
DISCLAIMER: All views and opinions expressed in this column are solely of the interviewee, and they do not reflect in any way the opinion of Fibre2Fashion.com.