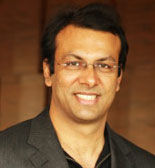 Mr. Siddharth Bindra
Managing Director
BIBA

Company Details
Business Area:
Ethnic wear retail
Biba has been in the world of Ethnic wear for women for over a decade now. How will you comment on this market faring in the nation?
Indian women have an unbroken link with Indian/ethnic wear as compared to the link enjoyed by men. Ethnic is classic and maintains the essence of our culture. Today, ethnic wear comprises 70% of the total women wear market in India. In spite of growth of western wear, ethnic wear holds a strong shelf space in women's wardrobe and is the most wearable apparel across the country. If you see today, the poster women of corporate India - Chanda Kochhar, Naina Lal Kidwai, Kalpana Moraparia, barring Kiran Mazumdar Shaw, all wear the traditional Indian saree at the work place.
The evolution of fusion wear in the segment can be considered the most drastic transformation in the past few years. It is becoming a common sight to see women combining kurtis with jeans, clingy t-shirts with ethnic print skirts or tunic with churidaar leggings. Girls have become more experimenting and prefer a combination of both Indian and western wear in their dressing. The last 2–3 years have seen the introduction of knit churidaars which offer better fits and comfort than the traditional options. They have become tremendously popular and have revolutionized a garment which was essentially stitched into something that is picked off the counter. The Indianization of western wear makes it trendy and easy to handle, thus appealing to youngsters and working women alike. Even middle age or older age women, who were earlier restricted to wearing sarees, are now seen sporting Indo-ethnic wear gracefully. Also, the western wear is limited to the available stock in ready to wear category.
Every consumer, in general, wants 'value for money'. Today's Indian woman is very fashion conscious and settles for nothing but the best.
The credit for the fuelled growth of this sector can be given to:
Growing number of working women.

Changing fashion trends

Innovative consumer approach

Trend of nuclear families

Increasing level of information

Popularity of designer wear and more.

Climatic conditions in India make Indian wear much more comfortable because of the fabric and form that it offers

.
But, the major role was played by media exposure and screening of life size cinema. Today's youth is highly inspired by film characters and are open to adapt fashion styles they see in movies or daily soaps. Other major factor which has strengthened the growth is the rising mall culture in India. Malls have given brands an opportunity to showcase their products under one roof where you witness maximum footfalls, thus providing a convenient place for the consumers as well to shop from.
Following are some concerns that affect the growth of the sector:
Proper fit is most important in ready-to-wear category.

Direct competition from unorganized players and old regional stores.

Trends prevalent in different regions of India. The country of India's size and diversity also poses a challenge.

Strict labour laws
*******
Published on: 19/03/2012
DISCLAIMER: All views and opinions expressed in this column are solely of the interviewee, and they do not reflect in any way the opinion of Fibre2Fashion.com.