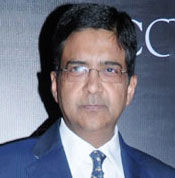 Mr Abhay Gupta
Executive Director
Blues Clothing Company

Company Details
Business Area:
Luxury fashion & Lifestyle and Home Interiors
Clientele:
India (Delhi, Mumbai, Bangaluru)
How do you see apparel brand retail taking shape in India? What are the spending traits, product preferences as well as determinants to these traits?
An 'A-list' Indian is well informed and exposed. They demand the finest quality and experience while buying a luxury product for their home or office. The emphasis on design, craftsmanship, celebrated heritage and style are the expectations from luxury brands. Versace has seen an enthusiastic response and appreciation for the collection which stands for excellence in craftsmanship.
Spending traits vary from city to city for example;
Delhi - Its high GDP and spending trend is the biggest market in the country. Booming suburbs also add to the high market share. Ostentatious in nature, the market is driven by exhibiting their purchase and luxury products act as a status symbol. These aspirational needs drives the market to heavy spending on luxury, complimented by an extremely affluent region with ready money to spend makes Delhi the top market in the luxury segment.
Mumbai – Accessories are fast moving, influence of bollywood adds to the buying behavior. Being the corporate Mecca as well as the concentration of Indian Film industry, leads Mumbai to be an exciting and flourishing market with Glamour and Luxury synonymous to lifestyle of many. Corporate honchos contributing to market that delivers high standard of quality and celebrities committed to glamour and style, irrespective of the price tag. Mumbai is a highly lucrative as well as a fast-paced, fast-growing market.
Bangalore - has strong influences of its NRI population, Younger generation with high income levels.
*******
Published on: 23/08/2011
DISCLAIMER: All views and opinions expressed in this column are solely of the interviewee, and they do not reflect in any way the opinion of Fibre2Fashion.com.