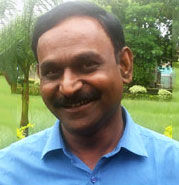 Dr. Keshav Raj Kranthi
Director
Central Institute for Cotton Research (CICR)

Company Details
Business Area:
CICR aims at increasing production, productivity and profitability of cotton cultivation in India.
How do you foresee the market for surgical cotton globally and what are the challenges faced by the Indian surgical cotton growers?
Absorbent cotton is also known as surgical cotton or cotton wool. It is mainly used for medical purposes in hospitals, dispensaries and for sanitary purposes as well as surgical dressing. The short stable cotton produced from India 'Gossypium arboreum' is considered ideal for manufacturing absorbent cotton.
It is estimated that demand for surgical and absorbent cotton is growing at the rate of 10 percent per annum across the world. The demand for absorbent cotton in India is estimated to be about 2 million bales (of 170 kg each) per year. Besides the Indian market, there is enormous export potential for surgical cotton in countries such as the US, EU and Japan. Within the next 5 years, 3 – 3.5 million bales will be required to fulfill the domestic demand and more would be needed for the export market.
Although, the area under surgical cotton cultivation in India was 97 percent in 1947, it fell to 42 percent in 1990, 28 percent in 2000 and about 1 percent in 2012, and it is now estimated to be much less than 1 percent. The absorbent cotton varieties are now confined to marginal lands, saline tracts, and drought prone areas. The price of surgical cotton is high because of the shortage of short staple absorbent cotton.
Until 2005, India had at least 2 million hectares of land under absorbent cotton cultivation which used to cater to the needs of the surgical cotton sector. The market price for absorbent cotton was low because of abundant availability of short staple surgical cotton.
Market exploitation is the biggest challenge faced by the surgical cotton growers in India, today. Another factor affecting the surgical cotton growers is the lack of proper ginning machinery suitable for short staple cotton, especially the Gossypium arboretum race from cernuum.
On the other hand, the small scale industries that manufacture absorbent cotton find it difficult to source short staple cotton. For example, the industries in Maharashtra and Madhya Pradesh are sourcing short staple cotton at high price from Rajasthan or the Northeastern part of India. So there is an imminent need to create an interface and a common platform between Indian cotton farmers as well as absorbent cotton industry.
Published on: 30/08/2013
DISCLAIMER: All views and opinions expressed in this column are solely of the interviewee, and they do not reflect in any way the opinion of Fibre2Fashion.com.