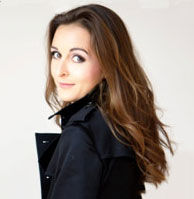 Ms. Gaelle Wizenberg
Founder
Charlie Banana

Company Details
Clientele:
major retailers and independent boutiques
Explain the concept of eco-friendly, organic baby clothing? What is the current market scenario for organic baby clothing and what trend and growth prospects do you foresee for organic baby clothing?
Eco-friendly is a trite term and one that has become more of a lifestyle definition. A truly eco-friendly baby clothing is non-toxic, manufactured in a safe and respectful human environment with minimal waste and carbon emissions, and one that is promoting waste reduction.
Eco-friendly baby products are powering a whole new generation of eco-conscious consumers. It is quite magical how many parents, who previously did not necessarily pay much attention to chemicals and waste and quality, are now becoming quite eco-conscious as a result of having a baby.
Instinctively, they want the healthiest choices, to reduce waste (especially when it comes to reusable diapers) and the cost associated with disposable diapers. Being careful with what they buy for the baby rapidly changes the whole character of their household and directly impacts their purchasing habits.
There are a lot of baby and non-baby clothing and products out there that are "hell in a tub/box," all labeled with a smashing baby smile. With the flow of information now ubiquitous, consumers are slowly becoming aware of chemicals and toxins they need to avoid. More importantly, they are looking for companies that manufacture safe products, which are environment-friendly to the core and that have a conscience. When we protect our children from harm, we protect humanity's future.
Testing and stricter controls are helping responsible manufacturers in this sector. Seeing the growth in the organic clothing category, many major retailers are now mandating more certifications and labeling. Many companies are becoming more creative and finding ways to reuse and transform waste material into new fibers—fleece can be made out of a recycled plastic bottle—which is pretty cool on its own.
For example, organic clothing producers manufacture fabric that does not contain chemical optical whiteners. The fabric is still very nice looking and it is cheaper. Most people aren't aware that currently, every single piece of white fabric has those chemicals on them. The cost to the consumer and to the environment is higher just because of those chemicals. At a recent fashion show, there were sixteen organic clothing designers. As society becomes more aware of the choices, we will see continued expansion of the industry.
Organic natural fibers will continue to grow and, as orders get bigger and crop yields get smaller, we will see major price increases for organic clothing for babies.
Growth would really be seen in more sustainable fibers and better manufacturing facilities with advanced technologies to process them. Baby clothing is so tied with newer fashion trends that manufacturers have the responsibility of constantly improving manufacturing processes and partnering with the right countries and entrepreneurs to achieve this.
The organic baby clothing industry believes in a world where producers don't have to make a choice between children and the planet, and working with the planet is a great investment for our children's future.
Published on: 31/12/2013
DISCLAIMER: All views and opinions expressed in this column are solely of the interviewee, and they do not reflect in any way the opinion of Fibre2Fashion.com.