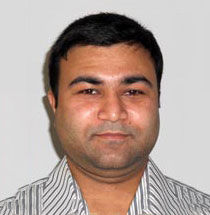 Mr. Bidyut Nath
Manager (Advt. & Corp. Comm.)
Dollar Ind. Ltd.

Company Details
Business Area:
Hosiery & Undergarments
Clientele:
South Asian Countries, Middle East, Arab, Iraq, Iran.
Undergarments are the most important part of clothing. Do you think Indian consumers go with this ethos while picking a premium brand?
India being a tropical country, undergarments has always been an integral part of clothing for all sections of society. Yes, it is observed from a few years that premium brands are slowly spreading to have larger market share into this majorly unorganized industry. Due to heavy spend on advertisements; premium brands are being able to capture consumers' mindset. But branded hosiery in India still consists of Rupees 2500 Cr market from a universe of Rupees 10,000 Cr.
Indian consumers are naturally very price oriented, simply said the best deal would mean a quality product with a budget price. Hence, consumer traits are driven by price factor following by quality and brand pull.
*******

Published on: 03/05/2011
DISCLAIMER: All views and opinions expressed in this column are solely of the interviewee, and they do not reflect in any way the opinion of Fibre2Fashion.com.