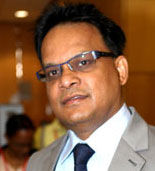 Mr. Geerish Bucktowonsing
Cluster Manager (Textile & Apparel)
Enterprise Mauritius Ltd

Company Details
Business Area:
A trade promotion organization that helps Mauritius-based businesses to grow and develop
What is the current and future scenario of Mauritius textile and garment industry?
Mauritius is a small country in the Indian Ocean and looks to get maximum visibility of our expertise and savior faire in textiles and apparels. We want the world to know that Mauritius is not only a destination of pleasure but also a destination for trade and business.
We have more than 40 years of experience in textile and apparel industry and we are one of the major textile and clothing producers in the world.
The significance of our textile and garment industry are flexibility in order quantity, short lead time in production and delivery, duty free access to Europe and the US and preferential tariffs to African countries under South African Development Community (SADC) and Common Market for Eastern and Southern Africa (COMESA).
We manufacture good quality, high-end textiles and garments for several major brands in Europe, the US and South Africa. The major textile and apparel exports of Mauritius are yarns, fabrics, pullovers, cardigans, T-shirts, shirts and trousers.
Last year, the Mauritius textile and apparel sector witnessed an increase in export from 2011 to US$ 830 million. In 2012, pullover and cardigans recorded a rise of 44.4 percent year-on-year in exports, followed by trousers with 16 percent and shirts with 9.5 percent.
Our major textile and garment export markets include the UK, the US, South Africa and France. Last year, the UK recorded as the largest importer of Mauritius textile and clothing with a surge of 27 percent followed by South Africa with 23 percent, the US with 18 percent and France with 14 percent.
Due to the ongoing economic crisis in the EU, we are putting lots of efforts to diversify our textile and garment exports to countries such as the US and South Africa. We are expecting at least 3 percent rise in textiles and clothing exports this year.
Published on: 18/05/2013
DISCLAIMER: All views and opinions expressed in this column are solely of the interviewee, and they do not reflect in any way the opinion of Fibre2Fashion.com.